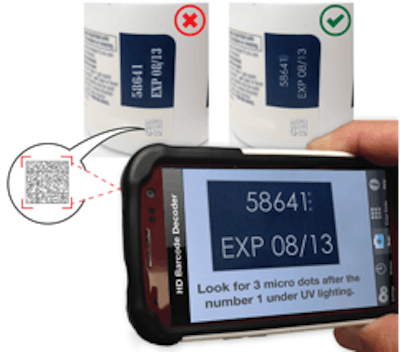 Traditional 2D barcodes, such as DataMatrix and QR codes, are limited in data capacity and require an Internet connection or time-consuming database look-ups. HD Barcode™ has none of these shortcomings; a single code can hold 175 times more data than a traditional 2D barcode and may contain text, images, html, as well as, other files types. HD Barcode™ uses a proprietary reading application that allows an authorized user to scan and read these comprehensive product details at any location. No Internet or database look-ups required.
Manufacturers can include track and trace information, product specifications, e-pedigree data, plant location, manufacture date, distribution region(s), package, carton or label identifiers, user data, full color images, and marketing incentives. Easily imprint on a wide variety of materials including, component parts, cartons, labels, blister packs, inserts and containers. The HD Barcode™ offers many custom formatting options to aesthetically complement packaging, such as embossed brand logos or images directly on top of the HD Barcode™ and the ability to create square, rectangular, or micro codes.
All this information is contained within the HD Barcode™ allowing manufacturers to positively identify their products, protect their brand name, reveal product diversion, prevent unauthorized duplication and quickly identify counterfeit products using an all-in-one barcode solution. Each HD Barcode™ includes a unique manufacturer identification code and only authorized users have the ability to scan and read encrypted data using either a Smartphone or PC based application.
For additional security, the HD Barcode™ code generator program remains independent from reading applications preventing unauthorized reproduction of codes. HD Barcode™ technology prohibits coping and will display a failed message if the barcode has been compromised. Reading applications can be configured to require registration with an expiration date and password. Multiple covert codes (such as random code numbers or patterns, signatures, UV or IR codes) can be embedded within the HD barcode™ or placed with other printed material during the normal printing process. The location and contents of these separate covert codes are revealed when the HD Barcode™ is scanned. This two-step authentication process between the HD Barcode™ and the covert code makes it almost impossible for a counterfeiter to identify or change the contents of the HD Barcode™, while giving the manufacturer flexibility to change covert code placement or contents. The HD Barcode™ and the separate covert codes may be easily added during the normal printing process.
Applications for Android and Apple's iOS are provided allowing authorized users to conclusively verify products within seconds, all while mobile and requiring no Internet or database connectivity.
Companies in this article