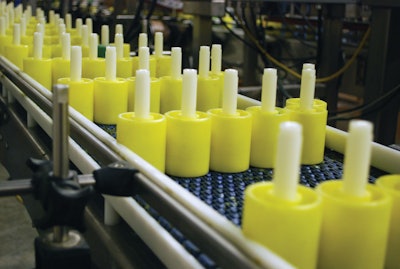 Automation has come fast at contract manufacturer Northstar Labs. The Salt Lake City company took a huge step forward three years ago when it put in a new line for filling lip balm into injection-molded polypropylene tubes. That line was followed in 2012 by a liquid filling line for PET bottles of lotions and hand sanitizers. Both lines make use of pucks to support containers as they make their way through the filling and capping operations.

While a number of packaging machinery suppliers are represented in these two lines, the lion's share comes from Apacks, a supplier of fillers, cappers, conveyors, and labelers.

"We looked at the other suppliers, but it kept looking like Apacks was the best fit," says Northstar director of manufacturing Darren Massey. "Once the lip balm line was in and running, I guess it became the foundation of a relationship where both companies feel comfortable and confident in each other."

Which brings us to the lines themselves, beginning with the lip balm line (see video at www.bit.ly/pwe00481). Before it was installed, Northstar relied on a time-consuming, labor-intensive, and rather messy manual method known as "flood filling." It involves a flat piece of plastic with 20 or 30 holes in it. An operator puts a tube in each hole and pours molten lip balm into each one. Capping was also a largely manual operation.

This was not a manufacturing platform that would allow Northstar to grow. Thus the investment in the new line, which fills and caps 33 tubes/min and requires just two operators. Once installed, it allowed Northstar to go after the business of larger—some would say "glitzier"—accounts like Kisstixx, the Orem, UT-based marketer of lip balms that was featured recently on the television series Shark Tank.

One part of Northstar's manufacturing method that has not changed is that, with the help of several digital label printers, it still does all its own container decorating. Biaxially oriented polypropylene material is sent through a Jetrion four-color digital press from EFI. Says Massey, "Short runs of 100 or 1,000 have always been our specialty, sometimes for a wedding, for example, where the bride and groom's picture is featured on the label, or for an event at a golf course or school or reunion. Even now with a large account like Kisstixx they have a lot of varieties, and by digitally printing our own labels in-house for container decoration, we don't have to worry about long lead times that come with pre-decorated tubes."

Six-head filler

Filling on the lip balm line is done by a six-nozzle in-line intermittent-motion machine from Apacks. It's fed by an overhead vibratory sorting bowl/orienter that has undecorated tubes fed up to it by a flighted incline elevator and floor-level hopper. Tubes drop down a track into pucks whose timing and spacing is ensured by a star wheel that meters them into the position where a tube drops into each puck. The pucks then move ahead to the time-based gravity filling nozzles. A photo eye detects any puck missing a tube and that puck gets kicked offline.

Six pucks are pushed at a right angle by a pneumatic cylinder a distance of about 3 ft. A braking mechanism holds them stationary beneath the six filling nozzles. As soon as filling is complete, the braking mechanism releases the six pucks and they advance forward on a matte-top conveyor. Each tube is filled with 0.16 oz.

The Apacks filler heats the balm product so that it flows almost like water into the tubes. "We'd built fillers before that heat up the product so that it can be filled," says Apacks' Mark Cannon. "But this was the first such filler we'd built at this level of speed and sophistication."

Next is a cooling conveyor that causes the molten lip balm to solidify. Just before caps are applied, the tubes pass through a reheat station. Massey explains why.

"The molten material caves in on itself as it cools. It's a naturally occurring phenomenon that results in an unappealing appearance when the consumer first opens the container. With this reheating step, we bring the level of the product back to a more eye-pleasing level."

At this point the pucks are single-filed and conveyed around a large stainless-steel turntable that sends them back in the same direction they'd come from and toward an Apacks capper. An overhead bulk hopper with a vibratory sorting bowl sends caps one at a time down a chute. The chute positions each cap at just the right height so that each tube passing beneath picks one up on its way past the chute. Caps are then pushed on the rest of the way by a spring-loaded device.

The line comes to a close with a belt-transfer system that pulls the tubes out of the pucks. A Linx Model 6900 ink-jet coder from Diagraph puts lot and date code information on the bottom of the tubes, which then travel through a discharge chute and into a waiting bin for transfer to work in process. The empty pucks continue forward on a conveyor belt that leads them back to the place where empty tubes are inserted into empty pucks.

"An awful lot of what we do is unflavored," says Massey. "We can produce and inventory 30,000 tubes and put them in stock. We then draw them out and label them as orders come in." A pressure-sensitive labeling machine from CVC Technologies is used for labeling.

Liquid line

A more recent addition to Northstar Labs' contract packaging capabilities was a liquid line installed in late 2012. It's used for lotions and hand sanitizers in PET bottles ranging in size from 1/2 to 16-oz, and it runs at speeds to 120/min. Once again it utilizes pucks to transport containers through filling and capping, but only when the container being filled is small or oddly shaped and won't stand up without support. For bottles that are self-supporting, no puck is used and the bottle sits right on the conveyor belt. When pucks are used, the line features a custom puck return system designed to remove finished product from the pucks and return the empty pucks back to the beginning of the line to be reloaded with empty containers.
An unscrambler from Palace Packaging Machines is used to deliver containers to the conveyor belt feeding the Apacks filler. Apacks developed an eight-nozzle, in-line filling machine that was able to deliver the high degree of accuracy and repeatability that Northstar required. Some of the products have particulate that must be protected from damage during the fill process. Also, viscosities vary greatly. The Apacks volumetric filler meets these somewhat unusual demands. Also notable is that the product tank and product barrels on the piston filler are designed to roll away from the line to be easily cleaned.

Another key requirement that shaped the new line is fast changeover. Apacks met this need with an assist from a timing screw solution. "We knew how many container sizes we'd be filling, so Apacks supplied a series of timing screw mechanisms that smoothly and accurately space the containers," says Massey. "It means that we don't have to adjust the position of the filling nozzles. The timing screws ensure that whatever container we're filling, it will be accurately positioned beneath one of the filling nozzles when the time comes for filling."

Threaded caps are applied by an Apacks machine a short distance downstream of the filler. Date coding is done by a Diagraph Model 4900 ink jet machine whose print head can be positioned to code the bottom of the container or its sidewall. Pressure-sensitive labeling is done on a CVC Technologies machine.

As was the case with the lip balm line, this new liquid line opens up new business opportunities for Northstar because now they can fill at about 80 bottles/min instead of the 30 or so they were limited to when all they had was a semiautomatic single-head filler.

"Being capable of these kinds of volumes changes everything," says Massey.
Companies in this article
Videos from Diagraph, An ITW Company