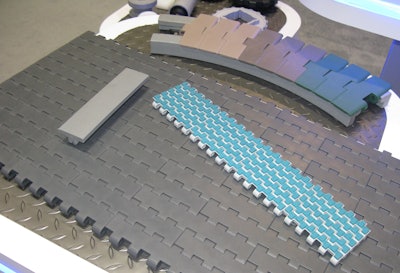 That was one of the things learned at a January 22 press conference held by Emerson Industrial Automation at Automate/ProMat 2013 in Chicago. The emphasis of the press conference was on Emerson's System Plast group, whose plastic belts, chains, wear tracks, and guide rails helped Pepsi generate the extra revenue. What System Plast did is provide a drop-in replacement—the basic conveyor framing stayed put--to take the place of a traditional live roller conveyor. In the 110-ft stretch between Pepsi's case packer and palletizer, all four of the System Plast components shown in the photo accompanying this story were part of the retrofit package: high-friction belts for incline and metering (light blue); top-side flexible tabletop chain (dark gray); low-friction modular belts (multi-colored); and guide rails (light gray).
And how is it that a smoother conveyor connection is able to generate added revenue? Because spikes in demand—expected or unexpected—can be more easily met when the end-of-line conveyor connection is optimized. The line is 20% faster since the conveyor replacement took place. Almost as appealing to Pepsi is this: nuisance maintenance issues that used to consume valuable time and attention are now a thing of the past.
According to Matt Stoneburner, director of marketing at Emerson's Power Transmission Solutions, the conveyor retrofit took about two shifts to complete and cost about $35,000. Other Emerson Power Transmission brands also played a role in the efficiency upgrade at the Pepsi plant. Browning gear boxes and Sealmaster bearings, for example, were in the mix.

Companies in this article