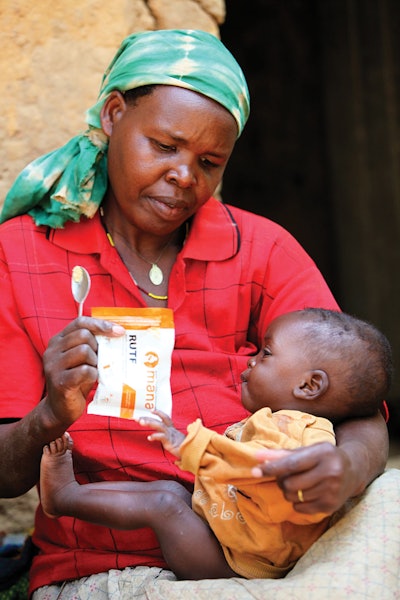 Based in Matthews, NC, Mana Nutrition is dedicated to developing global malnutrition solutions. The non-profit organization produces MANA (Mother Administered Nutritive Aid), a ready-to-use therapeutic food (RUTF) made of fortified peanut paste carefully formulated to provide a child's basic nutritional needs. The product is packaged in easy-open film pouches.

Mana Nutrition notes that just three servings of MANA per day for six weeks can save the life of a starving child. Currently, Mana Nutrition can produce approximately 46,000 pounds of MANA daily. The product has been distributed to several African and Latin American countries. UNICEF and USAID are MANA's two largest customers.

MANA is packaged in 3.25-oz (93-g) foil/film pouches. Mana Nutrition uses two different pouch structures—one is a 48-gauge metallized polyester, and the other is a foil lamination. The pouching material is manufactured by BMSI Packaging and is flexo-printed by packaging materials broker Garlock Printing & Converting Corp.. The pouches are formed, filled, and sealed using a combination of equipment from Hinds Bock and Ica Packaging Machines.

For shipment, the pouched products are packed in corrugated cartons, manufactured by Rock Tenn and supplied to Mana Nutrition by packaging broker Unisource. The automated case-forming/packing/sealing equipment is from Wexxar/BEL, and the case-coding system is from Markem-Imaje Corp..

Each case of the MANA pouches includes an important leaflet that describes the product, its proper use, and its nutritional content. These leaflets had been manually placed in the cases before sealing. Mana Nutrition's Director of Operations David Todd Harmon had some previous knowledge of automatic leaflet inserting equipment and went on-line to research available, affordable systems that could improve Mana's operating efficiencies. His search led to MGS (www.mgsmachine.com) Harmon recalls, "I found MGS Machine and put in an inquiry. I was contacted almost immediately by Steven Hallblade, and we discussed the application. Steven asked about Mana Nutrition and what we did. I shared our mission objectives with him, and he mentioned MGS's efforts to focus on world hunger. A week later, Steven called and said that MGS had decided to donate the leaflet insertion unit to us. What a gift! We often are offered favorable pricing due to our non-profit status. But I cannot recall another packaging company ever outright giving us such a valuable gift."

The easy-maintenance MGS IMPULSE™ Friction Feeder features sturdy, extremely compact (only 12" wide) design, comfortably fitting into Mana Nutrition's limited plant floor space. Using simple push-button operation, it can automatically collate and insert literature at speeds of 400+ parts per minute. The system was installed in late 2012.

Harmon says, "The automatic feeder offers us the opportunity to free up staff from manual leaflet insertion tasks so that they can focus on more critical food safety and quality issues."