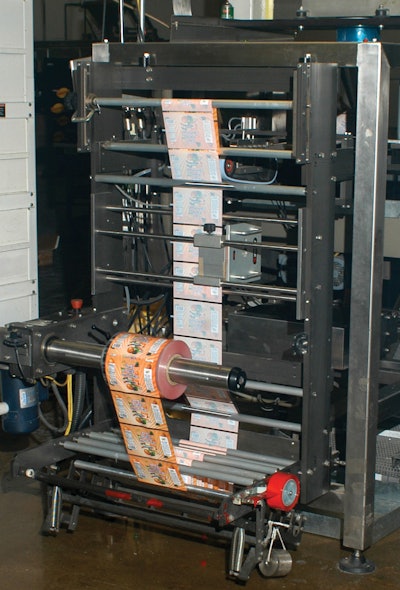 Cano Packaging Corporation, a leading confectionery contract packager in Arlington Heights, IL, relies on flexible vertical form/fill/seal equipment to meet increasing customer demand as well as to respond to wildly fluctuating seasonal needs.

State-of-the-art packaging equipment enables the company to package almost 20 million pounds of candy annually in its 89,000-square-foot facility. The equipment's flexibility is the key to Cano's ability to cost effectively respond to a 25 percent increase in its business in the last two years.

As a growing company, Cano found that advanced packaging technology provides an economical solution to the challenge of increasing capacity and offering packaging options tailored to customers' needs. With the flexibility of its new Matrix Elete DS13 equipment from Pro Mach, the company can produce packages ranging in size from 0.5 ounces to five pounds at speeds ranging from 80 per minute to 30 per minute, respectively, on one packaging machine. In addition to fulfilling customers' year-round demand, the equipment gives the company the ability to meet requisite holiday-specific confection packaging needs.

The Elete DS series was introduced by Matrix in late 2010. The DS13 was installed at Cano in 2011.

Traffic jams

According to Darren Lemmon, Vice President IT and Purchasing at Cano, the plant floor can become so crowded during peak seasons that forklift drivers have trouble finding the room to navigate between the multiple packaging lines. When not needed, the extra machinery is moved out of the active floor area. However, the Matrix machine—one of three Cano owns—is always in action.

On the day of Contract Packaging's visit, the machine was bagging small packs of Gummy Fruit Snacks from Taste of Nature, Santa Monica, CA. While the preprinted roll of film, supplied by the customer, unwinds into the Matrix machine, candies descend from a Yamato scale to be bagged. The weigh scale finish has been conditioned to handle sticky candies. A dimpled finish and very slick metal parts help, but Lemmon says the candies themselves still clump together and require a worker to constantly "stir" in order to minimize sticking.

The short packaging line also includes a very sensitive Safeline metal detector from Mettler Toledo, a Norwood Jaguar thermal transfer printer and a Loma checkweigher placed after the takeaway conveyor which is equipped with pneumatic pushers to reject over- and under-fills. "While we definitely do not want under-fills, we also don't want to give away product either," explains Lemmon. But with such tiny packs, hitting the exact weight is very difficult. "Just one candy can make the difference," he says. "It's hard to explain that to the customer."

The Matrix equipment's ease of changeover, minimal maintenance, flexibility, reliability, and user-friendly interface are the foundation of Cano's ability to package over 500 stock-keeping units annually. With the availability of off-the-shelf parts, supplier support and service, the company achieves optimal uptime, which ensures customer needs and delivery deadlines are met.

"We have a philosophy at Matrix of uptime," explains Mike Krummey, senior controls engineer. "We simplify and build robust equipment. A simple machine is easy to changeover. The open design of the machine offers good access to everything."

Krummey says that during installation, the customer is responsible for placing the machine and powering it up. Then the Matrix engineers come in to start it up and insure it is working correctly. "We usually start on a Tuesday morning, and by Thursday afternoon we are done."

The Elete DS13 handles film bags of up to 13-in. by 23-in. A double stack high-speed stepper electric Smart Jaw ST sealing system can handle speeds up to 150 bpm. The machine features an Allen Bradley MicroLogix 1500 PLC with a 10.4-in. adjustable position color touch screen and integrated temperature-control system PLC. Making the film easy to handle are automatic web edge guide and film tracking system and tool-free film roll and forming tube change-over. The stainless steel machine has a modular, non-proprietary design.

Optional features which Cano chose include gusset or flat bottom bag attachment and edge or center back seal. A hole punch and gas flush is available, when needed.

Cano Packaging employs an in-house quality assurance program and staff whose flexibility allows the company to incorporate customers' specifications without forgoing all other required standards. The QA team is comprehensively trained. Lemmon says that when business is slow, the staff can assist elsewhere in the plant. Cano operates under the GMP and HACCP standards, and it is Kosher Certified and FDA-approved.

Always room for more

Since Cano Packaging is bursting at the seams during peak seasonal demands, the company has selected a 170,000-sq-ft facility in Wheeling, IL, for its next move. At the time of CP's visit, Lemmon says they were very close to signing the papers on its purchase. That building will nearly double the production and office space, allowing packaging lines to stretch out and alleviate those forklift traffic jams. "We could build a hockey rink in the space that will be left over," jokes Lemmon.

In addition to solving the crowded plant situation, the extra space offers the contract packager the opportunity to seek additional business—and even add new packaging lines to handle that work. In fact, Lemmon says he hopes to buy another Matrix machine in the near future.
Companies in this article
Videos from Matrix Packaging Machinery
Videos from METTLER TOLEDO Product Inspection