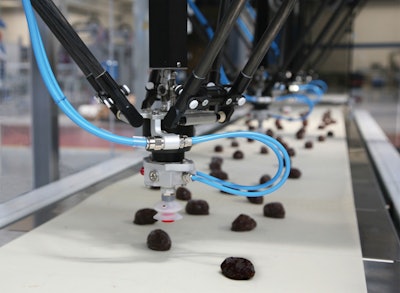 The Ozersky Souvenir confectionery plant is one of the largest manufacturers of confectionery products in Russia. The 70-year-old enterprise, located in the city of Ozery, in southeastern Moscow, is the leader in the Russian market for nuts and dried fruits covered in chocolate. Ozersky Souvenir was the first confectionery in Russia to wrap nuts and dried fruits covered with glaze in colorful labels, transforming them into successful gift items. Today, the company's product portfolio includes more than 100 different confectionery products for a range of consumers.

All of Ozersky Souvenir's sweets are produced on equipment manufactured in Europe. Custom technologies have been developed for Ozersky that, along with the use of natural raw materials, allow the company to create the highest-quality products with a unique taste.

Not long ago, Ozersky turned to Cama Group, a supplier of secondary packaging systems, to engineer its packaging lines to allow the company to meet increasing market demand for its sweets. "We were under a lot of pressure to deliver this project successfully in order to meet the rapidly growing demand for our product," says Ozersky engineering manager Aleksey A. Klecov. "Cama was on our side, and the line was delivered within budget, on time, and with a successful vertical startup."

To meet Ozersky's needs, Cama developed a packaging line consisting of four in-line Triaflex delta pick-and-place robots, equipped with an intelligent vision system, that can pick loose candies, covered in chocolate, coming randomly from the production line and position them correctly on continuous-motion conveyors in a preset pattern. The Triaflex is designed with the vision system to work in three dimensions, with 360-deg head rotation, picking random products from the production line belt and positioning them correctly on a conveyor. It is also equipped with four controlled axes, with carbon fiber arms for gripping or placing products in all positions.

Products are selected according to their dimensions and then placed on two external conveyors. The maximum infeed rate is 360 chocolates/min (or 200/lane). Subsequently, the products are wrapped and packaged.
Among the advantages of the Cama robotic application are the following:

• The system has been designed to provide the fastest, most gentle handling, so as not to damage the delicate products such as naked chocolates
• The easy handling of extremely irregular chocolates guarantees minimum product waste
• The Cama smart vision system can optimize management of the product by automatically selecting products, according to preestablished dimensions and arrival speed
Companies in this article
Videos from Cama North America