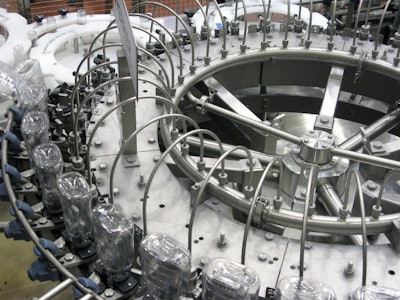 Seeing as Ken's Foods produces the world's most popular barbecue sauce, Sweet Baby Ray's, it's little wonder that new packaging lines for PET retail bottles are popping up with some frequency in the three plants that fly under the firm's banner. One of the new lines, still on the drawing boards, will be installed at headquarters in Marlborough, MA. It should look a lot like the new line just installed at the firm's Las Vegas plant. Operating now since December 2011, the Las Vegas line is notable primarily for its speed. It handles 18-oz PET bottles at 400/min. But it's also quite versatile, accepting 28- and 40-oz bottles as well as being capable of filling salad dressings in 16 and 24-oz sizes.

This is the newest line in the Las Vegas plant. When it arrived, two others had to be relocated. As part of an overall expansion project, 65,000 sq ft of warehouse space was also added. Altogether, it was an $18 million project.

The machine sitting at the head of the new line is a Posimat unscrambler that is capable of handling 500 bottles/min. This capacity ensures that the 400/min filler doesn't get starved. The unscrambler's footprint, including the tote dumper, measures 23 ft x 38 ft. Says packaging manager James Johnson, "We had to leave a hole in the wall of our warehouse expansion to get the unscrambler in the building."

From the discharge of the unscrambler to the infeed screw of the air rinser/filler/capper, bottles are carried on conveyors from Alliance Industrial Corp. that use vacuum pressure to hold them in place. "At these speeds, with the back pressure, the bottles constantly want to launch themselves from the line," says Johnson. "The vacuum prevents it."

The next major piece of equipment in the line is a rinser/filler/capper block. The air rinser is from Perrier, the filler by Pacific Packaging (www.pacificpak.com), and the capper from Fowler. "One thing that has brought us back to Fowler numberous times is that their engineering support is second to none," says project engineer Jeff Murzycki. "They've done some great work for us."

According to Johnson, the filler is especially adept when salad dressings are in production. "We do some two-phase vinaigrettes, where you have an oil mixture and an aqueous mixture. The aqueous mixture is what carries the spices and the particulates of red pepper. We mix these simultaneously at the filler because the filler has two separate fill tanks. We can control the pump speed on either one of them to get the perfect blend. When filling, especially at high speed, it's challenging to keep all of the components suspended proportionately so that each bottle gets the right amount of each component. With this two-phase system, we can blend at the filler with the precise ratio much more easily. We do this in our other retail lines, too, with the same equipment. Pacific does a good job with this."

Induction sealing, X-ray inspection

Exiting the rinser/filler/capper block, bottles make a right turn and pass through an Enercon induction sealer. Only squeezable bottles that have a diaphragm dispensing fitment require induction sealing; they don't get the neck label that serves as a tamper-evidence device on all the other bottles, so the induction seal provides tamper evidence.

An Eagle X-ray metal detection system rejects any bottle having metal contaminants and any bottle with a fill level out of spec. Bottles then enter an Infinity accumulation table from Garvey that provides three minutes worth of accumulation time should any downstream equipment get jammed. "It's an important element in the line because it means we can keep the filler running if we need to clear something downstream," says Johnson. "You don't want to halt the filler if you can possibly avoid it." Adds project engineer Murzycki, "The Garvey system is effective and reliable. It's very dynamic. And it's cost-effective, too."

Next, a single-filing device, also from Garvey, pulls bottles from the accumulation table and feeds them forward.

"At this point," says Johnson, "the bottles go through a series of photoeyes that signal the control system to run the labeler faster or slower depending on line conditions. If bottles reaching the labeler are in short supply, the conveyor belts feeding the labeler will speed up to supply more bottles to the labeler until it can match the filler speed. If there is an abundance of bottles available to the labeler, the labeler will kick into high speed to pull away the bottles from the accumulation table until the speed of the table matches the filler speed. It all works in unison. Photocells can tell if bottles are touching back to front or if there is some space between them, and that is an indicator of how many bottles there are on the line."

One other highlight of this Las Vegas line is that an outside integrator, Process & Production Controls , was brought in to design what Murzycki calls "a more robust automation system. This system makes it easier to establish and maintain a consistent equilibrium, where a surplus of empty bottles is always ready to enter the filler and you are always pulling filled bottles away from the filler faster than it can fill them. It's based chiefly on Rockwell distributed I/O. But P&P Controls wrote the program and tuned the line."

Worth pointing out where full-bottle conveying is concerned is that a "dry lube" system from Ecolab is in place. The system is programmed to automatically spray a silicone-based lubricant whenever conditions require it.
"Aesthetics, safety, and sanitation are all improved when you go to a dry lube compound compared to the more traditional water and soap lube," says Johnson. "Not to mention the fact that we save a lot of water every year with this approach."

Labeler is fast and versatile

Labeling—on front, back, and neck—is done on a Krones topmodul cold-glue labeler. "We're pretty much standardizing on Krones on these new lines we're installing for retail bottles," says plant manager Mike Shanks. "We already had a Topmodul in the two retail lines that preceded this one, so it just made sense. We know them. Besides, I'm not sure anything else would give us the speeds we need. And it's versatile, too. We go from 16-oz salad dressing to 40-oz barbecue sauce."

Glue used on the Krones labeler is a Henkel LG75S. Johnson says it works best in the dry Vegas climate without drying out too quickly. Also used by Ken's foods is a continuously grooved label pallet supplied by Krones. The label pallet is the component in a cut label, glue-applied labeling system that touches the glue roller, picks up just the right amount of glue, and then picks a label from the magazine. It then transfers the label to a set of grippers that position it for wipe down onto the bottle. "The continuously-grooved pallet gives us a more even glue distribution than when the grooves are just in the center," says Johnson. "It's an option Krones offers, and when we switched to it we could quickly see the benefits."

Lot and date coding are done by a Videojet laser coder. Just downstream from the labeler is a Krones Checkmat that rejects any bottle whose date code is illegible or whose label is missing or skewed or flagging. One change in this inspection routine from past installations at Ken's Foods is that the cameras doing the inspection are in a different location.

"We had traditionally gone with stand-alone inspection systems downstream from the labeler," says Murzycki. "And there's nothing wrong with such an approach. It's just that bottle handling could sometimes be an issue. We were trying to pick up a label placement deviation of as little as 1⁄16 inch while the bottle moved past on a conveyor. With that approach you don't really have full control over the bottle's position when the camera captures the image, so you get false rejects too often. It reads label skew because the conveyor presents the bottle skewed. So when we talked with Krones and they said they could integrate their cameras within the labeler so that the image was being captured while the bottle is still being positively held by the centering bell, that all sounded good to us. And it has been."

Exiting the labeler, bottles make their way toward case packing by way of a Dynac vertical accumulation system from Hartness International. It's the first such device to be used in the Las Vegas plant, but Ken's Foods has them in other lines and will have one operating in the new line now going into the Marlborough plant.

"They work well," says Johnson. "If the laner or the drop packer should have problems or a jam, we can continue to fill, cap, and label bottles."

Empty case accumulation

Case erecting is done on a machine supplied by Pearson Packaging. A long roller conveyor length holds 100 to 150 erected cases in accumulation ahead of the drop packer.

Also ahead of the Hartness drop packer is a Hartness laning device that divides the single-lane flow of bottles into four lanes. Once bottles are in their cases, case sealing takes place, and again it's a Pearson unit that does it. Both the case erector and sealer use a hot melt from Henkel that, according to Johnson, requires minimal heat to activate.

Cases exiting the Pearson case-sealing system are date coded as they pass through a bank of four RSI digital thermal ink-jet stations. "RSI is standard across our retail-bottle packaging lines," says Murzycki. "It communicates with a homegrown plant-view production monitoring system developed by our IT dept. That's how we get our case count off the production line, by way of Ethernet connection into our servers." Another bit of information technology in the new line is software from CDC Software that gathers data automatically so that Ken's Foods can calculate a more accurate Overall Equipment Efficiency (OEE).

Speaking of efficiency, it's worth noting that custom-designed change-part carts from Septimatech are used to store change parts. "They send an engineer out to precisely measure each starwheel and part and design the cart so that everything is clearly marked and color-coded," says Johnson. "It improves changeover efficiency and prevents the parts from getting damaged."

Cases now enter a Ryson vertical spiral conveyor that takes them to an overhead level and transport to a palletizer. Having given so much thought to the speed and flexibility that the upstream part of the line provides, it would have been a big mistake to neglect the end-of-line equipment on the new line. Needless to say, no such mistake was made. The Model HL6000 dual-infeed palletizer from Columbia is up to the task.

It wasn't just the speed that Ken's Foods required. One of the cases packaged on the line holds not 24, not 12, but just 6 bottles. That means, from a palletizing standpoint, that twice as many cases have to be handled per minute than if the more traditional or conventional 12-count case were being handled. Also, the base of the case being handled is much smaller and more difficult to handle, says Columbia's Bruce Fournier.

"Ken's Foods had our palletizers in their other plants, but as the new Vegas line was being designed, they wanted the palletizer to be able to operate fast enough to allow it to pull away cases quickly if there was an accumulation of them upstream from the palletizer. What we came up with is a dual-lane infeed palletizer that is designed to address a number of issues."

The dual infeed part is significant. By splitting the infeed into two, the critical activities—case turning and row-forming, for example—can all be done essentially at half speed. The dual infeed is accomplished with a one-to-two slat divider followed by a metering belt that meters rows onto the machine fast enough yet still with gaps between cases so the cases can be counted.

A second design feature is the use of mat-top belting in place of roller conveyors in key places. Mat top helps because it's a continuous flat surface instead of rollers, which of course have gaps between them. The leading edge of the small 6-count cases is naturally prone to catch or get hung up on the roller gaps. They are even more problematic when, in the course of forming a layer pattern, you turn them from narrow to wide side leading. It's a simple center-of-gravity issue.

A third key component in the palletizer is the use of an overhead blade pusher to sweep fully formed layers—37 of the six-count cases occupy a layer—onto the layer table that drops layers onto the pallet. It means there are no flight bars or gaps on which cases might catch. The overhead pusher isn't needed on more conventional cases, but with the small-footprint six-count cases and their high center of gravity, it's a huge help. Also contributing is the use of mat-top conveyor for a smooth transition of cases from row forming to the layer table. Like the mat-top components used elsewhere on the machine, this one comes from Intralox.

A final key design factor behind the palletizer is the use of variable frequency drives—provided in this case by Rockwell—that make it easier to create whatever motion profile is needed, from fast to medium to slow.

The end result is a palletizer capable of handling the challenging six-count case at a nominal rate of 60 to 65 cases/per minute and a surge rate to 120 cases/min whenever the need arises. Pallets exiting the Columbia machine pass through a stretch wrapper from ITW Muller, and with that the line is complete.

The arrival of the new line is a welcome development. "Demand for our products in the West was putting a strain on our production capacity back in Georgia and Marlborough," says Murzycki. "You can only do so much with cross-docking. We needed capacity expansion."

The new line in Las Vegas provides just that.
Companies in this article