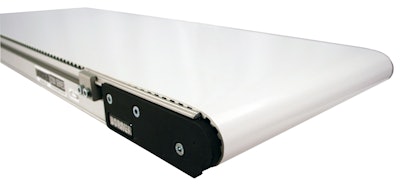 For Tervis Tumbler Co., a North Venice, FL, maker of insulated, double-walled custom tumblers that keep beverages cold or hot, business is good. So good, that to keep up with its growing volume of orders, the company has had to add precision and efficiency in its manufacturing and packaging operations to keep pace.
Precision is a term often to describe the repetitive, exact, accurate tasks associated with robotic processing. That's the case with the robotic cells in use at Tervis Tumbler. The plastic beverage cup process now relies on a series of 3200 Series conveyors from Dorner. The conveyors are equipped with precision belt technology to move the inner and outer tumblers into robotic cells for processing. Precision belt technology is practical for drives, indexing, positioning, and heavily loaded belt conveyor applications such as product assembly, manufacturing, and packaging. It's these conveyors that provide the accurate indexing of the tumblers to ensure smooth, uninterrupted flow of production at Tervis.
The push to further automate its manufacturing processes is a testament to the growth Tervis has experienced in recent years. Founded in 1946, Tervis uses a doubled-walled design that keeps cold drinks colder and hot drinks hotter, longer. Each tumbler is custom made and is available in six sizes, and can be branded with virtually any design.
To accommodate its growth, Tervis recently added more than 65,000 sq-ft of production space to its facility, while expanding its workforce by more than 430 employees. Today, the company employs more than 700, and its drinkware is sold in more than 6,000 stores across the U.S.
When the company decided to further automate its production facility, it turned to RND Automation and Engineering. RND specializes in custom factory automation, robotic work cell, packaging, and material handling applications.
Tervis sought to implement this new automation in a steady, phased approach to achieve the best results. After analyzing Tervis' manufacturing processes, RND determined that automating the blowing off, capping, assembling, and welding functions were the best places to start. The rationale was that once these functions were automated, they would provide employees with easier tasks, reduced cycle times, and repeatable quality.
The machine that RND engineered consisted of several technologies, including the use of robotics to automate the various manufacturing processes. The machine required a delivery system for the inner and outer tumbler, and since positioning of the tumblers is crucial, the system had to be accurate and repeatable. As a main component of the delivery system, RND specified the Dorner 3200 Series with precision technology to accurately index the inner and outer tumblers.