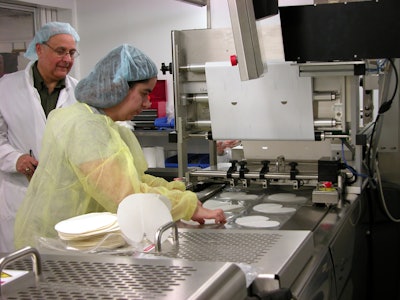 Maximizing efficiency is challenging for virtually any manufacturing facility, but when 95% of your direct labor employees are legally blind, those challenges are magnified. This is the case at Lighthouse for the Blind-St. Louis (LHB Industries), a contract packager and manufacturer of products provided to commercial customers and the U.S. government.
The organization operates under the AbilityOne Program, governed under the Javits-Wagner-O'Day Act (JWOD). The program dates back to 1938 when President Roosevelt signed the Wagner-O'Day Act into law. It was later expanded to the Javits-Wagner-O'Day Act through the efforts of Senator Javits in 1971. Under the AbilityOne Program, "the government will agree to sponsor or purchase a product from a nonprofit agency that employs people who are blind and legally blind as long as they can produce such product that performs equal to or better than a commercial equivalent in fit, form, and function, and at approximately the same price," explains Brian Houser, director of sales and marketing for the St. Louis-based Lighthouse for the Blind (LHB).
"We currently manufacture various aerosol cleaners and medical supplies that have been sponsored and are on the federal government's Procurement List, a list that indicates all products that the federal government has agreed to purchase from nonprofit agencies in the program," Houser notes. "When any Federal government purchaser needs, for example, bandages or an aerosol glass cleaner, they would automatically purchase our agency's products, since they were sponsored and LHB is the approved sole source for those items. Understand, we receive no federal or state funding and are not a United Way agency. The government supports our mission of blind employment and the AbilityOne Program by purchasing our quality products, which are proudly manufactured by people who are blind and legally blind."
Carlo Basile, LHB's director of new business development adds, "The AbilityOne Program requires that a minimum of 75 percent of our direct labor force must be blind or legally blind in order for the government to sponsor any of our products or services. Our ratio is actually 94.7 percent, the highest direct labor ratio of any blind agency in the country!"
LHB's services extend to a broad range of products, packaged at both the St. Louis headquarters located in Overland, MO, and at a facility in Berkeley, MO. At the Berkeley facility, LHB manufactures products such as aerosol paints, primers, cleaners, repellants, adhesives, lubricants, penetrating fluids, deicers, soaps, and disinfectants, including some bio-based products. "We produce one of the first 60 products certified by the U.S. Department of Agriculture [USDA] to display the USDA's Bio-Preferred logo on our label. This just occurred last year and is a very big deal for us," says Houser. About 60% of LHB's 105 employees work at the 40,000-sq-ft Berkeley location. Further, LHB is not a sheltered workshop, as they pay prevailing wages for their industry.
At the newly expanded 40,000-sq-ft St. Louis headquarters, LHB accommodates primarily kitting work, particularly for medical products and medical devices. Houser notes, "We package external catheters for the Veterans Administration and various medical kits for EMT services and the Armed Forces. We also do large medical kits for the U.S. Army.
"We operate an ISO Class 8 environmentally controlled clean room for packaging sterile bandages and medical devices, and offer in-house ethylene oxide [EtO] sterilization for various companies," he says.
Much of the medical work became possible with the 2009 addition of an automated Multivac form/fill/seal machine. "It's our most sophisticated packaging machine," Basile says. The machine uses thermoforming molds that accommodate four different-sized Chevron-sealed pouches for specialized bandages that range in size from 2.5 x 3.5 in. up to 7.8 x 8.5 in.
Pouch materials used on the Multivac are supplied by different companies. The most commonly used materials are NXC (clear polyethylene) with either 1059B DuPont Tyvek® or a high-density polyethylene coextrusion to form the medical-grade pouches. Most of these pouches are used for special-purpose sterile bandages.
LHB also has automatic tray-sealing, vacuum-sealing, bag-sealing, and additional pouch-making equipment stationed in its Class 100,000 environmentally controlled clean room.
"We can do virtually any kind of bandage on these machines," says Basile, "but the majority are silver-impregnated bandages for burns and wounds."
Machinery adaptations
Product filling is another area where LHB employs its visually impaired employees. "We've adapted the machines so that the people who operate them can do so safely and efficiently," says Basile. "We've equipped our entire facility to accommodate our blind labor," he adds. "We've made blind adaptations to our equipment to make it very conducive and helpful for blind individuals to do packaging tasks.
"First, we examined the machinery, and any place there was an adjustment, we highlighted those areas with touch-sensitive markings so that a visually impaired employee can easily adjust the machine. Another area we looked at was replacing nuts and bolts where practical with hand knobs, so that employees don't need tools to complete changeovers. Operational adjustments while the machine is running are handled in the same manner with touch-sensitive markings and tool-less adjustments. Another important change was that we added high-intensity lighting to the machine to provide a high contrast between the machine and the products to aid the visually impaired at the loading stations."
"We have also interfaced the Multivac control panels to our computer system so legally blind operators can view machine control information on their Zoom-Text screen and make the type large enough for them. Zoom-Text helps with screen magnification and is supplied by Ai Squared. "It greatly enlarges the font size to about 300-point." Color coding and variations in color also are employed to help LHB workers.
In addition, the organization of the plant itself assists legally blind operators achieve efficiency. Houser says, "LHB has made various adaptations to the facilities as far as navigating from one area to another. For example, for people with canes, we've installed steel mobility strips (guide strips) to the floors between various departments. The aisles are purposely extra wide and are always kept uncluttered and clean so people can move around on their own, moving from one work-station to another without having to rely on assistance from sighted workers."
Basile explains, "LHB has implemented lean manufacturing techniques in both plants. All necessary tools, accessories, or spare parts are neatly laid out in one spot. It's well organized. When you talk about the blind employees, the big advantage is blind people are naturally adapted to lean manufacturing. They repeat functions or tasks in the same way, every time. In lean manufacturing, companies tape off areas on the floor for tables and machines to keep organized. Organization is especially important when it comes to operating machinery." And that's how LHB builds efficiency into its factory and packaging operations.