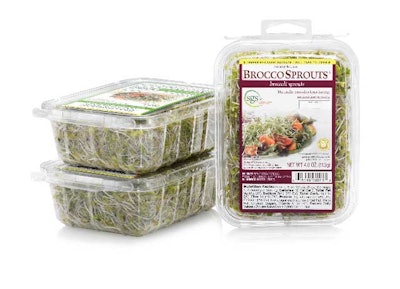 Brassica has taken the lead in ensuring the safety of its products in the marketplace by putting a multi-hurdle approach to food safety into place. Starting with FDA Guidances for seed sanitation with 2% calcium hypochlorite and hold-and-release testing of 100% of production, Brassica has added additional food safety measures to strive for the highest safety level in the industry.  The new Safe-T-Fresh® package is part of this program. Paul Battaglia, VP Business Development at Brassica Sprout Group LLC explains.
 "We are the only sprout company that requires our growers to be Global Food Safety Initiative (GFSI) certified and use this new tamper-evident container.  GFSI is recognized the world over as the highest standard in food safety.  GFSI made us examine every detail of our food safety protocols.  That focused our attention on the container in which our sprouts are sold. Eliminating the chance of the package opening and causing cross-contamination is a high food safety priority.  We searched for a container that met our expectations.  The Safe-T-Fresh® vented container has the built-in qualities we seek.  The construction of the container gives us the confidence that our product is less likely to open inadvertently.  The Safe-T-Fresh® vented container provides additional benefits in labor and material savings to our growers, as they no longer have to manually apply a separate safety seal to each package."  
 By switching to the new Inline Plastics Corp. Safe-T-Fresh® vented container, Brassica's sprouts are now safer, greener, and fresher. The container's tighter perimeter seal design provides increased shelf life, freshness, and better protection of its products. Strategically positioned vents on the sides of the container insure that water or moisture from misting will not leak into the container and cause wilting.  The vents also allow the sprouts to respire properly, which improves shelf life.  Additionally, the container has an integrated hang-tab to enable better merchandising of BroccoSprouts® on racks and pegboard displays throughout the store.  The hang-tab pops up out of the hinge area as the container is closed, and the container is ready for hanging.  
 Inline Plastics Corp.'s Safe-T-Fresh® containers incorporate a tamper-resistant locking mechanism and a unique patented tear-strip hinge that the consumer removes to gain access to the contents of the container.  This innovative, industry-first, design eliminates the need for shrink-bands or wrap-around labels to prevent product tampering. It also protects the sprouts better than many types of flexible packaging.
In addition to reducing wasteful packaging, the vented container is manufactured from a low carbon, 100% recyclable #1 PET plastic. This high-clarity material is made via a direct-to-sheet process that eliminates five energy intensive stages of the conventional PET sheet production process. Using this special Direct-to-Sheet PET (DPET) material has many benefits: it decreases manufacturing energy consumption by 65%, increases productivity and reduces waste, has a 28% lower carbon footprint than competing PET material, and has an equal or lower carbon footprint to rPET material containing up to 50% post-consumer recycled content. Using this material benefits retailers and processors by providing their customers with greener, environmentally responsible, packaging.