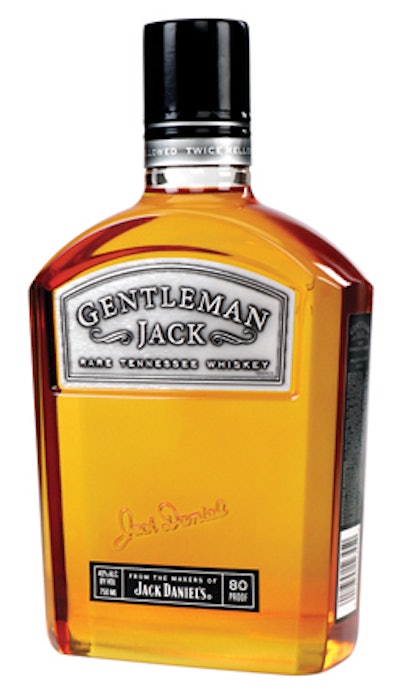 Every bottle of the famous Jack Daniels brand whiskey, distributed to 135 countries throughout the world, is distilled and packaged at Brown-Forman's production facility in Lynchburg, TN. The packaging lines at this plant are more than 30 years old, and upgrades are made when needed and strategically justified.
As manufacturing engineer Tommy Cauble explains, "The Lynchburg bottling facility was built in 1974. Some of the packaging equipment we have is original to the building. We don't replace a piece of equipment just because it's old. If it gets to the point when we can't get replacement/repair parts, or if there's been tremendous technology advances that can deliver significant operating and production rate improvements, then we can justify making the investment. But generally speaking, as long as we have a serviceable piece of equipment that is not a bottleneck, we don't replace it."
New capper needed
When Brown-Forman redesigned the bottle, label, and cap for its Jack Daniels Gentleman Jack line of premium Tennessee whiskey, the new cap presented a special challenge. It is a traditional plastic closure on its inside, but it incorporates a metal oversleeve.
Master distiller Jeff Arnett says, "It's a very high-end, contemporary-looking cap which fits with the redesign of the bottle and label. But our existing capping equipment could not handle the new closures."
After some lengthy discussions with Fowler Products Co., a division of Pro Mach, B-F tasked Fowler to build a capper that would run the new Gentleman Jack bottle format as well as two other bottle formats on the same line. Fowler supplied a twin-turret Zalkin capper to meet B-F's needs.
Arnett explains, "The Fowler capper can apply continuous-thread (CT) closures or roll-on pilfer-proof (ROPP) closures separately, and, in the case of the Gentleman Jack hybrid closure, made by Guala Closures Group, the capper performs both functions. The Gentleman Jack closure is a special continuous-thread, plastic closure built inside an aluminum shell that has a roll-on, tamper-evident skirt. Basically, the first Fowler turret applies and torques the closure onto the bottle like a traditional CT cap, and then the second turret rolls the lower end of the aluminum overshell into a recessed feature of the bottle's neck finish, establishing the tamper evidence."
Gentleman Jack products run on the new capping system are being packaged in four glass bottle sizes—700ml, 750ml, one liter, and 1.75 L. Gentleman Jack also is marketed in 50ml, 200ml, and 375ml bottles, but these sizes do not utilize the Guala hybrid closure. The glass bottles are supplied by Owens-Illinois.
Regarding installation of the new capper, Cauble recalls, "We hadn't worked with Fowler before and were a little bit concerned because we had not seen a machine like this before. And changeover also was a concern. For the sake of overall operating efficiencies, we needed to run three different closure formats (not just the new Gentleman Jack closure) on this capping machine. With our traditional continuous-thread plastic cork closures and roll-ons plus the new Gentleman Jack hybrid closures, we needed the ability to hit different target torque settings based on closure size."
Better performance, smaller footprint
Once the new capper was installed and started up, B-F's concerns were quelled. Cauble notes, "We've had outstanding support from Fowler from day one. Installation and setup went smoothly. The capper runs reliably and flawlessly. And changeover is quick and simple, saving significantly on line downtime. About sixteen different bottles are run on the new line. So every time we can reduce the amount of changeover time, we gain productivity. Line speeds are from 75 bottles per minute to about 135 per minute, depending on the bottle and cap formats being run.
"We basically replaced a corker and a capper with a capper that could run these different styles. The new capper also has proven that it can keep up with accelerated production demands when needed. And operating one capper instead of two translates to less parts and maintenance requirements. But really the biggest thing is that the two other cappers that the Fowler capper replaces couldn't run the new Gentleman Jack caps, and the Fowler machine saves us valuable floor space."
With the new bottle design, B-F also wanted to install a new labeler. The company chose a pressure-sensitive labeling system from K2 Engineering Group. Face labels are made from 70# foil stock from Fasson/Avery Dennison and are off-set printed by Cameo Crafts. Back and side labels are made by St. Louis Lithographing from a Fasson cast gloss paper substrate and are printed using a roll-to-roll flexo printing press. Other components on the line include a gravity/vacuum filler from Pneumatic Scale Angleus, a Barry-Wehmiller Company, tamper-evident shrink-banding equipment from American Fuji Seal, a drop packer from Standard-Knapp, case-sealing equipment from A-B-C Packaging Machine Corp., and an Alvey palletizing system from Intelligrated.
Arnett says, "With the two old cappers, we didn't even have the floor space to install a new labeler. The way our lines are designed, we have very short linear space to de-case empty glassware, clean it, fill it, cap it, label it, and then re-case it. But when we went to one capper with two turrets, that freed up the footprint space we needed."
In fact, B-F has been so pleased with the performance of its twin-turret capper and the service of the Fowler technicians that the distiller has since purchased another Fowler capper for another line at the Lynchburg facility. Cauble points out, "Fowler's ability to solve the dilemma we had on the initial capper project has really led us to make them our capping equipment supplier of choice as we go through and replace systems that are getting old and worn out on our other packaging lines. We don't just bottle Jack Daniels products. In all, this plant produces and markets about 250 SKUs of Brown-Forman products, including glass-bottled miniatures and some plastic-bottled products. So the flexibility and changeover simplicity of the Fowler capper are key benefits."
Companies in this article