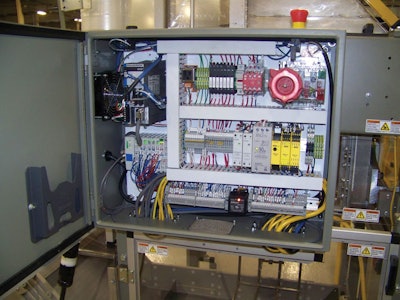 The Vertic-L-PP bagging system from
Rennco
is designed for industrial launderers who handle reusable items ranging from hotel bath towels to hospital gowns. It takes center-folded low-density polyethylene from a roll and makes a bag around large numbers of freshly laundered product. It then discharges the wrapped product on a Z-style conveyor that takes packs from floor level up to a height at which workers can more comfortably and ergonomically put the packs into whatever secondary packaging format is being used.
Until recently, Rennco fabricated its own Z-style discharge conveyor. But when management discovered that Dynamic Conveyor made a DynaCon modular conveyor system that worked more smoothly, cost less, and whose modular construction made it far more flexible than the Rennco-built units were, the DynaCon system replaced conveyors built in-house.
"The twenty-four-inch-wide conveyor gives us the flexibility to offer it with either our single or dual-bagging system, which wasn't possible with the eighteen-inch-wide conveyor we were building in-house," says Robin Thurgood, vice president and general manager at Rennco.
"Ease of assembly is what we like best about the DynaCon conveyor," Thurgood continues. "It's fun watching our guys put the conveyors together. It used to take much longer, and there were frequently follow-up issues out in the field. Now it takes about two hours to assemble a DynaCon conveyor system, and we have no issues in the field. It's also more rugged." Thurgood adds that the savings gained by purchasing the DynaCon conveyors have helped Rennco keep the cost of their bagging systems contained.
Also impressed with the conveyor system is Rennco engineering manager Brian Bowerman.
"If you need to, you can get a quick-order conveyor from them within a couple of days," says Bowerman. "It came in handy this past winter when we were working with a customer who came in for a final run-off of their machine, which they needed on a tight deadline. However, they'd made a mistake on their floor plan, which meant the discharge conveyor we had designed was not the right configuration. I called my Dynamic Conveyor contact and gave them a rough sketch and we had delivery in two days. It meant not missing our scheduled ship date of the finished machine."
Controls upgrades
Optimizing the discharge conveyor hasn't been the only upgrade made recently on the Vertic-L-PP. Other changes have been more about machine controls and motion. Bowerman cites as one example the recent switch to a Kollmorgen servo motor to advance the film into the machine.
"We initially used a stepper motor, because it had a small footprint yet still provided the relatively high torque we needed," says Bowerman. "But the acceleration and deceleration of the stepper created an odd noise. So we looked for a servo motor small enough to fit our machine that would still have sufficient torque but wouldn't be so noisy, and Kollmorgen had what we wanted. Plus we get better control over length of bag and the feedback being sent to the PLC. We used to have a variation of about plus or minus one inch. Now it's almost dead on every time."
The PLC Bowerman refers to represents another upgrade in the controls architecture of the Vertic-L-PP. The PLC is part of the Model LT3300 from Pro-face. It combines PLC functionality with a 5.7" touchscreen HMI to cut cost and save space.
"Having the PLC and HMI all in one package reduces cabinet space because I don't need a PLC with a rack of I/O and then still need an HMI somewhere else," says Bowerman. "Included are two thermocouple outputs, too, so I don't need a separate heat controller."
"The LT3300 also brings us Ethernet connectivity," adds Thurgood. "If a customer asks for that we tell them it's theirs for free because we've implemented it as our standard communications protocol on the machine. It's especially appealing to those who want to collect data and move it around."
Safety first
Finally, the new bagging system also makes use of Model C4000 Micro safety curtains from Sick and represents Rennco's first use of Sick's Flexi Soft programmable and modularly expandable safety controller. The Flexi Soft technology replaces a more traditional solution consisting of safety relays that are mechanical in nature and thus frequently need to be replaced. The safety relays also require more wiring. Says Bowerman, "We were able to take nine safety relays out and replace them with three Flexi Soft modules."
Because the RS232 communications bus is built into the Flexi Soft controller, Rennco customers will be able to interface it with the Pro-face HMI if they want to know machine status. For example, if a specific e-stop has been tripped, or if the right light curtain vs. the left has been tripped, or if there are any errors in the logic or any discrepancies in the inputs, these can be enunciated over the RS232 and displayed on the Pro-face screen.
Says Thurgood of Sick's contributions to the Vertic-L-PP: "They make good products and they're very responsive."
Companies in this article