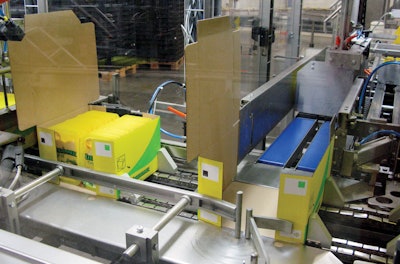 Cheese slicing and packaging are taken to a whole new level of speed and automation with the recent installation of Line 5 at Bel Leerdammer Cheese. Even more impressive is the slicing accuracy that's provided by the new line's CFS Giga Slicer. On the day PW visited the plant, located in Wageningen, the Netherlands, giveaway on an eight-slice package with a target weight of 200 g was impressively low. (The firm chooses not to quantify.) Such accuracy, made possible by a new use of X-Ray scanning, is all the more impressive considering that the holes in the cheese make product density something of a moving target and that four logs of cheese are being sliced at one time.
Increased demand is what spurred the installation of the new line. According to Bel Leerdammer packaging engineer Peer de Jong, the firm had clearly set goals, including:
• Low giveaway
• Minimum waste, defined as the piece of cheese left in the gripper claw of the slicing machine plus whatever gets trimmed off the nose of the log
• A thermoform/fill/seal system capable of 25% more packs per cycle than the other lines at the plant
• A three-shift operation and minimal operators required in the "clean room"
By the time the line was complete, Leerdammer's commitment to automation meant that, from product infeed to palletizing and stretch wrapping of finished cases, remarkable few people are required to operate Line 5 (again, for competitive reasons, the firm is reluctant to quantify). It begins on an automated note with an ABB robot that picks large logs of film-wrapped cheese from plastic reusable trays and feeds them to not only Line 5 but an adjacent line, too. The trays of cheese are conveyed into the ABB robot on a pallet. The dual-purpose end effector on the robot arm deploys vacuum suction cups to pick cheese logs out of trays but switches on demand to a mechanical gripper to lift full plastic trays into place and then stack empty plastic trays onto a pallet. Leerdammer worked with robotics integrator Rohaco to make the robotic cell a part of its operation.
"When we first went into commercial production on Line 5 in early 2010, this infeed of cheese logs was done semiautomatically and required two operators," says de Jong. "The addition of the robot helps us keep labor costs down. But considering that those two lines do many tons of cheese per shift, it also is a big boost from an ergonomics perspective. That's a lot of cheese to handle semiautomatically."
The freshly depalletized logs of cheese have their plastic film wrapping removed automatically and then proceed into the clean room, where slicing, packaging, labeling, vision inspection, and checkweighing all take place.
Slicing
First up is slicing. Logs of cheese are wheeled up to the GFS Giga Slicer on trolleys and placed on an infeed buffer conveyor leading into the CFS OptiScan X-ray scanning tunnel. It determines product density all along the length of the log, a number that is not constant due to the holes in the cheese. Exiting the OptiScan, the cheese log is weighed. The data on both density and weight are sent over an Ethernet connection via TCP/IP Protocol to the slicing system's B&R controller, which is an industrial PC. Armed with this information, the controller can communicate with the B&R servo motors that drive all four independent cheese log feeders, telling each one how many millimeters the log should be advanced into the slicing blade so as to produce a slice that comes as close as possible to the target weight. Says de Jong, "X-ray scanning technology introduces a whole new era where reducing giveaway is concerned."
So new was this technology to CFS that when Line 5 was designed and installed, it included a cheese slicer and a robotic pick-and-place unit both positioned just ahead of the lidding station so that if a package was detected as underweight, an extra slice could be added automatically. But in a matter of months these machines were removed. "That's how accurate the OptiScan technology is," says de Jong.
Arjen Hettinga, CFS product sales manager, credits the Giga Slicer's accuracy to the B&R controls platform and its ability to calculate quickly and communicate information in milliseconds. "Each cheese log is fed into the cutting blade by an upper traction belt and a lower traction belt, and each belt is driven by a B&R servo motor," says Hettinga. "These belts set the slice thickness based on information sent first to the B&R controller by the X-Ray scanner and the checkweigher and then from the B&R controller to the B&R drives that govern the servo motors driving the traction belts. Without this calculation and communications speed delivered by the controls package, the use of this X-Ray technology would never be possible."
When the Giga Slicer finishes slicing a set of four cheese logs, it lowers its product infeed bed and sends a signal that brings in four new logs. The product bed rises again and the fresh logs are metered into the slicing blade. Stacks of sliced cheese—eight slices high for the 200-g package that was in production on the day of PW's visit—are conveyed forward on four independent belts of the CFS ShingleLoader to the CFS PowerPak NT thermoform/fill/seal system. Laser sensors detect exactly where the leading edge of each stack is at so that the speed of the belt can be modified, thus keeping all four stacks perfectly aligned. This dynamic alignment is made possible by the servo drive technology and controls platform—supplied once again by B&R—that controls the CFS ShingleLoader and the PowerPak NT.
Into thermoformed cavities
Stacks of cheese slices are next placed by the ShingleLoader into the thermoformed cavities that are arranged in a 4x4 pattern on the CFS thermoformer. The Leerdammer package is a rigid/rigid format, so the lid applied to this package is also a thermoformed piece. The thermoforming is done by roll-fed tooling that sits above the trays of cheese. As lids are heat-sealed to the trays, the trays are evacuated and backflushed with a mixture of CO2 and nitrogen.
Tray material and lidstock, supplied by Wipak, are both multi-layer coextrusions that include some EVOH for gas barrier purposes. Wipak prints the lidding material flexographically in eight colors. The barrier film combined with the evacuation and backflushed gases give the cheese packages a refrigerated shelf life of 90 days.
As trays leave the sealing station, they enter a separate station where one more bit of forming takes place. This is where three small indentations or lugs are pressed into the left and right sides of the tray perimeter. These give the package a reclosure quality because the lid snaps over the indentations and is held firmly in place by them. It's not a hermetic seal by any means, but it is a nice, reliable reclosure of lid to tray that is accompanied by an audible "click" that tells consumers the lid is firmly in place. Leerdammer was so sure about this reclosure feature's consumer appeal that they had CFS retrofit the necessary tooling on all four of the other sliced cheese packaging lines they operate in Wageningen so that all packages have the same reclosure feature.
Trays now move into a labeling station occupied by two top labelers and two bottom labelers. Bottom labels carrying product identification, use-by date, and other variable data are always applied. Top labels are only applied when special promo info needs to be conveyed. Why four labeling heads? For redundancy purposes. Thermoforming is best practiced as a continuous and uninterrupted process. It's not good to shut down two thermoforming stations to change a roll of labels.
Exiting the labeling station and still in their four-by-four orientation, trays are cut into individual packs and enter a pick-and-place station provided by Automotion. Here, an overhead device with suction cups picks one row of four trays and puts them on an outfeed conveyor in a single-file format.
Next is a vision system from DVC that checks the seal around the entire tray perimeter. It also will identify and reject any tray with a missing label or illegible printing. Trays then are conveyed through the final machines in the clean room: a Garvens metal detector and checkweigher from Mettler Toledo.
On to secondary packaging
Once out of the clean room, packages are conveyed to a wraparound case packer from Racupack. Its infeed section consists of a device that uprights 11 packs at a time from a horizontal to a vertical orientation. It then advances those eleven packs to a collation station. As soon as a second group of 11 packs are delivered to the collation station, all 22 packs are pushed into a freshly erected corrugated case. The machine's Nordson unit then applies hot-melt glue, tucks all the flaps closed, and discharges a completed case. Just before exiting the Racupack case packer, an MR thermal-transfer print-and-apply labeler from Multivac applies date code information to the leading edge of the case. Palletizing is done by a robotic system that, like the robot cell at the head of the line handling incoming cheese logs, comes from Rohaco. It uses an ABB robot to stack cases layer by layer. A light safety curtain from Sick adds the necessary level of safety to the robotic enclosure. An automated stretch wrapper from Matco brings the line to a close.
"To our knowledge," says de Jong, "this is the first time a thermoforming system this large that thermoforms both top and bottom has been produced. The use of X-Ray scanning is also very new. Anytime you extend technology like we did here, you hope it will work out. I'm happy to say that it did. The slicing accuracy we get on this line brings significant cost savings. And with the same number of operators, this line does considerably more packs per minute than our other lines do. That means 36% better output, which helps with payback and return on investment.
"We invest in new technology and automation because it brings value," de Jong adds. "New times require new solutions."
Companies in this article
Videos from Nordson Corporation