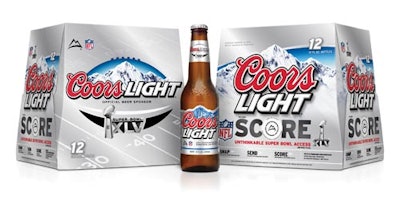 For a Coors Light Super Bowl XLV beer promotion, parent company MillerCoors used the power of packaging to attract and engage its football-fan consumers in a new way. Capitalizing on its status as the official beer sponsor for the NFL, last December MillerCoors launched football-themed packaging with an interactive on-pack sweepstakes that offered inside access to the 2011 Super Bowl.
The campaign involved the input of both digital and traditional marketing agencies. MillerCoors' digital agency of record, Razorfish, spearheaded the mobile marketing aspect, while brand consulting and design firm Landor Associates created compelling package graphics. For the on-pack sweepstakes, Razorfish selected SnapTag™ technology from SpyderLynk, a seamless tagging technology that allows consumers to easily connect with brands using their mobile camera phones.
"Coors Light wanted to provide unthinkable access to the Super Bowl, so we worked with Razorfish and SpyderLynk to develop a campaign that delivers new ways for our fans to experience the big game alongside our brand," says Dan Hennessy, Coors Light marketing director.
Regional variations enabled
According to SpyderLynk CMO Jane McPherson, the Coors Light Super Bowl campaign represents the largest execution to-date of the company's SnapTag technology. As she explains, a SnapTag consists of two elements: a brand logo, or something iconic to the brand, encircled by a "code ring" programmed with variable code-ring breaks. The tag can be printed on packaging, advertisements, billboards, or other brand materials. Consumers use their camera phones to snap and send a photo of the SnapTag to a designated short code or email address. A response is then returned to the consumer by way of a text or multimedia message, which can then evolve into further dialog between the consumer and the brand.
The Coors Light promotion used the brand's mountain icon as the SnapTag logo. SpyderLynk developed SnapTag code-ring variations, representing 11 separate sets of prizes, or responses, for the MillerCoors campaign. When the consumer sent a Coors Light SnapTag to SpyderLynk via their mobile device, SpyderLynk associated its code-ring break with a specific response, enabling regional variations in the promotion.
According to McPherson, the code ring can be programmed in "tens of thousands of variations," which means MillerCoors can use the same SnapTag logo for future promotions.
The benefit of the SnapTag versus other mobile marketing technologies, such as 2D bar codes, explains McPherson, is that it does not require the user to download an application or other special software to their phone. "What's different about a SnapTag is that any consumer with text messaging capability and a camera phone can participate," she says. "The retail environment represents the last opportunity a brand has to influence the buying decision," McPherson adds. "Without adding any other marketing materials in the store, using a SnapTag on their package, a brand owner can initiate a dialog with the consumer to influence that decision-making process."
Although she admits she does not know the full extent of MillerCoors' investment in the Super Bowl promotion, McPherson says "this type of activation [SnapTag] as a percent of an overall multichannel campaign is quite cost-effective."
Alternating panels entice, educate
While Razorfish and SpyderLynk took care of the technical aspects of the MillerCoors promotion, Landor was tasked with creating enticing package graphics that would stand out on cluttered store shelves during the busy football season, while educating consumers on how to enter the digitally enabled sweepstakes. In the area of packaging, SnapTags were used on secondary cartons for bottles and cans.
"The biggest thing we discussed [with MillerCoors] was to break through and be impactful on shelf by creating packaging that was different than the traditional template format, and to communicate Coors Light's relationship with the NFL and the Super Bowl," says Adam Weiner, client manager at Landor. "We also needed to educate the Coors Light shopper and consumer around this new entry mechanism [SnapTag] and how they could use it to access the sweepstakes."
Landor's solution was to use a thematic approach on one carton panel, and an educational approach on the other. Thematic graphics included Coors Light's core brand equities of the red-and-white logo, silver color, and Rocky Mountain imagery. All of these elements were placed inside a football-shaped silhouette, along with the Super Bowl logo, against a background of a football field. On the other side of the carton, the SnapTag is positioned as the "o" within a bold block of type reading "Score." Copy that directs consumers to "Snap," "Send," and "Score" explains how to use the SnapTag to enter the sweepstakes.
According to Landor, contrasting panels encouraged stores to display the packages in a unique way, alternating them to grab consumers' attention.
Weiner says he thinks the design succeeded in meeting MillerCoors' objectives in an exciting and unique way. "The way it's compartmentalized with different information for the promotion itself and the integration of the SnapTag makes it quite a unique package that's fun and engaging, and sticks to the core equities of this brand."
Kedric George, Coors Light marketing director, expressed the same to Landor after the package was developed. "This is the most exciting promotional packaging I've been involved with in all my years in marketing," he told them. "It has helped us generate excitement with our retail partners, and I'm extremely confident it will do the same with consumers and lead to strong sales results."
Companies in this article