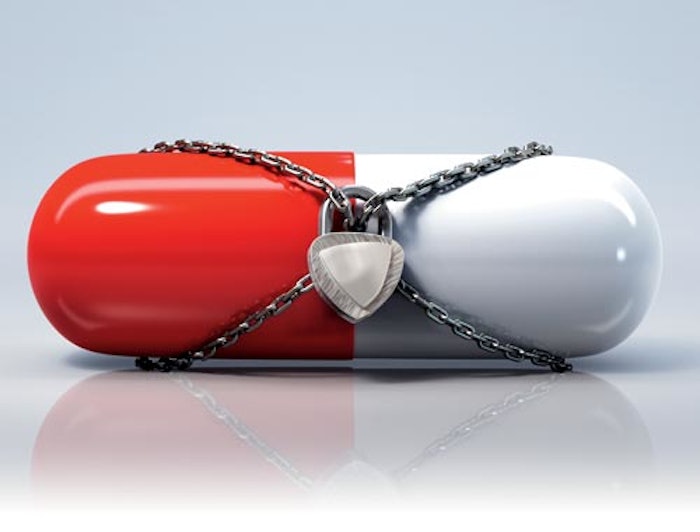 When it comes to pharmaceutical brand authentication/protection, track-and-trace, and anti-counterfeiting, exciting new technologies continue to emerge at the packaging level. But capsule manufacturer
Capsugel
, a div. of Pfizer Inc., is providing authentication, anti-counterfeiting, and diversion protection beyond packaging.
Those benefits are delivered via
NanoGuardian
's NanoEncryption™, an on-dose, brand-protection technology that serves to trace and authenticate every dose from plant to patient. To do that, Capsugel uses NanoGuardian's NanoEncrypter machine at its Greenwood, SC, facility. The machine, with roughly a 10'x10' footprint, uses different change parts to "NanoEncrypt" each customer product dose with three layers of security features on the outside of the unfilled capsule. An overt NanoEncryption mark is visible to the eye. A covert mark can be seen using a hand-held microscope and can be easily read at a pharmacy or by law enforcement personnel anywhere in the supply chain. The third layer is the NanoCode, which given its nanoscale size, is forensic by nature, with 350 of these NanoCodes fitting in the width of a human hair. Only specialty readers can read and verify this information, which is developed specifically for each product from each company by Capsugel and NanoGuardian.
"In some cases, the criminal counterfeiters and diverters caught up with the [anti-counterfeiting] technologies, because over the years they specialized in packaging," believes Guido Driesen, Capsugel's president and general manager. "We are not saying that there is not a lot available in terms of packaging technologies to battle counterfeiting and diversion, but we're thinking about what's available in addition to packaging. I think both go hand-in-hand. We are looking at the long-term, and how we can protect patients and consumers."
Initially part of the Parke-Davis Co., Peapack, NJ-based Capsugel has numerous global locations to support customers on every major continent. Capsugel produces capsules and other dosage forms for the pharmaceutical and dietary supplements industries with formulation support to help companies bring new products to market quickly. Its products include hard gelatin, softgel, liquid caps, non-animal, and fish gelatin capsules. The company even sells capsule-filling equipment, manufactured by outside firms, such as the CFS 1200 liquid filling and sealing machine, and the Xcelodose® S Precision Powder Micro-dosing System, which are used by customers from the formulation and R&D stages through final production.
Driesen says, "We are best known for the hard capsules we manufacture and sell. Over the last five years, we've gone beyond providing capsules to customers, and begun offering innovations such as new drug delivery technologies and formulation support. Our main objective and our vision focus around offering innovative dosage forms and solutions to our customers in the pharmaceutical, consumer healthcare, nutrition, and cosmetics industries." Pfizer, says Driesen, accounts for less than 5% of Capsugel's total global capsule sales.
Developing its 'nano' roots
Helping its customers battle counterfeiting and diversion is critical, Driesen says. "The counterfeiting numbers from the World Health Organization and other independent sources show that the global market for counterfeit drugs might be worth $75 billion or more. So as a company, we were asking how Capsugel could provide a service to the industry to do something about this huge problem.
"We evaluated technologies, and there are a lot of companies working on anti-counterfeiting from a packaging perspective. NanoGuardian had an innovative product developed within the nanotechnology space. It's unbelievable what you can track once you are able to put information into a nano-size area on a capsule," he says, pointing out that Capsugel began working with NanoGuardian in late 2009, employing the technology earlier this year.
"We really liked their technology," says Driesen. "The NanoEncryption innovation is extremely difficult to duplicate. NanoGuardian is a division of Nano Inc., so they have been developing nanotechnology for years and their focus is even broader than encrypting capsules, tablets, or vials. In a tiny space several times smaller than a pinhead, you can put in a product or company logo, and numerous NanoCodes that contain unlimited information about the manufacturing and distribution of the product being NanoEncrypted. As an engineer, I find that quite impressive."
Driesen says the nanotechnology doesn't add any material to the product or risk contamination within Capsugel, nor does it present any compatibility concerns for regulatory agencies.
Driesen explains, "NanoGuardian has developed the equipment to do the NanoEncryption at production scale. They also produce unique NanoEncryption markers for each product, lot, and customer. Capsugel will then provide customers with the NanoEncrypted capsules, offering them the ability to identify each lot separately with details on each capsule that could include an unlimited amount of data such as manufacturing date, batch number, manufacturing location, as well as distribution information. Customers would then fill product into the NanoEncrypted two-piece capsules at their own facilities.
Do customers have a way to check to make sure the correct information is on the capsules? Yes, says Driesen, "there's a way to look at it from an overt, covert, and forensic perspective. It's what NanoGuardian calls a 'closed-loop' system."
So how does Capsugel economically justify the investment in the nanotechnology? Driesen contends, "In terms of ROI, we look at this in a broad sense. We are not looking here at the short-term return on investment. We are looking at a huge counterfeiting issue and our role in making sure that patients and consumers globally will be able to continue to have faith in the products they receive. We want to assure customers and patients that those products that we send them are what they are supposed to be. I think that's a responsibility that we have as a part of the pharmaceutical environment. We make and sell about 180 billion capsules annually around the world, so product integrity and doing things the right way is a priority."
Driesen knows that the overall pharmaceutical industry can't secure 100% of the drug product distributed in the U.S. "But," he says, "If we don't do something, it's going to be even less secure. The point is to stay ahead of the counterfeiters. The NanoGuardian technology is very innovative, and we are a company customers know and trust. We believe some customers will be more willing to do this extra step than others. I strongly believe that we need more of these kinds of initiatives to provide protection against counterfeiting and diversion."
Companies in this article