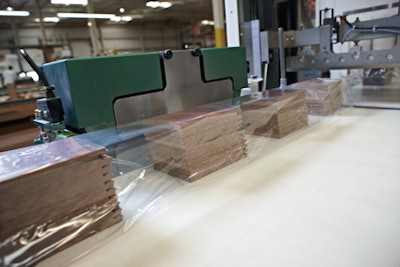 As the leading sample converter for the floor covering industry, Atlanta-based Sierra Group prides itself on constantly finding ways to improve its service through technology and packaging. That's why it began looking last year for a new way to package hardwood flooring samples that would be more streamlined and cost-effective and would offer a better disposal option than corrugated boxes.
Sierra found its solution in Bemis Clysar® ShrinkBox® film, a heavy-duty shrink film suitable for corrugated replacement. Although the film is a fraction of the thickness of corrugated, it offers the puncture-, tear- and abrasion-resistance required to protect easy-to-scratch flooring samples during transit and handling. The film can be run on fully automated equipment, costs less than corrugated, and generates significantly less waste.
Once Sierra proved to itself that the concept was viable, it worked with a shipping consolidator to present ShrinkBox as a replacement for corrugated to a big-box retailer. The buyer immediately wanted to transition all its hardwood flooring samples to the new package.
"Within three weeks of showing the shrink-packaging solution to the retailer, we had installed equipment, received film, and trained our operators to run it," recalls Sierra vice president of sales and marketing Wayne Jones. "It was a whirlwind, but it was worth it. The system paid for itself in three months, and we eliminated the need to order, inventory, and dispose of a million boxes a year."
Stepping up to the challenge
Sierra works with major flooring suppliers like Armstrong, Mohawk, and Pergo, taking full-sized sheets or rolls of flooring, including carpets, vinyl, and hardwoods, and cutting them down to consumer-friendly sizes for retail display. They ship the 10-pack samples on a skid to a consolidator that picks and packs them to fulfill individual orders. Store personnel then open the packages and place the samples in a retail display so do-it-yourselfers can take them home to see how they'll look in their own environments. It is up to the stores to dispose of the packaging, which can pile up quickly.
Before they switched to a new packaging system, Sierra had to be sure any changes they made would be an improvement throughout the distribution chain. They worked with packaging distributor Atlantic Packaging to help them examine their goals, as well as the pros and cons of potential solutions. "When we first came across Atlantic, we were impressed with their ability to provide full packaging systems and support, including material, equipment, training, and maintenance," says Jones. "They brought a valuable level of expertise and service to the table."
A primary goal for the new package was to reduce and simplify packaging inventory. While flooring samples are generally packed in bundles of 10, each brand and type of sample is sized differently. They might range from 2 x 3 x 4 in. to 5 x 9 x 12 in., requiring dozens of SKUs of corrugated boxes to contain them. Keeping the right boxes in the right sizes on hand meant a lot of space and dollars tied up in inventory for Sierra.
Improving productivity was also key. The corrugated cases were slow and labor-intensive to set up and pack. The time-consuming six-step process included printing the label, erecting the case, counting the samples, filling the case, closing and taping the case, and applying the label.
"We were lucky if we could erect and fill one or two boxes a minute," says Jones. "It was clear that our corrugated packaging process had room for improvement." Because there's a consolidator involved, by the time Sierra's flooring samples get to the retailer, they've been handled and shipped twice. That means any shipping inefficiencies are doubled, so shipping efficiency was twice as important. "With a box, the best you're going to get is pretty tight," says Jones. "You know you're shipping some air. When you start stacking up multiple layers, you actually get settling and crushing because of air gaps in corrugated."
Rounding out the goals for the alternative package solution was the need for a better disposal scenario than corrugated. "We know the package's carbon footprint is important to all the major retailers," says Jones. "They're closely monitoring the amount of packaging being used, and how much they're sending off to the landfill." With the flooring samples being opened by the stores, it only made sense to reduce the amount of packaging as much as possible.
A total turnkey film and equipment solution
Atlantic helped Sierra put together a system that met all their key goals: lower inventory, better productivity, more efficient shipping, and less material going to the landfill.
To automate the packaging process, Atlantic recommended a Texwrap 2602 in-line system that's belt-fed into a horizontal form/fill/seal shrink tunnel. The Texwrap 2602 wrapper is a compact, intermittent two-belt system that's capable of wrapping anything from a deck of cards to a bundle of wood flooring. The machine is able to run a variety of infeed configurations and offers easy changeover and tool-less setup—all features that give Sierra added flexibility to run multiple flooring sample sizes.
A Green Machine™ side sealer from SPS was retrofit to the wrapper to maximize seal quality. The Green Machine replaces traditional hot-wire sealers with a proprietary low-heat sealing system that virtually eliminates resin buildup, component burnout, and seal defects caused by high ambient heat.
Downstream from the wrapper is a Texwrap 1322 single-chamber tunnel. This workhorse tunnel has a stainless-steel mesh belt and top and bottom adjustable air control for uniform heating and optimal shrink results.
The Clysar ShrinkBox film Sierra selected is said to be the strongest polyolefin shrink film on the market, offering protection against puncture, tearing, abrasion, and moisture throughout shipping and distribution. Designed as a sustainable alternative to corrugated, ShrinkBox is increasingly being used for hardware and household products, like stair parts and millwork.
With high shrink force and excellent seal integrity, ShrinkBox is able to collect and contain Sierra's bundled flooring samples in a nice, neat stack. Initially, Sierra chose the heaviest-duty option available, ShrinkBox® 2035, but soon found that the lower-gauge ShrinkBox® 1525 provided the protection needed, further reducing material weight and cost.
Walking the walk, 400% faster
The fully automated new shrink-wrap system cut Sierra's packaging process from six steps to two, and increased line speed by 400%.
The process starts with an operator counting flooring samples into stacks of 10 and placing them on the infeed conveyor. As the samples enter the Texwrap 2602, they are positioned inside the fold of the ShrinkBox film, which is fed into the machine concurrently with the samples. As the samples index forward, the Green Machine seals the film on the side of the package, and then the end seal is made on the leading edge and trailing edge of the bag. Once the bag is completely formed, the exit conveyor on the shrink wrapper indexes the samples into the shrink tunnel.
Inside the tunnel, the package is heated, which causes the film to first balloon and then shrink to conform to the product. The film will shrink at temperatures from 300°F to 325°F, so the tunnel requires minimal monitoring for temperature adjustment during operation. Engineered to shrink uniformly without the dog-ears common in shrink packaging, ShrinkBox creates a clean, attractive package. By the time the wrapped samples reach the end of the line, the film is cooled sufficiently to stack on a skid. Full skids are stretch-wrapped and moved to finished goods inventory.
Atlantic trained Sierra's staff to run and maintain the new shrink equipment so they can achieve optimum performance on an ongoing basis. Multiple people from Sierra participated, including operators, supervisors, the plant manager, and tech personnel. Learning how to operate the equipment quickly is crucial to the success of any automated packaging line, so it was important to cross-train people from different areas so they could support one another if questions came up.
40% material savings and more
A bonus of the new system was a significant savings in material costs. The corrugated cases and tape Sierra was using could cost anywhere from $0.18 to $0.20 per package, whereas the material cost for film is about $0.12 or $0.13. Sierra estimates that it is saving 40% to 50% in material alone. "Reducing material costs wasn't our primary goal for changing packaging, but, of course, when we realized we would achieve these savings, it helped reinforce our decision to make the switch," says Jones.
Since multiple sample sizes can be wrapped from a single film width, Sierra only needs to stock two film sizes. That cut the number of packaging SKUs Sierra stocks by 60%. "Plus, film is compact, so it's also highly efficient to ship and store before it's used in the package," says Jones.
From a post-production shipping standpoint, there's no dead space in the shrink-wrapped package, so the same amount of samples take up less space when stretch-wrapped on a skid. That's true for the consolidator as well. Shipping costs are based on the number of master cases going to the stores, versus the weight of the cases, so the more the consolidator can get into the case, the greater the savings. And people working both in the distribution center and at the retailer's locations can see the contents in the clear package, making it easier to quickly pick and place the samples. And, of course, one of the biggest winners in the transition to ShrinkBox film: The big-box retailer cut its packaging waste by about 80% compared to the previous corrugated packaging. That translates to about 1 million fewer corrugated cases entering the waste stream annually.
"Next time you're in a DIY retailer, look around at all the corrugated being used," says Jones. "Retailers are taking the initiative to cut down on the amount of waste being generated, which can also reduce costs if they choose the right alternative."
A new way of 'shrink' thinking
"When we started this initiative, it was just transitioning wood and laminate samples to shrink film versus corrugated for one major retailer," says Jones. "Now it's grown into vinyl and carpet and is expanding to other retailers."
Sierra will continue its quest for new technologies to improve its operations and service. "We don't just do things the same old way," says Jones. "We're always looking for innovative new ways to package our products, to provide our customers with the best options." New ShrinkBox packaging illustrates the benefits of such innovative thinking.
Companies in this article