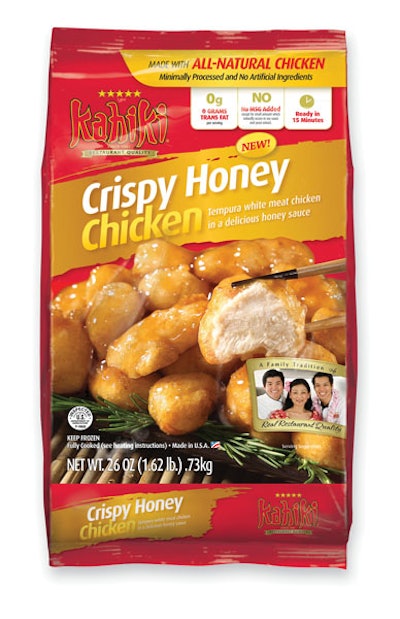 With U.S. unemployment numbers flirting with double digits, it's refreshing to learn about a company whose investment in packaging equipment has helped avoid layoffs while at the same time lowered labor costs. The company is Kahiki Foods, Inc., a Gahanna, OH-based maker of frozen Asian entrées and appetizers. Reduced labor costs and product giveaway, plus increased efficiency, are the key benefits that Kahiki has enjoyed since its December '08 installation of a Triton vertical form/fill/seal bagger from Matrix Packaging Machinery (www.matrixpm.com) To see a video of the Triton, go to www.youtube.com/watch?v=P2Ys62Guhok.
Kahiki produces single-serve and family-sized packages for sale nationwide at grocery stores, membership warehouse clubs, convenience stores, and foodservice operations. It also packages some private-label brands and foodservice products. Packaging is done at its 119,000-sq-ft facility in suburban Columbus, OH, on five packaging lines.
Kahiki had manually filled the frozen packs in the past, using a dozen employees to do the job. "From a labor perspective, our people did a pretty good job," says Mark Novak, Kahiki's vice president of manufacturing and logistics. "But we wanted to automate the bagging process for different reasons, both for labor savings and speed, which was a big deal. "Automating also reduced the cost of film." We no longer have to have the film converted into a premade bag. Instead, we use rollstock film, which is a more economic way to go. Automatic bagging has also allowed us to make use of a scale to improve our weighing accuracy and reduce giveaway." That's achieved with a 14-head scale system from CombiScale (www.combiscale.com) mounted on top of the Matrix bagger.
Successful machine search
Novak makes it clear that Kahiki Foods completed its due diligence in looking for just the right filling equipment. "We looked at a number of different machines," he recalls. "We were looking for fairly quick delivery and machine reliability across a spectrum of different frozen products." Novak put considerable trust in the recommendation of the Matrix machine from a friend with extensive experience filling frozen potato products and baked goods. "I've trusted him for a long time," says Novak, "but still, we looked at six different potential suppliers."
Kahiki reached a purchase agreement with Matrix on the Triton, based on availability the machine within a certain time frame. "The Triton machine came so well recommended for our uses and for our future plans, that we realized that Matrix gave us the best options," says Novak.
Kahiki's filling process
The Matrix filling line begins after product is fried and later is conveyed from a spiral freezer through the CombiScale, which releases buckets to provide the appropriate weight of product through the Triton vf/f/s machine.
Both preprinted and clear rollstock film are supplied by Winpak (www.winpak.com). Film unwinds around the Triton's forming collar and is heat-sealed at the bottom. Product falls into the material, which includes an Inno-Lok reclosable barrier seal from Zip-Pak (www.zippak.com). "When we looked at baggers and forming tubes, as well as film, the Inno-Lok feature was important to us and gave us another option for future product introductions," notes Novak.
Bag sizes currently range from 21 to 50 oz, but Novak says the number of SKUs run on the Triton bagger could rise from the current seven or eight to 21 in the near future. Changeovers are no problem for Kahiki. As Novak explains: "The items that we pack on the Matrix machine are good sellers. Right now we usually don't do changeovers more than once a day. But we can do a changeover in less than 12 minutes, with the fastest changeovers taking just three to four minutes. If we have to put a different forming tube on, it could take up to 40 minutes."
The top of the filled bag is heat-sealed simultaneously with the bottom of the next bag. A knife cuts through the seal area and the bag drops onto a conveyor where it's carried to a new metal detector from Mettler-Toledo (http://us.mt.com). Next, product-filled bags in clear film are automatically placed into a folding carton on a cartoning machine from Superior Pack Group (http://superiorpackgroup.com). Packs in printed film are not cartoned; they pass through an Ishida checkweigher supplied by Heat and Control (www.heatandcontrol.com).
Benefits please Kahiki Foods
The Triton runs on four weekly shifts, operating at speeds that Novak says allow the company to optimize control of the line. "We've been very happy with the bagger. It's been very rewarding in that it saves us a lot of money and it's been a reliable system," he says.
Much of the savings come from reduced labor. "The labor-savings are dramatic," Novak says. "When we look at the fact that we've virtually doubled our speeds from manual packing, with fewer people, we have realized a 65-percent reduction in labor costs." But that doesn't mean people have been terminated. "Instead," Novak says, "we have been able to divert those people to other business areas because we have made product and process improvements. We have not let anyone go in the last 10 years."
Faster speeds and labor savings are not the only advantages. Kahiki has greatly improved its Overall Equipment Effectiveness (OEE) thanks to the Matrix Triton machine. Kahiki tracks its OEE progress, which Novak defines as "production against entitlement within scheduled time." The company does not base its OEE figures on 24/7 availability, which would yield lower percentages. Instead, the company goes with a 450-min daily operating time that excludes lunch and breaks. Any loss in productivity during that 450-min time would be from one of four areas: machine problems, processing changeovers, supply problems, or staff. "Those four are tracked each day and then performance is based on actual output," he says. Factoring into the OEE at Kahiki is the amount of good product minus any quality loss, such as bag material rejects, bags that are over or under our acceptable weight tolerances, or if for some reason there was an issue where bags weren't filled. We then take all those three components and multiply line-availability percentage by performance percentage and by quality percentage to get the OEE for the line, Novak explains.
"Right now, there is no overall control or automation system that runs the line. It's certainly a place we'd like to go soon. We have plans to upgrade, but I can't share that yet," adds Novak.
Companies in this article
Videos from Matrix Packaging Machinery