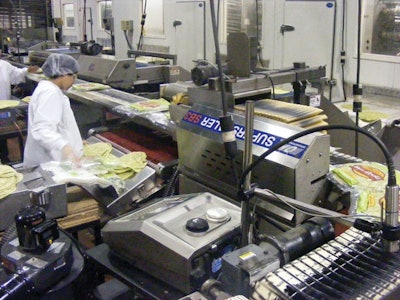 Harbar Corp. LLC, Canton, MA, produces and packs tortillas both under its own and private label brand names—for example, Maria and Ricardo's, Mayan Farm, and Wrappy. To meet growing production demands, the company began shopping around for new bagging and casing equipment that could improve operating efficiencies.
Plant manager Peter Ofner says, "We evaluated several options. We chose the Supersealer SB30 rotary bag sealing equipment and Supertaper 1M semi-automatic case tapers from OK International. These systems were competitively priced, service maintenance-friendly, easy to changeover from one product and package size to another, and the people at OKI were very responsive to our inquiries. They were nearby geographically and intent on meeting our operational needs. First we tested the equipment at their facility in Marlborough, Massachusetts, and then they came to Canton to help us install and start-up the systems."
Phasing in
Harbar installed its first OK International (www.okcorp.com) equipment in 2002. Pleased with the performance, the tortilla maker and contract packer phased in more of the machines over time. Currently, Harbar operates three Supersealers and two Supertapers, and is planning to install additional OKI equipment.
The Supersealer continuous band sealers can accommodate a wide range of films and feature heavy-duty, stainless steel construction and operator-friendly controls. The Supertaper case sealers apply tape to both the bottoms and tops of corrugated shipping cases and also feature heavy-duty, stainless steel construction. The sealers and tapers are easy to maintain, service, clean, and changeover to different bag and case sizes.
The tortillas, produced in 6-, 8-, 10-, and 12-in diameters, are packaged in various bag sizes for distribution to retail and foodservice markets. Some of the bags are recloseable, and some not, depending on the requirements of various contract customers. The preformed low-density polyethylene (1.75-mil gauge) bags are flexographically preprinted in up to 8 colors, depending on brand. The bags are supplied by Hauppauge, NY-based Aladdin Packaging LLC (631/273-4747).
Corrugated shipping cases in which the tortilla bags are packed are supplied by Key Container Co. (www.keycontainer.com) and are printed with alphanumeric and bar code data, using coding equipment from Foxjet (www.foxjet.com).
Summarizing the benefits of the OKI bag sealing and case taping equipment, Ofner says, "This equipment is very reliable, fast, and easy to changeover. We have increased bagging speeds by about 15 percent and been able to reduce labor costs and downtime. Changeovers take only about three minutes."

Companies in this article