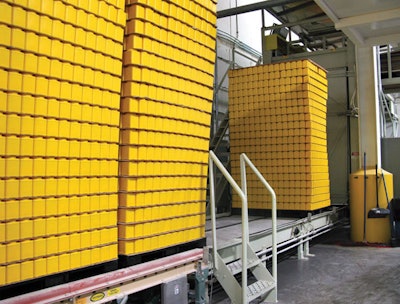 A proposal for an all-new cornstarch packaging line with a $4 million price tag had essentially put the project out of reach for ACH Food Companies, Inc., Memphis, TN. That was when engineering manager Tony Bolletta, a 14-year veteran at the company's operations in Ankeny, IA, took a new tack based on an old idea: use pre-owned equipment rather than new. That approach saved about $2.5 million for the line. With the full support of the ACH Senior Management team, the project was approved in early 2008 and became operational in July 2008. "It took less than six months to pull the line together from start to finish," Bolletta says.
The line, the newest among dozens of production lines at the Ankeny plant located outside Des Moines, has a maximum output of 150 containers/min, "and is a very consistent line," Bolletta says. A key reason for that is few SKUs are run on the line, thus reducing changeovers and lifting efficiencies.
Advantages squared
The container packaged on the line, a squarish, high-density polyethylene container from Schoeneck Containers, Inc. (www.schoeneck.com), is a state-of-the-art replacement for the wax paper-lined paperboard box the product had been packaged in for decades.
A major plus for the symmetric container is that no orientation is required. That includes at the start of the line, where the containers permit easy handling by a pre-owned Simplimatic Automation (www.simplimatic.com) depalletizer. It's preceded by an ACH-engineered truck-unloading system that delivers pallet loads of bulk containers. Cornstarch also arrives in bulk in 50,000-lb trucks and is unloaded pneumatically into storage and processing tanks. Project manager Jonathan Balashaitis, who led the machinery installations, says ACH is very happy with the delivery process.
New overhead conveyors from Mid-States Corp. (www.midstatescorp.com) transport the containers in single file from the discharge of the high-level depalletizer over and down to the floor-level line. Right before they reach the floor-level conveyor, the bottles are momentarily inverted mechanically and rinsed with ionized air from Simco Industrial Static Control (www.simco-static.com) equipment to remove any contaminants.
Containers are then ink-jet coded on the bottom panel by a Linx (www.linxglobal.com) Model 4900 coder. It was another step toward standardizing on Linx machines, according to Balashaitis.
The containers round a 90º turn toward a 24-pocket filler that was retooled in-house using an All-Fill (www.all-fill.com) frame. "The filler sets the pace and makes or breaks line efficiencies," says Bolletta. "We've done a lot of our own engineering work on it to accommodate the products."
The enclosed unit features negative airflow to keep the extremely fine powder contained to the degree possible.
"Although we handle a number of powdered products at this facility, cornstarch has some unique properties to it that we have had to address," Bolletta explains. "It has a tendency to get all over the place if allowed, and it tends to stick to anything, even vertical surfaces. We've handled cornstarch for years in different packages, but never at this rate and in this quantity. So that was a little bit of a challenge." Quick-change funnels are used to speed the infrequent changeovers.
The filler and labeler downstream rely on colorful container handling components from Change Parts, Inc. (www.changeparts.com), a vendor that the plant has used since 2006. "It offers unique solutions to separating and handling containers that work well," reports Bolletta.
After filling, the containers continue sequentially to a Hi-Speed checkweigher and a Safeline metal detector—both are Mettler-Toledo (http://us.mt.com/us/en/home.html) companies—and a Pack West (www.packwest.com) eight-quill in-line capper.
Solid sealing
Next is an Enercon (www.enerconind.com) Super Seal™ Max induction sealer. Apart from the conveyors, it is the only new piece of equipment on the line—and even it was originally intended for another line, Bolletta points out.
The compact, air-cooled system features an operator interface with a two-line LCD display screen. It is a standard unit from Enercon, though the induction head is a little wider than most; it readily accommodates the 63- to 110-mm wide-mouth containers.
"We use Enercon exclusively for induction sealing at the plant," says Bolletta. That was made official when six other lines at the plant were converted over to Enercon sealers in 2008.
"We've had a good relationship with Enercon, and they've done a great job of supporting our units," he continues. "They've done nice work for us. This cabinet proved a perfect fit for the line, and the unit works great."
The containers are conveyed to an MTS (www.multi-techsystems.com) labeler with a base machine from Krones (www.kronesusa.com). The labels are affixed to the containers using a Nordson (www.nordson.com) hot melt spray system.
"There were some normal setup issues, but the labeler has worked out great," says Bolletta. "We have a good, multidiscipline engineering staff that got it done."
After labeling, a 180º conveyor brings the containers to a Standard-Knapp (www.standard-knapp.com) drop-style packer that fills the containers in a 3x4 pattern into 12-count trays. The unit was outfitted in-house with a new controls package to upgrade and match the Rockwell Automation (www.rockwellautomation.com) Allen-Bradley technology on which the plant has standardized.
That's followed by another 180º turn through an Arpac Group (www.arpac.com) tray wrapper paired with an 8-ft-long heat tunnel.
"The wrapper was relatively new and required very little modification," offers Bolletta.
A multipack label is provided by an LSI (www.labelingsystems.com) print-and-apply labeler; LSI is part of ProMach (www.promachinc.com). "We've installed a lot of LSI labelers," Bolletta points out.
The multipacks are conveyed out of the packaging area into the warehouse for palletizing. That's done by a refurbished machine from Currie, now part of ProMach.
"Curries are fairly standard machines, so there were not a lot of changes needed for our line other than relocating the case stops—and that was pretty straightforward," says Bolletta.
The packaging operations are completed by a Lantech (www.lantech.com) stretch wrapper that's shared with other production lines.
This is the kind of line that is turned on and the workers don't have to worry much about," summarizes Bolletta.
Whether it's comprised of equipment that's new, old, or a mix of both, a line that runs well is a timeless benefit for any plant.

Companies in this article
Videos from Nordson Corporation