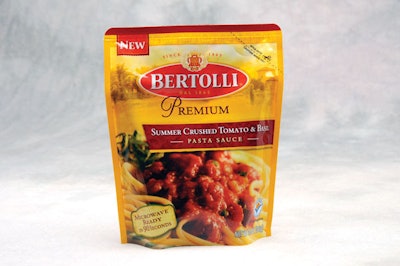 Sauce pouch packs convenience, sustainability benefits
When it launched in March 2008, new stand-up pouch packaging for Bertolli Premium-brand pasta sauces boasted a sophisticated appearance for point-of-sale, as well as microwave convenience for time-strapped consumers. (See related story at packworld.com/package-25714.) But beyond its elegant, mouth-watering appeal and its product-preparation advantages, the pouch packs some significant sustainability benefits, as well. These include enhanced product shelf life and an optimized footprint for transportation and stocking. These attributes are what earned the 13.5-oz pouch recognition from DuPont for Enhanced Performance and Resource and Energy Optimization.
While not a replacement for the glass jars used by Englewood, NJ-based Unilever for its Bertolli sauce, the pouch offers consumers an alternative that allows them to heat the product in the pouch in just 90 seconds. Says Unilever senior manager of packaging Michael Hughes, "Consumers love the convenience of microwavability and appreciate storage of the pouch in their cupboards." As Hughes reveals, the pouch, supplied by Amcor Flexibles (www.amcor.com), is constructed of a reverse-printed PET outer layer, laminated to a proprietary barrier layer and a polypropylene sealant. He explains that Bertolli considered many different barrier materials before selecting one that would provide a nine-month shelf life for the oxygen-sensitive product. "We finally settled on the material that gave us the best combination of low cost, high barrier, heat stability, microwavability, optical clarity [the consumer can see the product through the clear, bottom panel], and machinability at the converter and the filling operation."
From a transport efficiency standpoint, the pouch offers substantial benefits versus glass jars, Hughes says: One truckload of unfilled pouches equals 25 truckloads of unfilled glass jars. The pouches are more cost-efficient, as well. "The pouch costs are significantly less than the combined cost of the glass jar, the metal cap, and the label," Hughes says.
For shelf-stocking convenience, Unilever ships the pouches in a retail-ready hood and tray-pack format that allows store employees to easily remove the hood and place the tray on the shelf, "reducing labor for retailers," notes Hughes. Anne Marie Mohan
Celebrating plantable packaging
The sustainability attributes of holiday gift boxes for Ecocentric body/skin-care products from Pangea Organics, Boulder, CO, have earned the packaging DuPont Award. This paper-based packaging (130-lb carton paper weight and 352-gsm label paper caliper) has been recognized for Resource and Energy Optimization, Effective Recovery, and Community Benefit.
The holiday gift boxes are made with 100% recycled, biodegradable, compostable, post-consumer paper called Astrolite PC 100 from Monadnock (www.monadnockpaper.com). This Forest Stewarship Council-certified paper undergoes chlorine-free processing and is uncoated. Colorado Blue Spruce tree seeds are embedded in the fibers of the carton sidewalls so that after being unpacked, the empty gift boxes can be buried to plant the seeds.
The FSC-certified wraparound labels, provided by Johnson Printing (www.jpcolorado.com), also are made with recycled, biodegradable materials and are printed using vegetable-based inks. Two PMS colors are used to print the outside of the label, and one PMS color is used on the inside. Adhesive strips on the inside of the labels are peeled off to allow manual, press-on application of the labels to the gift boxes. The inside label printing provides instructions on how to plant the seed-embedded cartons.
The crinkle-cut kraft paper cushion-packaging material also is made with post-consumer recycled materials.
Introduced in September 2008, the Pangea Organics holiday gift box products retail at approximately $30 to $40 per box.
Pangea Organics vice president of sales and marketing Dan Easton notes, "With our company's established eco-friendly philosophy, it wasn't a stretch for us to innovate around plantable packaging for our Ecocentric line of skin-care products. What we could not have predicted is how passionately our consumers would embrace the innovation." —Judy Rice
ConAgra's 40% PCR frozen food trays
ConAgra earned honors for its frozen food trays made with 40% post-consumer recycled content (see packworld.com/package-26006). Made from recycled PET (rPET), the dual-ovenable trays were recognized in the categories of Resource and Energy Optimization, Clean Production, and Responsible Sourcing.
The trays are made from PET and are thermoformed with SPI #1 coding for PETE, but because they are crystallized during the thermoforming process, the trays are technically crystallized PET or CPET.
Introduced in mid-2008, the trays in several shapes and sizes are thermoformed by Associated Packaging Technologies (www.aptechnologies.com), which refers to the rPET as RePET. ConAgra uses several sizes of the trays for Healthy Choice, Banquet, Kid Cuisine, and Marie Callender's brands. Nearly all are pigmented black, with the exception of blue-pigmented trays for Kid Cuisine, according to Gail Tavill, VP, sustainable development research, quality, and innovation. Tavill informs us that the amount of rPET in each tray is variable depending upon the tray spec. "We are not claiming any minimum percentage, but are committed to using the total across those brands in this calendar year," she says. "That [equates] to about 15 percent PCR content on average, but we have some trays qualified at up to 40 percent PCR content. Our intent is to use at least this much material annually, with a goal to increase as technical feasibility and material availability improve."
ConAgra states that the new material reduces the amount of virgin PET it uses by 8,000,000 pounds per year.
The company continues to actively explore other sources and applications of recycled materials, as a "key strategy for my group," Tavill says.
She notes that the company has not received consumer feedback on this development, but that's because this change from virgin PET to rPET is not noted on its packaging or advertising.
However, that may change: Tavill says ConAgra is "exploring how to best make the claim of recycled content readily understandable and meaningful for consumers."

The development has previously received other accolades in early 2009: An Institute of Packaging Professionals (IoPP, www.iopp.org) AmeriStar Award (see packworld.com/news-27193) and a ConAgra Foods Sustainable Development Award for product design as part of the company's internal sustainable development program. —Rick Lingle
Vintage bottle preserves future resources
Paying homage to the past and providing a highly sustainable solution for the future, the limited-edition Aveda™ Vintage Clove Shampoo bottle from The Esteé Lauder Companies earned honors from DuPont in the areas of Community Education and Responsible Sourcing.The 8-oz package was launched last September to commemorate the lifestyle brand's 30th anniversary and coincided with the introduction of Aveda's Caps Recycling Program, a grassroots effort to collect and recycle plastic bottle caps.
Explains Aveda executive director of package development Dean Maune, "In 2005, Aveda determined that its bottle closures did not comply with the company's standard for PCR [post-consumer recycled] content, often utilizing proportionately higher percentages of virgin material than other packaging materials. Generally speaking, caps not ending up in landfills often find their way into waterways, where marine life and birds can mistake them for food."
Maune says the Caps Recycling Program was developed to educate students and organizations about the importance of recycling, to encourage local recyclers to take caps, and to create a clean stream of recycled polypropylene for use by Aveda in its packaging.
Caps are collected through Aveda's network of salons and spas, in its Experience Center retail stores, and through a nationwide network of 500 community schools and dozens of youth networks. The program accepts any rigid PP cap, including twist-on and flip-top closures used for health and beauty, beverage, homecare, and food product applications. Caps are then sent to one of three Aveda facilities across the country, where they are consolidated and then delivered to KW Plastics' (www.kwplastics.com) recycling plant in Troy, AL.
After being sorted, cleaned, and ground into PP pellets, the material is sent to Seaquist Closures (www.seaquistclosures.us), which molds it into new, 100% recycled caps that are then supplied to Aveda through TricorBraun (www.tricorbraun.com).
But the environmental benefits of the Vintage Clove Shampoo package do not end there: The product's bottle is also made from a minimum of 96% PCR high-density polyethylene, also supplied by KW Plastics. Maune explains that the balance of the bottle material is made from colorant-loaded virgin polyethylene pellets, supplied by Clariant (www.clariant.com). But he adds that, "Aveda anticipates that future technology will enable the creation of a 100% PCR bottle." Bottles are manufactured by Matrix Packaging (www.matrixpackaging.com) and are distributed to Aveda by TricorBraun.
As a final environmental touch, bottles are filled at Aveda's Blaine, MN, facility, which gets 100% of its energy from wind power. "This commitment prevents more than 22 million pounds of carbon dioxide from entering the atmosphere each year," says Maune.
While Aveda clearly conveys the sustainability benefits of the Vintage Clove Shampoo packaging to consumers by way of on-bottle verbiage and in-store signage, Maune says it is difficult to determine consumer receptivity. "The company does know that consumers were highly receptive to the caps program, as evidenced by the more than 150,000 pounds of caps collected to date," he adds. —Anne Marie Mohan
Sustainable packaging drives P&G winners
The 21st DuPont Awards for Packaging Innovation competition recognized Procter & Gamble with three packaging award winners and one "notable accomplishments" designation.
Perhaps it's no surprise that the Cincinnati-based consumer packaged goods giant produced four of the competition's 18 award winners. DuPont's commitment to sustainability and sustainable packaging aligns with P&G's goals. A P&G press release says, "Sustainability is integrated into the rhythm of P&G's business. P&G has a Sustainability Packaging Expert working on nearly every brand."

Recognized by DuPont for Resource and Energy Optimization, Cost-effective Economics and Enhanced Performance is P&G's "polyouter" transparent film for Ariel granule detergent in Belgium and Turkey. Supplied by a company in Turkey, the 100-micron polyethylene film replaces an outer corrugated shipping box and contains eight bags of detergent. Nine machines are employed at a P&G facility in Turkey to pack detergent into the film not by shrink-wrapping, but rather via a form/fill/seal process.
The company says special equipment is being added for Ariel production lines across Central Eastern Europe, the Middle East, and Africa, with three more plants up and running by 2010.
The polyouters can be stacked on a pallet or shipped "deadpile," meaning they're manually loaded into trucks without pallets.
The change to the unprinted film requires 80% less packaging materials than the former boxes, takes up 20% less space during transport and storage, and speeds up the packaging line process, according to P&G. P&G asserts that the Ariel packages look better on store shelves because of a new compressed packaging process that keeps the bags wrinkle-free during shipment. P&G says the trade benefits from the packaging change in three key ways:
• Transparent film makes the products easy to identify within the warehouse. That eases stock management and allows workers to recognize the brand and product sizes within.
• An easy-opening feature on the polyouter makes it easy to handle, without the need for knives.
• It minimizes shelf space, so distributors and retailers can store more product in their warehouses.
Tray-and-hood package

A two-part, easy-separation "box" for P&G's Alldays FemCare Liners in Europe also earned DuPont honors.
In the past, four Alldays cartons were packed into a printed corrugated box, designed with a bottom-edge perforation that allowed store employees to tear off the top and retain the bottom tray for handling and in-store display.
The new design includes an upgraded corrugated tray and a more streamlined detached corrugated "hood" that protects the product, can be removed quickly, and is unprinted.One end is open to allow consumers to see the primary packs inside. P&G says it has a proprietary relationship with its material supplier, saying only that the package is light-weighted compared with the previous box.
P&G reports that the new design saves 1,500 lb of paper, 375 truck trips, and $1.8 million annually. Ink usage is down 80%, the time for customers to restock is shaved 50%, and production line speed is up 33% through elimination of waste in equipment changeover time.
In a press release about the new packaging, P&G says, "This technology was launched to the trade in Western Europe starting January 2009. The tray-and-hood combination reduces the total material weight and only the tray is printed (instead of the entire corrugated shipper). The result is a 'better, cheaper, and more sustainable' offering. Better for the trade and more presentable to consumers, [with] lower material cost and reduced energy. FemCare Liners are the first brand to be taken through this development. No new burdens are created with this shelf-ready packaging execution. All the benefits with reduced burden to the environment."
P&G's Prilosec Pill Pack redesign to reduce waste was also named a DuPont winner (see story below). And the CPG's Tide 2X laundry detergent received notable accomplishment recognition. Working with Plastipak Packaging Inc. (www.plastipak.com), P&G redesigned the bottle to use 40% less plastic and offer efficiency in energy use and transport. —Jim Butschli
Bake the bread, biodegrade the tray
Compostable, dual-ovenable Renew-A-Pak™ bakeware tray packaging used by Whole Foods Market, Inc., headquartered in Austin, TX, and supplied by the alliance of Sealed Air Corp. (www.sealedair.com) and Biosphere Industries LLC (www.biosphereindustries.com), is the recipient of a DuPont Award. The bakeware trays have been recognized by DuPont for Enhanced Performance, Resource and Energy Optimization, and Effective Recovery.

Sealed Air and Biosphere Industries worked with Whole Foods to create packaging that is environmentally friendly and cost-effective. Items can be cooked, packaged, merchandised, and reheated in the same tray. The rigid, freezer-to-oven trays are made from renewable starch materials such as tapioca and potatoes. They are manufactured by baking a slurry of ingredients—similar to the manner in which ice cream cones are baked.
The trays are naturally biodegradable in 40 days or less in the presence of moisture, or within 10 days or less in an industrial compost environment.
Whole Foods introduced the trays in late summer 2008 for its flavored pound cakes and quick breads. The trays measure approximately 6 to 7 in. long by 31⁄2 in. wide by 21⁄2 to 3 in. deep. Sidewall thickness is approximately 1⁄16 in.
Tom Massey, facilities team leader for Whole Foods' Houston bakehouse, says, "We are enthusiastic about this packaging and are planning to expand it to a range of other baked goods in the future. In addition to the environmental benefits, it's exceptionally strong and a wonderful alternative to foil pans and other baked goods packaging options." —Judy Rice
P&G's Prilosec OTC packaging addresses consumer needs, sustainability
Procter & Gamble's John Eadicicco refers to customers as "the boss." So when some consumers provided feedback that it was challenging to open the company's Prilosec OTC peel-push primary pack, P&G responded with a push-through pack that provides easier opening, as well as economic and sustainability benefits—all without tradeoffs in safety and efficacy.
Introduced last year, the redesigned pack replaced the packaging used for Prilosec OTC since 2003 when the U.S. Food and Drug Administration approved its switch from a prescription-only to an over-the-counter drug. (Prilosec is sold as a prescription-only drug outside of the U.S.)

Prilosec OTC is offered in 14-, 28-, and 42-count SKUs. The 14-day course of treatment is based on taking one pill a day for the treatment of heartburn occurring two or more days a week.
"Our number one packaging consumer complaint was accessing the tablets from the blister cards," says Eadicicco, Section Head, Health Franchise, Global Package and Device Development (GPDD) within Cincinnati-based P&G. The Health GPDD includes products that encompass OTC and prescription drugs, and medical devices.
The former peel-push structure made it challenging to open each pack containing seven tablets. "There were printed instructions on the pack that read 'separate at perforation,'" Eadicicco says. "We had perforations in the blister card and arrows pointing to the corners where the consumer would have to find that unsealed area, peel back the paper/film layer, and then push the tablet through the foil. So, there were multiple steps to access the tablet, which made it difficult for the pack to be both senior-friendly and child-resistant."
P&G worked closely during the package redevelopment phase with its trusted material supplier Alcan Pharmaceutical Packaging (www.globalpharma.alcanpackaging.com).
A critical change for Prilosec OTC was to replace its two seven-count blister cards for the 14-count therapy regimen with a single blister card containing 14 tablets, "without changing the footprint of the card," Eadicicco says. Blisters are produced on a new Uhlmann (www.uhlmann.de) UPS4 MT machine. A vision system from Scanware Electronic GmbH (www.scanware.de) checks the filled cards for missing or partial tablets and also checks the color, size, and shape of each pill. A Nutec (www.nutecsystems.com) ink-jet printer prints lot and expiration date codes on the sealed blister material, which is then indexed to a die-cutting station.
P&G also made changes to the carton graphics that deliver a stunning shelf presence. Refreshed carton graphics give the appearance of rays coming off the carton, providing a holographic look without adding foil or metalized film. Eadicicco credits carton supplier Ellis Packaging (www.ellispkg.com) with supplying the optically varnished cartons that are erected, filled, and sealed on an Uhlmann cartoner.
Eadicicco says P&G tracks consumer comments and, as was the case with focus group studies done before the redesigned Prilosec OTC package hit store shelves, consumer response has been "very positive." Satisfying "the boss" with an easier-opening primary pack meets P&G's primary concern, yet the redesign yields even more benefits.
Says Eadicicco, "We have reduced our packaging material by 800,000 pounds a year, so naturally there are cost savings, mostly in foil, but also in the paper backing on the lidding material. And, if you work backwards through the supply chain, incorporating less foil results in less energy used to mill the aluminum, and less energy to transport that foil to us. So the carbon footprint on the upstream process has also become much smaller." —Jim Butschli
20-L, easy-pour barrier bottle
A chemical barrier container earned recognition for A&C Packers Pty Ltd. (www.aandcpackers.com.au) Geebung, Australia for its construction, design, and easy-pour features. It also permits 25% more liquid agrichemical products to be shipped per pallet.

According to Mark Stone, CEO of A&C Packers, traditional 20-L drums allow the shipment of 16/pallet layer stacked two high, or 640 L/ pallet. The new container permits 20/pallet layer stacked two high, or 800 L/pallet.
Stone points out that existing 20-L drums in Australia are made of high-density polyethylene. That's fine for water-based products, but unacceptable for solvent-based agrichemical products, including fungicides and pesticides.
For those products, HDPE needs to be fluorinated, but the only fluorination facility in Australia is in Sydney. That can mean a three- to four-week delivery time during peak times.
A&C Packers' developed a six-layer HDPE- and polyamide-based container. The critical barrier used is DuPont (www.dupont.com) Selar, an amorphous nylon resin.
Besides the special barrier construction, the container also offers a no-glug, easy-pour feature. Stone feels that its solution to the glugging problem is an elegant one, and relies on the container design along with the position of the neck.
"By changing the pouring direction, a bubble cannot be trapped inside the container," Stone points out. When used correctly, the design allows a controlled pour from start to finish, without glugging, in around a third less time to empty the container than a conventional drum, he adds.
"It also allows you to drain the container to the very last drop by turning the drum back around and draining it in the conventional pouring direction," he says. The company has intellectual property rights for the design, which also includes a carrying handle molded in the top.
The containers are in full production, made on machinery custom for this container. "We have six accounts using them for steel or fluorinated container replacement," Stone reports. "These customers have been conducting their own stability trials since Aug. 2008. We have positive results so far on all solvents commonly used in agricultural chemical applications and have one customer using them for orange oil products."
The resin from the recycled containers can be used to make drainage pipes. —Rick Lingle
Pouch made partly of chalk
Ecolean is a novel container for milk, cultured milk, drinkable yogurt, or cream products that consists of about 40% calcium carbonate and only 60% petroleum-based materials, namely, polyethylene and polypropylene. The Ecolean pouch is considered to be greener than traditional forms of dairy beverage packaging, especially petroleum-based materials such as high-density polyethylene or PET, because less raw material is used to make it. Ecolean (www.ecolean.com) says its package weighs about half what a conventional liquid food carton or bottle weighs.
An additional sustainable packaging benefit is delivered by Ecolean because it's shipped to customers as a flat envelope on a continuous roll, and when it's empty in the consumer's home it reverts to its flat profile again. That means thousands of containers fit in a truck when they're en route to a customer, so fuel consumption is minimized, and at home the flat container takes minimal space in the waste bin. Moreover, the container itself, says Ecolean, weighs half the amount of comparable packages. Cost of the pouch, the firm adds, is comparable to conventional dairy packaging alternatives.
The material from which Ecolean pouches are formed is a three-layer cast coextrusion. The center layer is a PE/PP/calcium carbonate mix. It's sandwiched between a layer of PP and a layer of PE, the latter for heat-sealing purposes. This three-layer material is printed flexo and then sent through a unique cutting and shaping machine that cuts the material, heat seals the pouches along their perimeters, and winds the flattened pouches on a roll.
Pouches are hermetically sealed on the roll and are cut open for filling in the specialized Ecolean filling machine. In addition to filling the pouch with liquid, the filling machine also cuts a second hole and blows a burst of air into a handle that runs up and down the side of the pouch. This air-filled handle gives the bottom-gusseted, stand-up pouch its easy-to-grasp-and-pour characteristics. All of this cutting, filling, and resealing is done in two seconds, says Ecolean.
While Ecolean has been in commercial use—primarily in China and Russia—since 2002, a new development is the design of an Ecolean EL3 packaging machine that is capable of aseptic filling of low-acid food products. Packages that can be filled on the aseptic version include 0.5-, 0.75-, and 1-L sizes. A customer in Russia is said to be the first to commercialize the aseptic version of the impressive Ecolean technology. One significant change in the aseptic version is that a seven-layer structure is used to form the pouches: PP/calcium carbonate mix/tie layer/ethylene viny alcohol/tie layer/calcium carbonate mix/PE. The EVOH in the center provides the gas barrier properties needed for shelf stability.
Ecolean says the pouch recloses reasonably well as is, but a reclosure feature is now being explored. —Pat Reynolds
Companies in this article