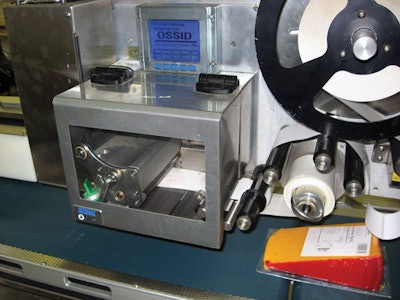 Kickapoo Valley Cheese Co., Sherry, WI, is a custom- and private-label packer specializing in Wisconsin cheeses. The contract packer also handles other domestic and imported cheese varieties, all in a broad range of forms, including blocks, wheels, rounds, deli horns, chunks/wedges, cubes, and slices.
On Kickapoo's chunk/wedge packaging line, exact-weight and random-weight cheeses are hand-filled, vacuum-packed or gas-flushed, heat-sealed, and labeled. The packaging is formed from PET barrier roll-stock film supplied by Clear Lam Packaging, Inc. (www.clearlam.com) and Flair Flexible Packaging Corp. (www.flairpackaging.com). The packages are produced on a form/seal machine from Multivac, Inc. (www.multivac.com).
The company had been using three to four employees to hand-weigh cheese packages (using a deli scale) and to manually apply the weight/price labels. Separate nutrition labels also were manually applied.
To meet growing demand for its chunk and wedge cheese products, Kickapoo Valley wanted to automate the weighing and price-labeling operations for these fixed and random-weight cheese packages. In May 2008, after evaluating available options, the cheese packer installed a 1500 XA weigh/price labeling system from Ossid (www.ossid.com), a division of Pro Mach. This versatile print-and-apply system offers automatic setup and performs precise product weighing as well as direct-thermal printing of both alphanumeric and barcode data on the pressure-sensitive paper labels.
Now weight, price, nutrition information, and UPC barcodes are all printed on a single label, rather than the two labels per package that were applied under the manual system. One or two workers can operate the line versus three or four required for the previous manual operation, and throughput speeds have increased by approximately 50%.
Currently, the new weigh/price labeler stores information on 15 different price and nutrition info combinations. The operator uses a menu-driven touchscreen to select the correct weight/price/nutrition info/UPC label for the job. And the plant manager can update label entry data from his desk, directly downloading it to the weigh/price labeler.
Kickapoo Valley COO and GM Tony Simboli says, "We chose the Ossid because of the quality of the machine, its accuracy and speed, and the favorable cost. Ossid's service team assisted in the installation and start-up. We received the machine on a Friday, installed and commissioned it on Saturday, and were running production that Monday. Ossid did a fabulous job with setup and training."
The cheese packer is pleased with the performance of the new weigh/price labeling system. Simboli reports, "We have increased our throughput speeds by 50 percent and halved our labor needs for weighing/pricing on this packaging line. The 1500 XA labeling system is a huge labor-saving device. I would recommend it to anyone who is interested in exact label placement at a very low cost We now are able to offer prepriced items at a lower cost, thus passing the cost savings to our customers. And product and package changeovers are very fast for items that have been preprogrammed. Currently we are running four different types of cheeses in four different retail package variations."
Companies in this article