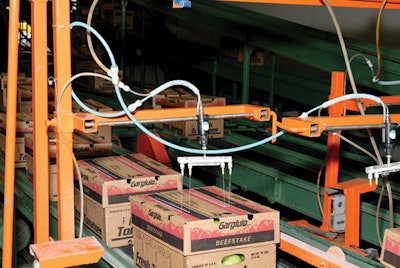 A leading producer of fresh packed tomatoes, Gargiulo Farms of North Naples, FL, has a reputation for quality. This reputation relies not only on the company's ability to grow, pack, and ship quality tomatoes from its three Florida plants, but also to have them arrive in pristine condition. Until October 2007, the company found that the integrity of their packed cases was compromised, as they struggled with industry-standard solutions for unitizing pallet loads.
Palletizing produce such as tomatoes offers a unique challenge. Because the fruit must be ripened in an ethylene chamber after packing, stretch wrap cannot be used to unitize loads, as the plastic would hinder the gas from reaching the product. Instead, hot-melt adhesive is often used to hold the cases together. However, as Gargiulo Farms found, hot-melt equipment can be complex and difficult to maintain, and the strength of the glue means that cases are damaged upon separation.
For Gargiulo Farms, the solution to the problems associated with hot melt and with a subsequent cold-glue option that also damaged cases was the installation of an adhesive applicator system from Lock n'Pop® (www.locknpop.com) on 18 of its palletizers. The applicators dispense a water-based adhesive that is U.S. Food & Drug Administration-approved for food-grade applications.
The adhesive reliably secures 80-case pallet loads at Gargiulo Farms with a custom, quick-set formula that quickly binds cases together, readying the load for transfer to the ethylene chamber. While the adhesive does not allow the palletized cases to slide, it also does not glue them together, and it leaves no residue. Once cases are separated, they revert to their original, untreated state.
Says Gargiulo Farms general manager of packaging operations Chris Davis, "We've tried other adhesives in the past, but their application equipment was labor-intensive, and they actually glued the cases together. With Lock n'Pop, the application equipment is trouble-free, and cases come apart cleanly without any damage or residue." The cost per pallet—at 15 to 20 cents—is also lower than previously used methods.
In a typical packaging line at Gargiulo Farms, cases of packed tomatoes convey to the palletizer at a rate of about 15 cases/min, passing under a single spray-nozzle manifold. The applicator puts narrow sprays along the length of the top, about one inch from each side of the case. The cases go directly into the palletizers, which are programmed to interlock eight cases per layer for the first four layers and column-stack six additional layers for the 80-case total per pallet.
Davis relates that he likes the size, simplicity, and reliability of the application systems. "Nozzles stay clean with no bacterial buildup, and the only maintenance is the occasional water rinse of the nozzles and dusting of the photocell," he says.
It's green, as well
Another positive aspect to the Lock n'Pop solution, relates the company's national sales manager Ron Calvo, is that it offers environmental benefits. According to a Life Cycle Assessment study commissioned by Lock n'Pop, the amount of primary energy required to unitize packages using stretch wrap for 1,000 truckloads (22,000 pallets) is 60,000 MJ (megajoules), or the equivalent of 10 barrels of oil.The amount of primary energy required to unitize 1,000 truckloads of pallets using Lock n'Pop and a single stretch-wrap covering is 32,000 MJ or 5.3 barrels of oil. Likewise, the amount required to unitize a comparable number of truckloads using just Lock n'Pop is 9,300 MJ or 1.5 barrels of oil.
The study also notes that Lock n'Pop produces only 11% of the waste compared to stretch-wrap when considering the total life-cycle wastes generated. This is a reduction of 3.5 tons of CO2 per 1,000 truckloads. When used to eliminate tier sheets and corner boards, 1 cu ft of Lock n'Pop eliminates more than 1,000 cu ft of corrugated materials.
Gargiulo Farms is pleased that its efforts in cost and damage reduction have yielded such an impact on the environment, and Davis says he is pleased with the equipment's trouble-free operation. He feels that Lock n'Pop leads to customer satisfaction, as shipments arrive in essentially the configuration in which they were shipped, supporting Gargiulo's overall quality objectives
Companies in this article