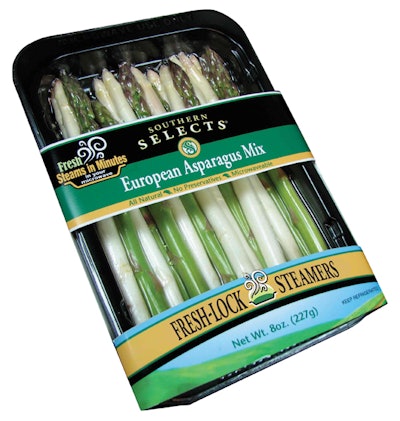 Case-ready asparagus
In the end, a case-ready microwavable package of asparagus proved to be a cut above the other Flexible Packaging Assn. (www.flexpack.org) entrants, earning both a Gold Award for packaging excellence and Highest Achievement Award for the Cryovac div. (www.cryovac.com) of Sealed Air Corp. (www.sealedair.com). Cryovac's Cre8 package design division, and especially manager Marc Edlein, also contributed to the project.
The technology takes what Cryovac learned initially in the case-ready meat category and adapts it for the special needs of produce. In this instance, it's for 8-oz packs of three varieties of asparagus spears—green, white, and a blend—and mixed vegetables from Southern Specialties, Pompano Beach, FL.
Unveiled in October 2008 at the Fresh Summit tradeshow of the Produce Marketing Assn. (www.pma.com), the products are currently in trial at retail stores in Minneapolis and Florida, where the line of 8-oz Southern Selects brand products retail for $4.99 each. That's according to the Southern Specialties vp of business development, Charlie Eagle, who describes the refrigerated, heat-and-serve line as "microwavable, steamable products in tray form." The company has previously offered its produce in bags that were microwavable, but not steamable.
"This unique packaging has a lot of attributes to help sell our high-end products," says Eagle. "The main attribute is the product flavor once it's cooked using this [packaging technology]." He also notes that the format provides good shipping integrity, excellent presentation, and shelf-to-table convenience.
Cryovac reports that the technology permits processors to cook in the package.
The packaging comprises a polypropylene-based tray, breathable film, and two paperboard bands for graphics. The vacuum skin film is a 3-mil, highly permeable, multilayer polyolefin structure. It lets oxygen in and carbon dioxide out at controlled rates, says Cryovac business development manager Myra Foster. It also maintains carbon dioxide levels of 5% to 10% within the package; this delays decay and softening of the asparagus spears. It provides the products "a good" 10-days' shelf life, Eagle says. Several film structures were tested before the company settled on one that worked well for the different products.
The tray and film combination permits a steamable tray sealed with a film that balloons and self-vents during microwave heating. The tray has flanges on the ends that act as stay-cool handles.
The vacuum skin film is sealed to the trays using a Multivac (www.multivac.com) tray sealer that Eagle calls a "product-specific machine" installed at the company's plant in Pompano Beach. Eagle notes that the packaging is done two-up, though he could not disclose rates.
He expects to move forward from the trial during Q1. "We're hopeful that we've got a product that will work for many of our customers," he says. "Our company has never had a better working relationship than we've had with Cryovac Sealed Air in this project," he adds. "They've been great."
This is yet another FPA Gold Award for Cryovac Sealed Air's Simple Steps packaging concept, which also won an FPA technical achievement in 2006 for an application for veggies from Sun Valley Foods (see pack world.com/package-20531). —Rick Lingle
Matte/metallic granola pouch bursts with shelf presence
Consumer appeal springs forth from the graphics on Verde Valle's Branli brand stand-up pouch for its CrujiNola crunchy granola mixed with yogurt-covered raisins. The Guadalajara, Mexico-based company worked with Printpack (www.printpack.com) to develop the pouch, a Gold Award winner in the 2009 Flexible Packaging Assn.'s Packaging Achievement Awards competition.
Supplied premade with a reclosable zipper, the 4.4-mil, three-layer adhesive lamination's structure includes 48-ga matte polyester/60-ga vacuum-metallized, biaxially oriented polypropylene/3.3-mil low-density polyethylene coextrusion.
The PET layer is reverse flexo-printed in eight colors. The metallic look behind the outer PET layer's matte finish lends an appealing sense of dimension as yogurt and almonds appear to float upwards from a milk-filled bowl of the product, against a blue-and-gold background.
According to Rudolf Schaich, Printpack's market development manager, the PET provides vapor and gas barriers, and tensile and tear strength. The metallized BOPP delivers moisture and light barrier. The LDPE coextrusion, he says, offers seal strength. The 400-g product is sold in two varieties, at ambient temperature, with a six-month to one-year shelf life.
Printpack ships premade pouches from its Guadalajara facility to Verde Valle for filling on specially designed vertical form/fill/seal machinery. Product is sold in supermarkets in Mexico.
Schaich says Printpack has worked with Verde Valle for about 10 years, starting with rollstock for vf/f/s equipment, primarily for rice and beans, then evolving into zippered stand-up pouches and preformed pouches for precooked rice, cereals, bird food, etc.
For the Branli CrujiNola line, he says, "the main challenge was to obtain the matte/metallic look combined with a nice graphic design in a package that catches consumer attention on the shelf, without losing product preservation capabilities or reclosability." Mission accomplished! —Jim Butschli
Vaccine 'backpack' earns FPA's Special Citation
When a package innovatively addresses societal health and wellness issues, the Flexible Packaging Assn. takes notice. In FPA's 2009 Flexible Packaging Achievement Awards competition, the association awarded its Special Citation for Social Responsibility to the World Health Organization's Coldpack AntiFreeze Vaccine Backpack, developed by Coldpack System (www.coldpacksystem.com). Coldpack refers to the backpack as the AirLiner, an inflatable, insulating liner designed to convert a corrugated box into a cooler for heat-sensitive vaccines. It ships and stores flat, taking up little space in a warehouse or during transportation.
WHO field-tested the AirLiner containers in Sudan about three years ago, says David McKinney, Coldpack System's COO. In a September 2007 test report, WHO noted that the Backpack met WHO/UNICEF Standard E4/VC2. The report offered the following comments:
"Comes in flat packing, and must be assembled by the user based on the pictorial guidelines provided. Inside surface of the lid has a table and a thermometer for user to decide the number of ice packs required based on the ambient temperature. Five ice packs are required at 43ºC ambient to secure 35 hours of cold life without openings. [Fewer] ice packs are required at lower temperatures. Ice packs must be loaded as fully frozen in this carrier. The system is designed to prevent freezing temperatures in the vaccine compartment. It is designed with self-gripping strips to allow users to carry it as a backpack."
The supplier's Web site says the AirLiner's patented, internal heat-barrier technology keeps product cold. The company credits the Ernest O. Berkeley National Laboratory with developing the gas-filled panels central to the AirLiner's design. "The backpack is made with layers of reflective barrier film that are heat-sealed into a proprietary geometry," the site explains. "These unique aluminized, honeycomb baffles block heat transfer to keep the heat out, so product stays cooler longer. You can even choose to enhance AirLiner's performance by inflating it with an inert gas." Instructions are provided on the company's site.
AirLiner is available in various sizes, and in one to four-baffle versions. A two-baffle version, for example, is recommended for overnight shipments where controlling the temperature is "mildly critical." A four-baffle version is designed for high dollar-value shipments with a wide range of temperature needs in longer delivery times. —Jim Butschli
Next-generation sliced lunchmeat packaging
Packagers seeking reclosability for sliced deli meats, cheeses, snacks, and other foods have a fresh new option: The Cryovac Multi-Seal™ Package. From the Cryovac Div. (www.cryovac.com) of Sealed Air Corp. (www.sealedair.com), this entry found gold in FPA's technical innovation category.
The concept is a reclosable semi-rigid flexible package produced in-line using conventional thermoformers. The zipper-free Multi-Seal attributes include easy opening and multiple reclosure over the life of the product. The package design also allows peg display.
The high-barrier, semi-rigid forming web is offered in gauges from 12 to 26 mils, says Chad Stephens, Cryovac manager of application, development, and support, and it's available in about any color.
The barrier sealant is laminated to a traditional substrate of polyester. It's designed with a pattern cut such that when the package is opened, an adhesive strip portion remains on the flange for the reseal.
Tim Avery, Cryovac director of marketing, Processed Meats-North America, says the Multi-Seal package's advantages include a smaller footprint versus zippered packs and a material and process that is transparent to the packager. There is no secondary application needed; the Multi-Seal is done through a straightforward thermoforming and sealing process using conventional machinery.
Cryovac states that there are little to no machinery modifications required for nonforming web widths to 459 mm (18 in.), which can equate to a four-up, 2 x 2 pack arrangement of 6 x 8-in. semi-rigid trays. Originally intended for sliced meat packaging, Multi-Seal lends itself to a range of foods including beef jerky, Avery says. He points to dairy as one of the next market opportunities.

Developed over a two-year period, the Multi-Seal concept presented two sets of challenges, according to Avery. "For consumers, we needed a package that worked consistently," he says, "and for processors we wanted a product that would work on their existing equipment. We've successfully run the Multi-Seal on several makes of equipment including Multivac (www.multivac.com), RapidPak (www.rapidpak.com), Ulma Packaging (www.ulmapackaging.com), and others. This is one of the most exciting products that I've been around."
PW has learned that the first customer is producing a 20-oz club store size of the Multi-Seal package, though Cryovac cannot identify the end user by name. That club-store pack was introduced in September for about a half-dozen varieties of sliced meats, Avery says. A second customer is expected Q1 2009. —Rick Lingle
Sandwich bags support sustainability claims
Winning gold for Environmental & Sustainability Achievement, the Hot N Handy Bio-Pouch from Robbie Manufacturing (www.robbiemfg.com) has the numbers at hand to back up its sustainability claims versus traditional packaging for fresh-prepared cold-case sandwiches. Results from a thorough Life Cycle Analysis (LCA) of the renewable wood pulp-based film pouch versus rigid polystyrene containers provided a plethora of detail for the Flexible Packaging Assn. competition judges to evaluate.
Among the notable figures gleaned from the LCA: The Bio-Pouch uses 92% less crude oil, reduces CO2 emissions during production by 56%, and reduces the weight of the packaging material waste by 75%, compared to rigid PS containers.
The Bio-Pouch is a gusseted bag made from Innovia Films' (www.innoviafilms.com) NatureFlex™ wood pulp-based film. The clear, see-through pouch is available in two stock sizes that accommodate 6- and 12-in. sub sandwiches, but can be custom-sized to fit any size sandwich, Robbie product manager Tara Downing relates. The pouch uses a clear, resealable adhesive strip that allows the consumer to keep leftover contents fresh.
Targeted for supermarkets, convenience stores, foodservice providers, and others that offer fresh wraps or sandwiches, the Bio-Pouch is said to provide enhanced product freshness, as the film's wood-pulp construction naturally absorbs moisture, providing less soggy bread. The film is fully compostable, meeting ASTM D6400 certifications—a feature that is printed on the bag with random, repeating four-color copy that reads, "Back to Nature."
Says Downing, "NatureFlex film was selected because sustainability and environmental responsibility are key concerns for the food packaging industry, as well as for retailers, with the new environmental initiatives they must meet."
Robbie conducted the LCA report using SimaPro 7.1 LCA software, from Netherlands-based PRé Consultants (www.pre.nl/simapro), and film-production data supplied by Franklin Assoc. (www.fal.com). Comparisons were made on a rigid PS hinged container versus the Hot N Handy Bio-Pouch based on annual sandwich sales of 163 million sandwiches sold at retail supermarket deli counters annually. —Anne Marie Mohan
Sweeter packaging for baking chocolate
Packaging for 100% Cacao Baking Chips from Ghirardelli Chocolate Co., San Leandro, CA, supplied by American Packaging Corp. (www.ampkcorp.com), is a recipient of an FPA Gold Award for Printing Achievement. Introduced in early 2008, the new 10-oz stand-up pouch packaging with recloseable zipper is rotogravure-printed in eight colors using solvent-based inks. The substrate structure is PET/Ink/Adhesive/metallized PET/LLDPE. American Packaging Corp. rotogravure-printed, laminated, and fabricated the finished stand-up, recloseable pouch for Ghirardelli.
This new, high-shelf-impact packaging approach is an addition to the laydown bags Ghirardelli currently uses for their other baking products. Ghirardelli's commodity manger for packaging Kyna Kellogg says, "This is a great addition to how we have packaged our baking products in the past. The stand-up pouch with the premium printing quality gives us the enhanced product profile we have been looking for."
The rotogravure printing achieves crisp, bright graphics to project a high-quality product image in the baking category. According to the FPA judges, the attention-grabbing packaging provides "increased image sharpness, deeper colors, higher densities, and clean text with rotogravure printing." —Judy Rice
Bronzer packaging gets Gold
Using proprietary techniques developed by An FPA Gold Award for Printing Achievement goes to new, improved packaging for the Zeda brand tanning product Dark Angel Revealingly Dark Bronzing Intensifier, manufactured/marketed by Performance Brands, Inc., Sunrise, FL. www.cldgraphics.com) for applying vacuum spot metallization and micro/nanotechnology embossing to high-shrink, container-shape-conforming PETG polymers, the resulting packaging displays dramatic shelf impact.
The new Zeda packaging approach replaces low-impact screen-print container decoration. The PETG shrink labels are flexo-printed in nine bold colors, using translucent water ink systems and a UV curing process, and feature full-coverage holographic foil. Performance Brands president Stacy Kaufman explains, "The holographic foil component is used as a highlighter under the label text and graphics. The new packaging was introduced in October 2008, is being marketed in tanning salons worldwide, and people love the look of it."
The 10.1-oz Zeda bottles are an HDPE proprietary mold, sourced from overseas by Arminak & Associates, Inc. (www.arminak-associates.com). The plastic, crystal-like caps also are a proprietary mold.
FPA judges note, "Design merged with technology to create a package that commands an exotic, premium allure." —Judy Rice
Block-bottomed beauty

Winning a Gold Award for printing achievement was Amcor Flexibles (www.amcor.com) and the block-bottom bag it makes for Kraft Foods' Cote d'Or Truffe' milk chocolate truffles. Kraft or its contract packagers fill the premade bag with 126 g of this confectionery product on a machine from Thuerlings (www.thuerlings.de) that closes the bag with a heat seal. In supermarkets in Western Europe, the package sells for about 3 euros ($US 3.95).
Fabrication of the attractive bag is done in four main stages. First Amcor reverse prints clear oriented polypropylene on a gravure press in nine colors. Applied to the unprinted side is a matte varnish. In a second operation, this substrate is adhesive-laminated to an 80-g clay-coated paper. Slitting, hot-foil stamping, and embossing come next. Slit material is then taken to a bag-making machine that punches out a clear window and applies a 40-micron clear OPP film over the punched-out area before folding and forming the rollstock into a finished bag.
According to Amcor, block-bottom bags like this have historically been either glossy or matte-finished. This is said to be the first such package where both matte and glossy effects are combined. Add in the hot-stamping and embossing, and you have a combination of decorating touches that couldn't help but impress this year's FPA judges. —Pat Reynolds
Ziploc has sustainability in the bag
A Gold Award for Environmental & Sustainability Achievement goes to the Advanced Pak Laminated Rack Header Bag with Hanger Hole, used by SC Johnson to stimulate sales of its Ziploc Sandwich Bags at checkout. An innovation of Bemis' Polyethylene Packaging Div. (www.bemisppd.com), the bag offers an option to the standard paperboard box used by Ziploc and provides sharp, colorful graphics that help ensure the convenient storage product gets noticed at point of purchase.
The promotional package, in a 5 x 10-in. size, was launched in March 2008 for 25-bag quantities of Ziploc sandwich bags. The film is a proprietary, high-clarity polyethylene lamination that is reverse flexo-printed in eight colors with bright graphics that use the trademark Ziploc logo and blue color scheme for easy consumer recognition. Tamper-evident perforation at the top of the bag offers easy opening.
Explains Bemis PPD account executive Tony Royko, Ziploc's promotional pouch packaging yields environmental, economic, and social benefits. These include a reduced CO2 footprint; an improvement in recyclability to a Category No. 4, for overall greener packaging content; and a reduced cost to the consumer. In addition, he notes, packaging is performed by Goodwill Corp., a fulfillment center in Racine, WI, that provides training, employment, and supportive services for people with disabilities or disadvantages who seek greater independence. —Anne Marie Mohan
Companies in this article