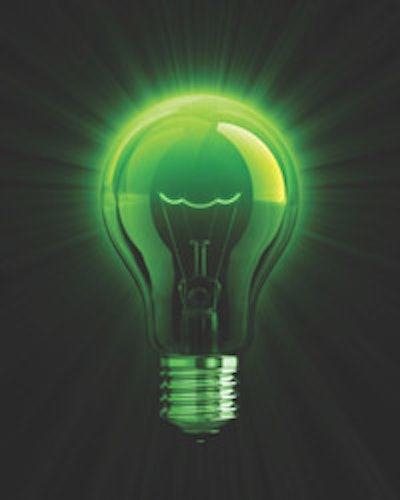 It comes as no surprise that a
Packworld.com
December 2008 economic-centered survey of more than 500 packaging professionals (to appear in March print issue of
Packaging World
) found that the economy's impact has been felt throughout the industry, with more than one-fifth reporting layoffs. In that same survey, we also posed the question, "Can you share ways in which your packaging equipment or personnel are working smarter?" Among the following responses, edited for clarity, we hope that you find takeaways to help your operations run smarter in any economy.
Several themes consistently threaded through the responses, especially the following:
Increasing use of automation, especially robotics.
• Implement automation when economically justified. We always look at modifying existing equipment to repurpose.
• We have gone to more automation to cut costs and be more efficient. Looking at more robotics and automation.
• No changes to-date, but we are looking at robotics now.
Implementation of Lean and related production improvements.
• We're in the middle of a Lean Enterprise movement throughout our plant...so we're working smarter, not harder, to make our equipment better, reduce lead times, and make the entire organization more efficient.
• We've become immersed in Lean manufacturing techniques.
• I am convinced that implementing a Lean Manufacturing process not only creates a smarter work place, but a happier and more profitable workforce.
• We are working diligently to improve Overall Equipment effectiveness so that we can make required production in less time and without overtime.
Waste reduction.
Issues and ideas relating to waste and scrap were a category unto themselves. Wrote one manager, "We are dedicating more time to organizing and streamlining every aspect of our business, particularly anything to do with packaging. We have found that being disorganized in this area has cost us a lot; we noticed that we had excess packaging materials that we were not using and were occupying space in our warehouse."
Wrote another, "We've made a conscious effort to save on packaging materials, reuse boxes/cartons, use stronger tape, banding straps, utilize stronger in-process inspection of the product, at every manufacturing station, in order to reduce mistakes and scrap. We also implemented a cash reward system for those who find a 'mistake' before the product is finalized."
Other related responses include the following:
• There has always been an emphasis on scrap reduction [here]. We are holding gains and looking for the next opportunity: Reducing compressed air usage and lighting savings have been two recent successes.
• Reusing pressurized air.
• Look for savings anywhere: Energy reduction, reduction of air leaks, and the elimination of air-driven equipment where possible
• We use to discard excess incoming packaging materials, now we reuse them.
• Improving machinery performance including bringing equipment back to base condition so that scrap is reduced.
• Looking at ways to allow a wider range of borderline-quality materials to run on the equipment. We already have Go/No Go gauges for testing suspect material to reduce downtime due to out-of-spec material.
Personnel maximization.
• Personnel are expected to have a broader scope of knowledge so people can have more input on problem solving/job sharing. This way, our ability to respond is not hampered if someone is off work.
• We have incorporated better, more efficient systems to reduce redundancy of work so that people can easily take on responsibilities without as much training.
• We are doing a lot of cross training to create a more versatile crew. It will make us more effective to react to increased workflow in different departments
• We continue to focus on improving our quick change over process by using line operators to assist the mechanics with setting up the line.
• Reducing workdays to three or four weekly.
• Nine-hour workdays and four-day workweeks.
Equipment-related suggestions.
• Preventative maintenance is more important than ever
• Use a single line to make products via dual-format packaging machines
• Using sensors to detect misplaced trays or cartons to stop the packer preventing jams and crashes
• We have looked at using high-cavity machines whenever possible.
• We have started to convert our hydraulic presses to electric presses for energy savings.
• New work cell arrangements; and new, more energy efficient molding presses
• Shorter runs, more changeovers to keep from overproducing.
• Single machine capable of running multiple products and pack sizes.
Other responses
.
Other responses worthy of note include these:
• Document changeover procedures.
• Master case consolidation, reduction in SKU's
• Reduced number of packaging designs.
• Buying direct and cutting out the middleman.
• Time studies.
• Cutting capital investment costs and finding the better vendors.
• We have initiated more efficient systems to reduce redundancy of work so that people can easily take on responsibilities without as much training.
• We're trying to size equipment better to reduce energy consumption.
• Timeframes are adhered to more closely.
• Using clean-in-place; combining runs; using equipment across business areas; employing internal maintenance and tooling development.
• We only produce for confirmed orders.
Next month, we look at creative ways to make underutilized equipment and personnel more productive.