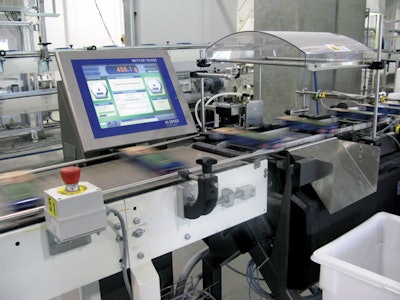 The Ames plant, which has the capacity to produce 150,000 tons of pasta annually, houses five Hi-Speed checkweighers (two Cornerstones and three Checkmates) with Safeline metal detectors on every line.
The company's new plant in Avon, NY, was designed to be state-of-the-art, according to Barilla plant engineer John Davlin, who recognized the benefits of choosing equipment that could interface easily with the automation infrastructure of the new plant, standardized on Rockwell Automation's ControlLogix programmable logic controllers.
"We must have five different types of PLCs in Ames, and the maintenance and training costs are huge," Davlin explains. "The goal is centralized data management and to reduce the number of PLCs to one. We knew Hi-Speed's Ethernet/IP fieldbus would be interfaced with Rockwell."
Also, the equipment needed to offer reliability, ease of maintenance, and accuracy while meeting Barilla's data output requirements, adds Davlin.
"One of the things I like about Mettler-Toledo Hi-Speed checkweighers is that they hold their accuracy after they're set," says Davlin. An equal number of Safeline metal detectors went online in the new Avon plant. Plans are to add three more production lines to the new plant and equip them all with Mettler-Toledo Hi-Speed checkweighers and Safeline metal detectors.
Companies in this article