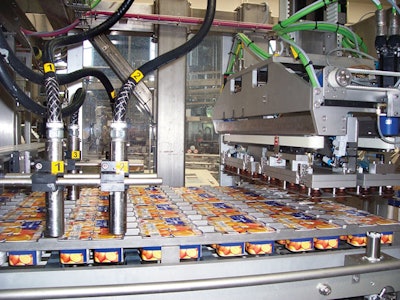 An even newer installation is the Model TAS 16/80 thermoform/fill/seal system, which also comes from Hassia. The machine is notable for its ability to apply roll-fed paper labels to the sidewalls of the cups as they are thermoformed from sheet.
The product in this case is yogurt with fruit on the bottom. A private-label yogurt contract with the Tesco chain of supermarkets in England was a key driver behind this installation.
"In-line labeling like this is not new to Hassia," says Campina plant manager Martina Schilling. "But it's new to us."
An added complication where this machine is concerned is that two different cup shapes are being produced. The Tesco container is not the same as the cup that Campina makes for its own Optiwell brand of yogurt.
In addition, the Tesco brand is produced in a six-pack format while the Optiwell is a four-pack. With both formats, consumers buy the multipacks and then tear off individual cups along a score line. Hassia says the tooling change required in going from one format to another takes about two hours.
"We expect to make a format change once a week," says engineering manager Horst Breitenoder. At the time of Packaging World's visit, he notes, Campina was just moving into full-production mode with the new system. "We'll see how things go as we settle into a weekly rhythm," he adds.
The roll-fed label application—performed 24 cups/cycle—is a marvel of precision and control. Two rolls of label material are fed into the thermoforming station from a right angle. A series of eyemarks, sensors, and rollers keep the long strips of paper on track and under control as they move into a station that cross-cuts them from the continuous rolls and hands each individual label to a mechanical gripper.
From here, each label is fed into a forming cavity. When the 24-cavity mold closes and the heat-softened polystyrene sheet is pressed and blown into the cavities, a heat-activated coating causes the label to bond to the PS sidewall. The mold opens, and the 24 attractively decorated containers are now ready to move to filling and lidding stations downstream. Cups hold 125-g (4.4-oz) each.
The PS forming sheet is supplied by Cedap. The heat-activated paper labels come from Constantia Hueck.
"In some ways, I expected start-up to present more difficulties than it has," says Schilling. "But it's been very smooth so far. Quality and consistency of both the label material and forming web are absolutely critical. If there's any inconsistency in either one, they won't match each other at that crucial moment when they meet and are married in the mold."
As cups exit the Hassia system, an Oystar A+F (www.osystar.afautomation.com) tray packer places the four- or six-cup groups into corrugated trays. The remaining equipment in the line is an AL Tech (www.altech-uk.com) thermal-transfer labeler that labels each corrugated tray with date and production code information. The trays are then palletized and made ready for shipment.
Companies in this article