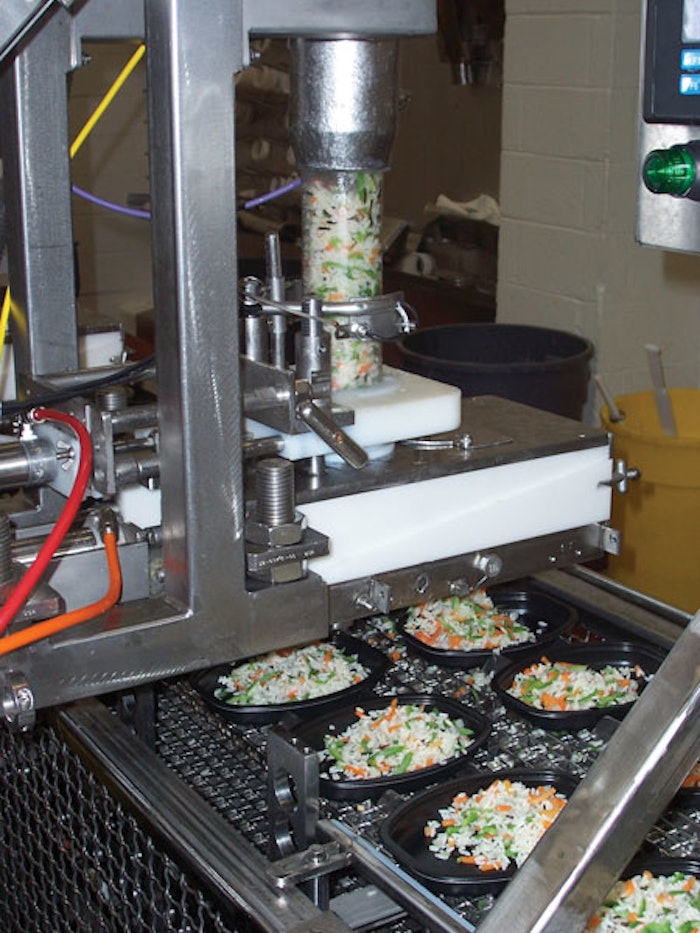 Cartoning, laser coding of cartons, carton verification, and case-code verification are among the highlights of a high-speed filling line for Smart Ones frozen meals made by Heinz Frozen Foods in its Pocatello, ID, plant. What drove the installation of the new line? "We had a volume increase requirement we had to meet," says Heinz project engineering manager John Beal rather matter-of-factly.
The new line, which goes a long way toward helping Heinz meet its volume requirements, went into operation in November 2006. A spiral freezer divides it neatly into two halves. On both halves, operator involvement is minimized, even though as many as five items have to be deposited into the CPET trays that are filled on the line. It's not that operators aren't involved, but in most cases what they do—loading a rice/veggie mixture into a bucket elevator system that feeds a depositor, for example, or loading trays, cartons, and cases into automated machinery—is not so much packaging as it is helping machines package automatically and at impressive speeds.
"Our goal for line flow is 250 cartons per minute," says Beal. "And the cartoner, for example, can reach that easily." A total of five operators are assigned to the line.
The Criterion 2000 cartoner, supplied by Oystar Jones (www.rajones.oystar-group.com), is especially intriguing because it incorporates a custom-designed tray-turning infeed section that plays a key role in permitting Heinz to reach the speeds it does. Like other tray-cartoning machines, the Criterion puts a tray into an "article bucket" so that a pushing arm can push the tray from the bucket into a carton. The transfer point where the tray enters the article bucket is the specific section Heinz asked Oystar Jones to customize.
Turning the carton
"The challenge with this tray is that it needs to be turned 90 degrees for insertion into the carton," says Todd Welker, national account manager at Oystar Jones. "Cartoners used on the other two Pocatello lines that package Smart Ones have a turning device with an auxiliary barrel loader to load a tray into an article bucket. It works well enough, but it has a lot of moving parts, and it's maintenance-intensive. Heinz asked for something simpler and easier to maintain. We realized that with a properly designed profile guide, the tray would actually turn and slide into the article bucket with no help required from moving parts. Accurate metering of the trays so they are synchronized with the cartoner's lugs was also required, so we added a pair of upstream star wheels to take care of that."
"The new cartoner has performed extremely well," says Beal. "We wanted it to run 20% faster than the overall line flow so that it doesn't become an operational constraint, and it's done that with flying colors. It also brings us the mechanical simplicity that we were after. Moving parts in the infeed area are minimal."
Helping the cartoner meet expectations are a pair of Exair (www.exair.com) air knives on opposite sides of the carton-opening section. They produce a burst of air that supplements the mechanical pulling apart of the carton blank. "You might not think it would make such a difference, but it really does," says Beal.
The cartoner is also interesting for the laser coder it incorporates and the vision system that's integrated into it. The coder, from Domino Amjet (www.domino-printing.com), puts the best-by and production dates on the end flap.
"We decided recently to standardize across the company on laser coding for cartons," says Beal. "They use no ink, so you're not dealing with the cost of consumables. From an environmental standpoint, it doesn't hurt to take the ink out of the equation. And clarity is excellent, even though the carton substrate is very glossy. We now have nine of these Domino Amjet laser systems in the plant. We tested a number of systems, and this was the one that won out."
Eliminating mix-ups
A foot or two away from the laser coder is a Cognex (www.cognex.com) Insight vision system that is used to prevent a meal variety from being inserted into the wrong carton.
"The vision system is extremely useful," says Beal. "It's there to prevent, for example, a beef item from being inserted into a carton decorated with illustrations of chicken. The technology examines images on the carton, and if a wrong carton shows up, that carton is rejected."
Trays are then conveyed through a Mettler Toledo (www.mt.com) metal detector and then through a long overhead accumulation section that takes them overhead and eventually back down to floor level and through a homegrown lane-dividing system that splits one lane into three.
Case packing is next, and it's done on a system from Douglas Machine (www.douglas-machine.com). It erects a corrugated case and then collates 12 cartons so that all 12 can be pushed at a right angle into a case. The case is then closed and hot-melt-glued.
Also mounted on the case packer are four Markem-Imaje (www.markem-imaje.com) 5204 ink-jet printers that apply human-readable and Uniform Commercial Codes on opposite sides of the case. "Just as we did with the laser coder that marks the carton, we evaluated a number of systems before choosing the Markem-Imaje systems," says Beal.
Like the cartoner, the case packer includes a Cognex vision system. This time the goal is to verify that the UCC is readable on both sides of each case.
"The two units mounted at the case-packer discharge area look at the UCC bar codes to make sure they are scannable," says Beal. "Retailers are talking about fines being issued to manufacturers whose bar codes won't scan. These vision systems ensure our codes are good every time. If for any reason a code is not scannable, that case gets rejected."
The final operation in the line, palletizing, is currently a manual operation. But Beal says robotic automation is being looked at now.
The front half
The front half of the line, on the other hand, could hardly get more automated. Two tray denesters from Raque Food Systems (www.raque.com) pull black, single- or two-compartment CPET trays from magazines and place them in two parallel lanes. A pair of volumetric depositors from Multi-Fill (www.multi-fill.com) are next. Their overhead hoppers are each fed a constant supply of rice and vegetable mix by twin bucket elevators that draw the rice mixture from floor-level hoppers.
Once the rice and vegetable mix has been deposited, trays are conveyed beneath two FEMC (www.femc.com) pocket fillers that automatically deposit broccoli, carrots, or other vegetables when a recipe calls for such ingredients. On the day of PW's visit, these systems were inactive.
Protein—chicken, beef, or pork—is fed by a pair of 16-head combination scales from Yamato (www.yamatocorp.com). Bucket elevators draw product from floor-level hoppers and carry it to the scales, which are mounted overhead at nearly ceiling level. The CPET trays travel on a continuous-motion basis, so the depositing heads that receive the chunks of meat stroke forward each time in order to have sufficient time to drop their load into the tray compartment. The depositing heads then stroke back a couple of feet to receive two more loads of protein.
Sauce or gravy is volumetrically deposited by a pair of six-out sauce systems from Raque. The same machinery manufacturer supplied the drum-roll sealer that heat-seals clear film to the filled trays. Clear barrier film helps preserve the integrity of the product as it makes its way through the frozen-food distribution channel.
Emerging from the drum sealer, the parallel lanes are divided for a brief stretch so that trays can proceed single file through two metal detectors from Mettler Toledo. The two lanes quickly merge back into their parallel orientation, and at this point, the trays enter the spiral freezer. About 50 minutes later, they're off to the cartoning machine.
Now that cartoning on one line is taking full advantage of the Oystar Jones infeed/turning solution, says Beal, management is exploring the possibility of implementing similar equipment on the other two lines at Pocatello that produce Smart Ones. "It's a matter of documenting the advantages gained so that future investments can be justified," says Beal
Companies in this article