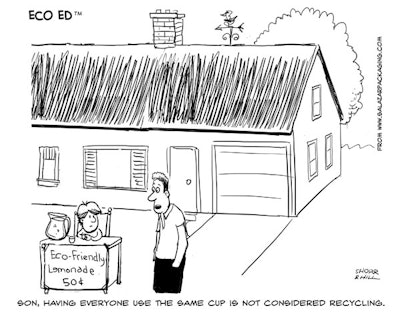 ■ Delkor (www.delkorsystems.com) has received a Sustainable Packaging Leadership Award from the Packaging Association of Canada. The Delkor Spot-Pak packaging system reduces the volume of secondary packaging materials, thereby cutting material costs, reducing dry storage requirements, and lowering transportation costs. Used extensively within the dairy industry, the Spot-Pak packaging system has eliminated approximately 10,000 semi-truck shipments of corrugated materials, plus another 6,000 to 8,000 fewer truckload shipments of finished products, principally due to the ability of Spot-Pak packages to increase the cube utilization of pallet-size loads.
■ The Minneapolis College of Art and Design Sustainable Design Online program offers the opportunity to gain in-depth, actionable knowledge about sustainable design. The courses are relevant to anyone involved in graphic, packaging, and product design, including designers, brand managers, product planners, buyers, and executives. The college offers single workshops to update skills or the courses (18 credits in all) needed to earn the accredited certificate in sustainable design. Courses cover all aspects of sustainable design—theory, tools, and techniques. Fall classes start August 24. For more information visit www.mcad.edu and look under continuing studies, certificate programs.
■ Metabolix (www.metabolix.com) announced that Telles, its joint venture with Archer Daniels Midland Company that produces Mirel bioplastics, has entered an agreement to supply Mirel resin to Heritage Plastics, Inc., for the production of BioTuf compostable film. Heritage Bag Company, the largest U.S. manufacturer of compostable trash bags, can liners, and kitchen compost bags, is working in conjunction with Heritage Plastics to develop a new line of BioTuf compostable bags.
■ Lite-Pak™ is a sustainable primary packaging solution developed by The Drake Company for products merchandized through the club store retail channel. All materials in Lite-Pak are 100% recyclable. Lite-Pak is constructed of a durable combination of corrugated board with an rPET blister. The corrugated replaces plastic as the majority component in the pack, and graphics are printed with soy-based inks and water-based coatings. The corrugated has a minimum content of 60% post-consumer waste, and the plastic blister is made from 100% post-industrial recycled rPET.
■ The Flexible Packaging Association's new education and marketing brochure incorporates a wealth of information and data on the value proposition of flexible packaging and its sustainable aspects. Hard copies of the brochure are available by writing to fpa@flexpack.org. The brochure can be downloaded at www.flexpack.org.
■ Better Packages, which offers customers water-activated paper tape dispensers and carton sealers, has joined the Sustainable Packaging Coalition.
■ The Boy Scouts of America (BSA) announced that the Order of the Arrow (OA), the BSA's national honor society, will conduct its largest national service project since World War II. The project will emphasize forest conservation and sustainability education and will provide more than 250,000 hours of service, see www.scouting.org.
Companies in this article