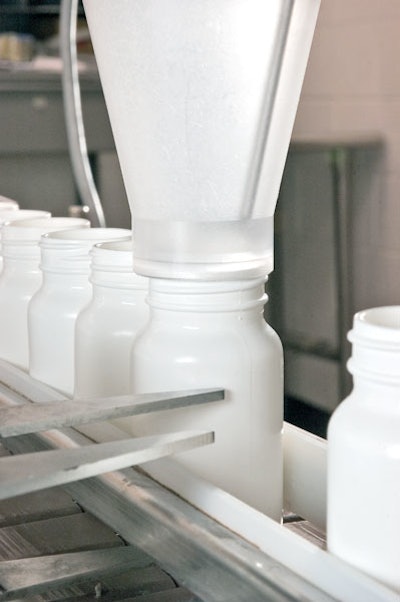 With private-label customers that include Walgreens, Costco, and Target, and companies with branded products such as those sold at Wal-Mart, expectations run high at Inverness Medical Nutritionals Group, Freehold, NJ. To meet the requirements of these private-label and contract-manufacturing customers, Inverness must maximize efficiency and versatility in its packaging operations.
In the past year, the company did just that, adding two identical tablet lines to its 260,000-sq-ft Freehold tablet and capsule manufacturing/packaging facility. Inverness worked with supplier partner Capmatic Ltd. (
www.capmatic.com
) and systems integrator AutoFlex Technology (
http://autoflextechnology.com
) to customize the lines.
"We have to satisfy the needs of our customers, so in turn we have to be very demanding of our packaging suppliers," says Amjad Hussain, packaging manager for Inverness Medical Nutritionals Group, a business unit of Waltham, MA-based Inverness Medical Innovations, Inc., a maker of reagents and diagnostic products with facilities worldwide.
Hussain says Inverness began looking for a more versatile, less labor-intensive option to its existing wrapping/packaging lines nearly five years ago, hiring AutoFlex's Robert Tatarowicz as a sales engineer. "Only Capmatic said that it could build the machinery we wanted, and how we wanted it," says Hussain. "We were a pain in the neck as a customer, but Capmatic and AutoFlex delivered custom equipment, just the way we needed, to serve our customers."
Compact lines

"Both lines are configured in an L-shape so that one or two operators can service each line," says Douglas Powanda, director of solutions and alliances for Capmatic. "As one line is changed over, the other can continue to run."
Both lines run at speeds to 45 bottles/min. "Speed wasn't our primary concern," Hussain explains. "We brought in these two machines because our four older lines required considerable labor to run and huge amounts of time for changeovers. Changeover time is important because we run multiple bottle sizes, from 50 cc to 950 cc, in different types of bottles, all of which can be filled on these two lines."
Another key benefit, says Hussain, is that the new lines occupy considerably less real estate than did the former lines.
Walking the line
Supplied by different vendors and in different resin varieties, depending on price and availability, bottles are hand-loaded onto a stainless-steel Capmatic accumulation turntable at the beginning of both identical lines. The packaging equipment is controlled by Allen-Bradley PLCs from
Rockwell Automation
(
www.ab.com
).
Bottles pass single-file along a Capmatic sanitary raised-bed conveyor, under a single-lane tablet counter/filler from
CVC Technologies, Inc
. (
www.cvcpharmapack.com
). An electronic counter counts tablets to ensure that the right pill quantity is filled into each bottle. Hussain says that Capmatic and AutoFlex partner with a variety of packaging machine OEMs and are versatile when it comes to the machines that are used.
Immediately after filling, bottles proceed through a Capmatic Cottonstar machine that applies cotton into bottles. "This is the first time that Capmatic built this machine," says Hussain. "It's built for us and gives us the flexibility to add cotton, rayon, or polyester into the bottle if the customer requires it." The machine produces material in lengths from 2 to 9 in., in a U-shaped insertion.
Bottles continue past a metal detector that comes from a supplier Hussain prefers not to divulge.
Rotary machine functions
Next in line comes perhaps the most innovative aspect of the Capmatic lines at Inverness: a six-station rotary turret that Capmatic refers to it as its CL-72 Alpha capper/labeler.
At the first station, a
SICK
(
www.sick.com
) sensor looks inside the bottle to determine if cotton and product are inside. A cap is applied to the mouth of the bottle at the second station. Checking the cap to make sure the liner is present is the next step. The cap is torqued onto the bottle in station four before it's checked to determine if the cap is straight, crooked, or missing. Finally, a wraparound, pressure-sensitive label is applied at the last station.
Completing all these functions in one rotary machine means Inverness didn't have to purchase separate capping, labeling, and inspection machinery. "And this system helps us prevent wasting packaging materials," says Hussain, "because if a problem is detected, we can fix it right at the station."
As capped and labeled bottles discharge from the rotary turret, they pass by a thermal-transfer printer that applies line information, as well as lot and expiration date codes to the label. Bottles continue past an induction sealer before proceeding onto a Capmatic outfeed turntable, where operators inspect bottles and then manually case-pack them. Cases are placed in a quarantine area for final inspection. Product shelf life varies from two to six years, Hussain says.
The monobloc capping and labeling system operates on a platform that measures about 41⁄2 x 41⁄2 ft, with an overall line footprint of 15 x 20 ft.
Counting the benefits
Hussain estimates that Inverness will pay back the investment in the two lines in 21⁄2 years, a satisfactory timeframe. "The new lines run five days a week, on eight- to 10-hour shifts," he says.
"The new lines have increased our production rates by about 40 percent," Hussain estimates. "I'm talking about productivity, not the speed." Although the previous equipment could fill tablets at a faster rate than the two new lines, they required manual capping and labeling. Now these functions are completed automatically.
Besides productivity, Hussain estimates that the new lines provided a manpower savings of 40 percent. That's possible because the previous four lines required several people to run, with changeovers sometimes taking four people.
"Now we use one or two people," Hussain says. He takes care to explain that Inverness did not replace anyone. "These people tend to other jobs at the facility. Our company has a policy that employees come first. We didn't want to demoralize anyone," he says.
Training challenges addressed
At first, Hussain admits, employees were a bit skeptical about the new automated machinery. "I told Capmatic's president, Ali Bassani, that none of the automation will work if the people running the machine don't like it," he says. "We brought in our employees during development of the lines, and they offered suggestions.
"We have trained about 10 employees to use the machine so far. As training proceeded, they began to love using the machinery, and now they don't want to move from those lines." Hussain says one person is used to replenish tablets, bottles, and labels, while another person moves back and forth between lines as needed.
The flexibility the two lines provide allows Inverness to run batches of varying quantities, even less than 500 if necessary.
"Our business market is very tough because we have to maintain a just-in-time inventory, and we have to be able to make rapid changeovers for our customers," says Hussain. "At each stage of the development of the lines, we told Capmatic and AutoFlex what we needed and exactly how we wanted it. They told us they could do it, and they delivered for us."
Companies in this article