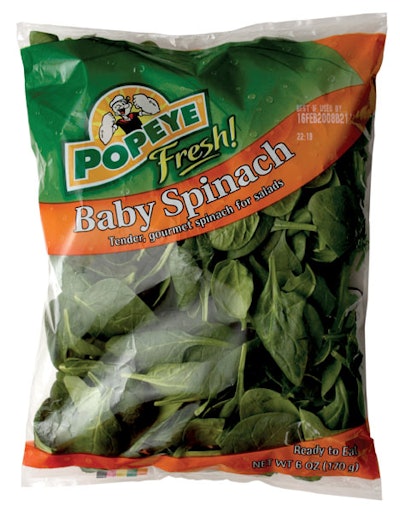 Because this polymer is relatively new, consumer packaged goods companies are in the discovery phase of determining exactly where, when, and how to apply it.
More than four years ago,
Plastics Suppliers, Inc
. (
www.earthfirstpla.com
), began development of new patent-pending films based on the Ingeo polymer. As the company progressed, it found itself enhancing performance characteristics in a number of key areas, including use, handling, temperature, strength, printability, and overall machinability. Today, Plastics Suppliers' EarthFirst PLA films are being used for flexible packaging, shrink sleeves, window cartons, and labels (including white.) Plastic Suppliers also offers EarthFirst repulpable film as well.
When Plastics Suppliers first started its EarthFirst PLA film project, the material had a 104ºF threshold for applications, which effectively kept it off standard equipment for a number of applications. Subsequent development by Plastics Suppliers raised the temperature of its EarthFirst films to a maximum processing temperature of 140ºF. This enhanced film has a long-term maximum storage temperature of 120ºF. For supported applications, EarthFirst PLA films can reach a maximum of 175ºF. The company reports that EarthFirst films have the highest temperatures of any PLA film on the market.
Along with the temperature enhancements, the company improved the strength, sealing, and printing characteristics of its film. This led Emerald Packaging to develop a clear flexible package for its customers' lines of fresh-cut spinach. The package is now on retail store shelves. Other fresh food suppliers followed with the development of their own EarthFirst flexible packaging.
Plastics Suppliers formulated its shrink sleeve film to perform in shrink tunnels at temperatures as low as 70ºC. Applications include full body shrink sleeve labeling and tamper bands. The relatively low temperature helps to decrease energy consumption and improve the overall carbon footprint of the application. Currently, EarthFirst TDO shrink sleeve films are used in beverage, cosmetic, and packaged foods applications.
Recyclability and adequate supply
"A number of customers are concerned about PLA recycling and whether the recycling stream may be contaminated by PLA," said Rich Eichfeld, vice president of business development. "The short answer is that EarthFirst is recyclable, compostable (ASTM D-6400), and repulpable. The issue is not with the material. It is with the business of recycling—the economies of scale and the rates at which consumers recycle in today's market. Packagers, the environment, and society come out ahead when using renewable, recyclable, and compostable materials."
Prospective buyers want to be assured of an adequate supply. Eichfeld reports that from the beginning of its development to today, availability has never been an issue. "For our applications there has always been adequate supply," he said.
In a 2005
Packaging World
article on biopolymers, Harald Kaeb, then the chairman of the International Biodegradable Polymers and Bioplastics Association with headquarters in Berlin, Germany, observed that in general, a new polymer requires 30 years from laboratory to commodity. "What's needed now is investment in production capabilities that can bring sustainable materials down in cost," he said. "Those investments require courage and vision."
Plastics Suppliers is exhibiting courage and vision by devoting resources to opening new markets by pushing the performance characteristics of renewable materials and environmentally friendly solutions to new heights.
Companies in this article