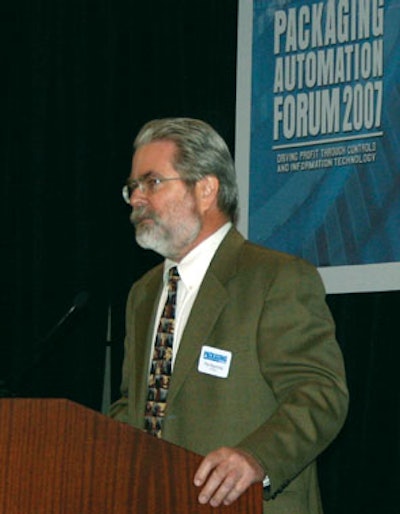 Speakers should come from the end user sector as opposed to the packaging machinery OEM or technology provider camps. Independent consultants or integrators may also be deemed suitable as speakers.
Represented by last year's PAF speakers were drug maker Eli Lilly and Co. and Odom's Tennessee Pride Sausage Inc. "The search for greater modularity in packaging equipment" was the topic covered by Lilly. Delivering it were Aubrey Hawkins, design consultant in manufacturing information and control systems, and Brian DeHaan, associate engineering consultant.
In his portion of the presentation, DeHaan explained that Lily has been successful in bringing modularity to the batch processing side of its business and that the goal now is to bring that methodology to packaging. "In our batch project," DeHaan told his PAF audience, "we created 11 different classes of control modules that are very basic elements of control and we made them configurable. That way, when we have a new system that requires us to replicate a certain module, we can simply change the configurations and the base code doesn't have to change. The more we rely on configurable modules whose base code remains the same, the less testing we have to do in order to meet FDA validation requirements. And re-testing, as you can imagine, adds greatly to our costs."
DeHaan and Hawkins both emphasized, throughout their presentation, that Lily would like to see packaging machinery OEMs adopting the "hierarchy of modularity" that is now established on the batch processing side of manufacturing. If they do, significant cost savings and overall gains in efficiency would accrue to both OEMs and the packaged goods companies who are their customers.
Simultaneous device monitoring
The PAF pesentation from Odom's Tennessee Pride, delivered by director of information technologies Micheal Hader, was titled "Benefits of simultaneous device monitoring on multiple packaging lines." The product being packaged is refrigerated or frozen breakfast sandwiches, and the typical line components include flow wrapper, metal detector, carton erector, robotic cartoner, carton closer, weigh/price labeler, and robotic palletizer.
Due to the Wal-Mart mandate requiring RFID on pallets and cases, Odom's needed end-to-end supply chain visibility and automated tracking of goods without the overhead of bar code scanning. It also needed data synchronization, defined by Hader in this way: "A customer-based initiative to standardize product information technology and the methodology of information exchange between suppliers and retailers." Odom's accomplished its goals by connecting "intelligent" packaging machines to a DeviceNet network and by implementing RFID readers and printer/applicators that are integrated into the same network.
"All the data that we collect about counts and time stamps and you name it gets posted back to our sequel server database," Hader explained to his PAF audience. "That allows us to get at our yield and efficiency calculation, which in turn allows us to get at downtime data in real time. We collect that data right off the PLC and throw it back into our sequel servers. From there we can run reports and see what's going on. We now have an infrastructure for the collection of manufacturing data that will grow with us and position us to do a better job of running the business for years to come."
Packaging Automation Forum 2008 is produced by Packaging World and Automation World magazines. Those interested in delivering a presentation at PAF should contact Packaging World editor Pat Reynolds at reynolds@packworld.com. View last year's program at www.packworld.com/paf.

Companies in this article