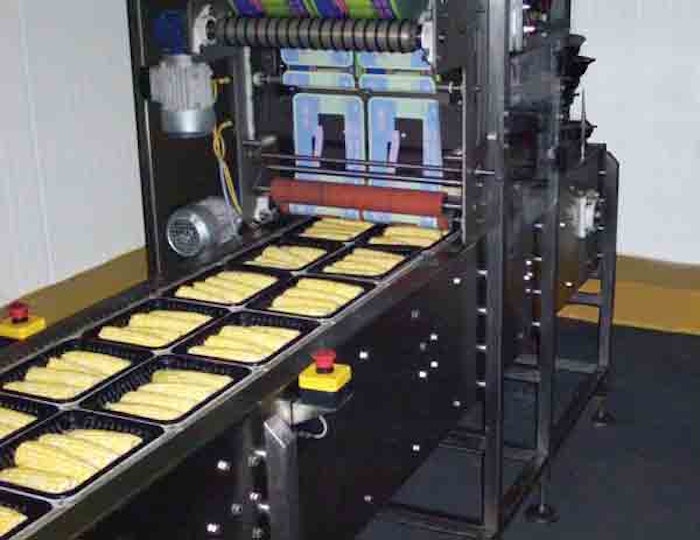 A. Duda & Sons increased productivity by 70%. Kona Joe Coffee boosted production even more dramatically. How? By purchasing new equipment seen at Pack Expo Las Vegas 2005. Needless to say, principals from both firms will return to Las Vegas for this year's edition of Pack Expo Las Vegas, sponsored, as always, by the Packaging Machinery Manufacturers Institute (www.pmmi.org).
A. Duda & Sons, out of Oviedo, FL, is one of the world's largest producers of celery products. It also serves both retail and foodservice markets, selling its products under the Dandy brand name. Products in addition to celery include mandarins, red grapefruits, red and white onions, broccoli, and cauliflower.
With operation centers as far-flung as Michigan, South Africa, and Spain, the firm found it increasingly difficult to maintain necessary production speeds while relying on a manual packaging process. "Having been to Pack Expo on numerous occasions, I knew it would be a good opportunity to investigate ways we could improve efficiency," says Steve Bocchino, vice president of procurement and packaging at Duda.
After extensive research, Bocchino purchased a linear-motion S-30-DX Heat Seal Machine from Orics Industries Inc. (www.orics.com) to help increase the value of the company's Dandy Microwaveable Sweet Corn brand. The sweet corn is fully-husked and tray-packed into individual packages that can go right into the microwave. Both three- and four-count packages are available.
Prior to the purchase of the Orics S-30, Duda depended heavily on a smaller table-top steam sealing machine. "Microwavable corn trays were filled by hand and manually steam pressed closed, requiring excess film and increased labor time as well as low productivity," says Bocchino.

The sleek design of the S-30 proved to be a perfect fit for A. Duda & Sons. Orics customized the system to include an extended frame and registered film slice-cut mechanism to handle the specially vented printed film that adorns the top of each Dandy Microwaveable Sweet Corn pack.
The S-30's film feeder technology offers additional benefits. Film is cut in between each container, leaving no wasted film and saving the company more than $35,000 a year. The approach also minimizes environmental impact by decreasing the amount of material discarded.

Installation proved to be an easy, hassle-free process. Orics also offered off-site training, which "was invaluable for our employees," recalls Bocchino. "They were able to learn first hand from trained instructors how to operate the system."
The S-30 packs two trays per cycle for A. Duda & Sons and has increased productivity by 70%. In addition, by eliminating the manual packing process, the S-30 has also helped free up employees to handle more strategic tasks within the organization.
Staying fresh
While at Pack Expo, Bocchino also purchased a Nevada horizontal flow-packing machine from Ulma Packaging (www.ulmapackaging.com) to package its new Dandy Celery Snack Pack brand. Intended to reach today's increasingly mobile consumer, the brand offers celery sticks in ready-to-go snack-size bags.
Designed to package 1.6-oz bags of celery sticks, the innovative Nevada is equipped with an oxygen analyzer that helps regulate oxygen content within the package, extending shelf life for packaged celery by six days. "With worldwide distribution, it was important for us to deliver a product that would survive the trip overseas and maintain freshness until consumption," says Bocchino.
The Dandy Celery Snack Pack has proven so successful with consumers that Bocchino has started the process to purchase a second Nevada system to support its growth. He's also looking forward to a return trip to Las Vegas for the 2007 Pack Expo show.
"One of the most helpful aspects of this show is that you get exposed to equipment that can have a huge impact on plant efficiency that you never knew existed," says Bocchino. "Plus, being able to look at everything from filling equipment to case erectors to film technologies in one location is a huge benefit. The industry has really come to depend on the one-stop shopping environment Pack Expo offers."

Another happy Vegas Visitor
CEO Joseph Alban of Kona Joe Coffee also succeeded in finding new equipment at Pack Expo Las Vegas 2005. His show visit resulted in the purchase of a vertical form/fill/seal machine and storage hoppers that helped increase efficiency by 20% and production by more than 500%.
Located near the Mauna Loa Volcano in Kona, Hawaii, the family-owned Kona Joe Coffee is said to be the first coffee grower to implement the use of a trellis, mimicking the process used by wine makers. "We are able to get 20% more juices from the coffee bean by utilizing this method," Alban explained.
Since production first began, Kona Joe's has seen steady business growth. "Having based our production primarily on manual labor, we found it increasingly challenging to maintain steady output," Alban said.
The production process was very straightforward—coffee beans were harvested, stuffed into burlap sacks, and brought to a storage facility. From there, beans were roasted and ground when necessary, then finally packaged by hand. "With increased demand, our production line was becoming less efficient," Alban says. "We really needed a more centralized and automated system."
To help solve this challenge, Alban traveled to Pack Expo Las Vegas to investigate the possibilities new packaging equipment could offer. "Being from Hawaii, there are few solutions readily available to us. Pack Expo Las Vegas provided the opportunity to see many options at one time," Alban said.
After meeting with several exhibitors, Alban purchased a VPI-260 vertical form/fill/seal machine from Rovema Packaging Machines (www.rovema.com). The flexible and versatile machine can be used to pack many different-sized products while featuring a series of amenities ideal for the packaging of coffee.
The VPI-260's modular design allows it to stand alone or be integrated with other Rovema machines. A variety of bags and styles can be produced including pillow style bags and flat-bottom bags in an assortment of sizes. "Being able to switch between bag sizes was the feature that solidified our decision," says Alban. The versatility allows Alban to switch between 8-oz and 5-lb bags with less changeover and time lost.
The proof is in the numbers. With the manual approach, Kona Joe's had four employees packing eight bags/min. With the Rovema machine installed, Kona Joe's is now packing 40 bags/min with only one operator needed, increasing packaging efficiency considerably.
The VPI also features servo-driven cross-seal jaws with programmable jaw opening as well as vacuum-assist film feed belts. With the innovative machine, Kona Joe's is able to package ground coffee as well as roasted whole beans.
Bringing in the beans
While at Pack Expo Las Vegas, Alban also started researching ways to move towards a fully automated bean transport system.
The process went this way. Beans were manually brought to the storage facility for roasting from the farm in burlap sacks, with each holding approximately 100 lbs of beans. It took six employees filling and transporting bags from the farm to storage, making the process labor intensive.
To help streamline the process, Alban purchased two Remcon Front Discharge (FD) Hoppers from Remcon Plastics (www.remconplastics.com) while at Pack Expo Las Vegas. These lightweight hoppers are specifically designed for storing and discharging dry products. The easy-to-clean hoppers are equipped with a built-in slide gate, eliminating the need for a separate valve. Angled on a 30° slope, the hoppers allow effortless product discharge. In addition, the secure interlocking design of the hoppers ensures safe stacking and space efficiency.
With the purchase of the Remcon FD Hoppers, Kona Joe's is able to transport bins of coffee instead of sacks. "Each hopper holds 1,500 pounds of coffee and requires one employee to move each hopper with a forklift, helping us increase transport and storage efficiency by 20%," says Alban. The other employees previously dedicated to transporting coffee beans have been charged with other important responsibilities, including order fulfillment and shipment management.
Alban looks forward to returning to Pack Expo Las Vegas this year. "It is rare to find a show that offers so many solutions in such a convenient space," Alban said. Making Alban's trip easier was My PACK EXPO™, the personalized web-based tool available for each Pack Expo attendee. Based on data fed into a short profile that attendees complete when registering for the show, My PACK EXPO intelligently mines the show's database of exhibitors, products, and contacts to generate a report customized to meet individual needs and interests. The report is hosted on a personalized, password-protected web portal that can be accessed 24/7.
Alban plans to utilize this year's show to further automate his production line. "With My PACK EXPO, I can go to the show prepared and knowledgeable about what I'll be seeing."
Companies in this article