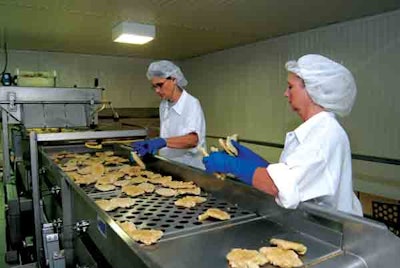 Under the "Top Chick" label, Albertville Quality Foods, Albertville, AL, produces chicken products—including breaded IQF (individually quick frozen) chicken fingers, chicken breasts, chunks, tenders, wings, popcorn, tempura, livers, and gizzards—for both retail and foodservice markets. The company also produces pork sausage products at a second plant in Pontotoc, MS.

Albertville Quality Foods had been bagging/weighing the chicken products manually at its Alabama facility. In fact, the company promoted this manual operation with customers, saying: "We hand-pack every piece of your product to ensure the best quality."

When Albertville began considering the benefits of increasing production rates through automated bagging and weighing systems, a major objective was not to sacrifice any quality controls when making the transition from manual to automated operations.

Plant manager Ray Kelley notes, "In January 2007, we installed the Advantage Model B35PR intermittent-motion vertical form/fill/seal bagging machine and Selectacom Model A14C8 radial scale manufactured by Triangle Package Machinery (www.trianglepackage.com). The machinery company has a good reputation in our industry, and we knew it would provide reliable service and parts. Triangle, in turn, put us together with another company, Key Technology, Inc. (www.keyww.com), that specializes in high-efficiency feeding, sorting, and conveying systems. The combination has been a good one for us. By using the Triangle bagger with the Key systems, our product quality is even better today than it was with the manual packaging operation."

Installation procedure

Kelley notes that Triangle technicians were very involved in the installation, operator training, and start-up of the new bagging equipment. He says, "Triangle sent two service men to our plant, and both stayed with us for three weeks. One of them gave classes on the equipment, while the other one gave hands-on training of the machine in operation in the plant. This was very helpful, and they didn't leave until we were completely comfortable with the machine."
He adds, "Triangle also supplied very good plant engineering support through a firm named Capper McCall Co. (www.cappermccall.com). A gentleman named Ernie Herrig from Capper McCall stayed in contact with us daily and helped plan the whole project."

At the Albertville plant, the chicken portions are breaded, par-fried, spiral frozen (IQF), then dropped into the Key feeders/shakers and deposited into the weigh scale buckets on the Triangle Selectacom weigher system. The bags are formed from 2.5-mil clear, coextruded polyethylene rollstock film (some preprinted and some plain, depending on product application) supplied by Associated Packaging, Inc. (www.associatedpackaging.com) with Inno-Lok® zippers pre-applied. As the bags are formed, the chicken portions are dropped into the bags and heat-sealed on the Advantage machine.

As Kelley explains, "The bagging, sealing, and weighing operations are controlled by one central ControlLogix system engineered by Allen-Bradley/Rockwell Automation (www.ab.com). The machine has recipes stored in memory for each different product that we run. For example, we have a recipe for a 5-lb bag of tenders, and we have a recipe for the same tenders in a 2-lb bag. This makes the changeover easier to manage. We just change the recipe and film bag dimensions and keep going. It works really well for us."

After bagging, the products are run through a metal detector manufactured by Safeline Metal Detector (www.mt.com/safelineus), packed in shipping boxes, and stacked on pallets for shipment.

Benefits in the bag

Albertville Quality Foods is pleased with the benefits derived from the new bagging system. As Kelley, outlines, "The first benefits we received were labor savings. We were able to reassign 40 employees from our bagging operations over two shifts. We also have reduced downtime/lagtime significantly because now there is no back-up at the weighing station.

"And we've reduced product giveaway. Previously, we hand-scaled every bag, and, at the end of the day, our daily bag average was 18 grams giveaway. Now, with automated weighing, the bag average giveaway is about 5 grams."
Bagging speeds have improved to approximately 50 bpm for 2-lb bags and 30 bpm for 5-lb bags. This is in contrast to the previous manual bagging speeds of approximately 30 bpm for 2-lb bags and 15 bpm for 5-lb bags.
The bagging equipment is all stainless steel, which permits easy wash-down. And because Triangle is the single-source supplier for the scale and bag former/sealer, maintenance and repair are much easier to accomplish. It's a single-control system with no proprietary parts.

"Our customers love the bags and reclosable zipper seal system, as illustrated by the numerous positive comments we have received on our customer hotline. And in terms of payback on the equipment investment, we projected payback within 6 months. That projection was right on target, reports Kelly."
Companies in this article
Videos from Triangle Package Machinery Company