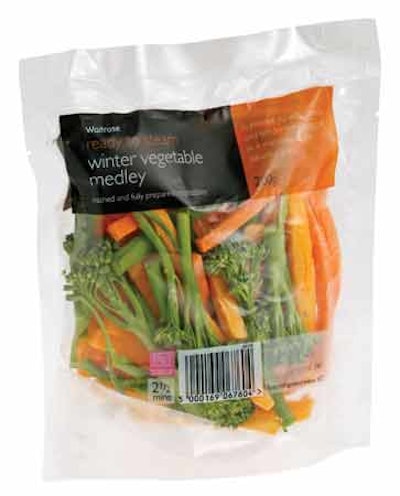 In the 1984 movie Moscow on the Hudson, Robin Williams, playing a Russian defector, enters a U.S. supermarket for the first time. "Coffee, coffee, coffee," he cries before collapsing—overwhelmed by the abundance around him. Fast forward 22 years to today's supermarkets. His cry might very well be, "Pouches, pouches, pouches."
Who could have predicted in 1981 when Kraft introduced All Natural Capri Sun juice beverage in the United States that the distinctive silver-foil pouch, with an attached straw for convenience, would begin a packaging revolution? Case in point—The Freedonia Group projects a $6.5 billion market for pouches in the United States by 2010 (See sidebar pg. 170).
A range of factors contribute to the enormous proliferation of this packaging format. These include:
• Shelf appeal
• The increase in the number of new products
• Faster inventory turns
• Market differentiation
• Convenience features
• Economies of scale
Pouches offer eye-popping graphics
Standup pouches are similar to boxes in that they present a billboard effect on the shelf. They differ from solid-bleached-sulfate (SBS) paperboard boxes in that a foil or multi-layer film pouch is more conducive to graphics that literally shine as they reflect vivid colors out to the shoppers.
"One of the things driving the growth in standup pouches is shelf appeal," says Michael Olejnik, director of marketing and sales at flexible packaging supplier Exopack-Canada. "When you take a package with the kind of outstanding 8-to10-color graphics available today on standup pouches, you pull the consumer to that product."
C.R.S. Ravishankar, CPP, packaging development manager, BP-Castrol India, agrees. "One of the big factors causing the rise in popularity of the pouch," he points out, "is the quality of printing and graphic design, in addition to cost effectiveness. Reverse printing gravure cylinder technology offers noteworthy graphic appeal."
"The big chains love the graphics achievable on standup pouches," says Jack Cunneen, vice president of sales, LPS Industries, a supplier of flexible films. "There is an intense brightness provided by reverse printing the polyester and laminating it to the metalized polyester. This also enhances the sheen. Printing on SBS simply can't compare in terms of impact."
Standup pouches not only provide graphic pop, clear barrier materials give designers the flexibility to reveal the product inside the package. "Clear barrier materials are extremely important to shelf appeal," says Peter Ettridge, development manager at film supplier Amcor Flexibles. "This is especially true if the product is premium priced. The appearance of the actual product helps differentiate it."
Inventory turns and shelf life
In the good old days, manufacturers had the luxury of long runs of relatively small numbers of products—one or two variations of a cookie, for example, or a choice between diet or regular flavor for a soft drink. Now dozens of variations for a single line and new products come out faster then ever before. The pouch format plays well with this trend.
"One of the most important factors driving pouch development is the ability to make short runs and handle the expanding number of SKUs that brand owners bring to market," says LPS Industries' Cunneen.
Frank Bauer, marketing manager at Cryovac, a flexible film suppler that is part of the Sealed Air Corp., points out that with quicker inventory turns and just-in-time delivery, packaged goods manufacturers do not have to be as concerned about extraordinarily long shelf life. "From an economic standpoint," says Bauer, "inventory turnover in months rather than years favors flexible materials, which are usually less costly, cube out better on trucks, and take up less space in the back of the house."
Convenience sells
In an era of SKU proliferation, the marketer with a difference stands out. Pouches offer a range of possibilities for differentiation.
"We've seen double digit growth in pouches across all of our businesses in the last two to three years," says Lani Craddock, director of business development, Consumer Plastics, Exopack. "One of the reasons for this growth is that it is much easier for the manufacturer to apply consumer convenience features to a pouch than to other formats. Easy open, resealable, spouts, handles, and shapes can be applied as needed to ensure a convenient and differentiated product."
For an example, Craddock cites the bottom-gusseted traditional standup pouch, which is branching out into a four-corner sealed side-gusseted bag and comes very close to a flexible box. She says this technology is appealing because it not only gives the package a differentiated shape, but it also maximizes shelf space and features a vibrant billboard appearance.
Cryovac's Bauer observes, "With new products being developed all the time, brand owners want something that is not only unique, but also furthers what they are trying to do with the product. There are a plethora of options. One of the most important of these—the convenient microwaveable pack—has probably helped drive the popularity of pouches as much as any other development."
Success drives economies of scale
As volume of pouches has gone up, prices have come down due to the economies of scale and greater experience with the format. The price of pouch barrier materials such as aluminum oxide, silicon oxide, and EVOH are coming down because of volume production.
"From the brand owner perspective, the economics of pouches have improved as run speeds and up time have increased over the past four to five years," says Rick Morse, vice president of sales and marketing at flexible film supplier Cello-Foil Products. "In the same way the printing world cost-effectively went from four to six and now 10 colors, the co-extrusion market is now reducing costs while adding more choices. Cost-effective pouches with nine or more layers are not unusual today. The higher the number of layers, the more we can tailor the pouch to the specific application of our customers." He adds that at least half of Cello-Foil's growth in the last several years has been from standup pouches.
The following examples demonstrate the close interplay of product, pouch, and market differentiation.
A flexible pressure cooker
Amcor Flexibles (www.amcor.com) recently introduced an innovative microwaveable standup pouch that features an internal steam vent and modified atmosphere technology. This pouch is helping to expand a niche for fresh microwaveable produce.
The pouch with fresh vegetables goes directly into the microwave. Features include:
• See-through pouch displays a premium product and stands out
• Clear and breathable material creates a modified atmosphere that extends the shelf-life of fresh vegetables
• No need to open the package prior to microwaving—the self-vent works automatically
• Quick cook time. The vegetables are ready in at least half the time when compared to heating water and boiling.
• Improved nutrition. An independent laboratory confirmed higher vitamin C content when vegetables are steamed rather than boiled.
• No pots or pans to wash up
The Waitrose chain of supermarkets in the UK is a notable user of this pouch technology (see photo on page 170).
The pouch becomes an extension of the product
The typical powdered margarita mix comes in a foil packet and requires a mixing cup and blender. Not so for Baja Brady's Margarita Mix in a pouch, marketed by Flanigan Foods of Cottleville, MO. Liquid is added directly to the pack using an oversize spout that fits easily over the neck of a bottle for no-mess filling. A clear window on the back of the package is used for measuring. A handle makes shaking, pouring, and carrying a snap. Margaritas can be frozen, refrigerated, or put on ice right in the pouch. Vibrant tropical colors draw the consumer's eye. Exopack (www.exopack.com) developed the Baja Brady's pouch.
Motor oil in a standup pouch
After three years of research into material strength, shelf life, ease of use, and consumer appeal and acceptance, B.P. Castrol India earlier this year launched a standup pouch for motor oil. The vivid billboard graphics and bold printing make this product stand out on the retail shelf. The pouch's "new-look" appearance allows the company to position it as a premium product.
Castrol's Ravishankar says, "This standup motor-oil pouch provides maximum brand visibility and gives the product more excitement in the marketplace. People are drawn to it. They touch it and pick it up. Our share of market is growing because of the package's appeal and brand visibility."
The standup pouch, supplied by Positive Packaging Industries (www.positivepackaging.com), also costs less to manufacture than the typical plastic motor oil container. The fill and seal process for the standup pouch requires four people and two machines, says Ravishankar, while plastic bottles require a process that includes 10 people and seven machines. The standup pouch deters counterfeiting. Once cut, it cannot be reused. The pouch recently won the INDIASTAR 2006 packaging excellence award.
Ravishankar says that pouch packaging is estimated to grow in India by 20 to 30 percent annually for the next several years.
Water in a pouch
The booming water market has been largely off limits to pouches due to flavor issues caused by the materials used. CLP Industries (www.clp.co.il) solved this problem for Jacob's Well Water by coming up with a taste-neutral structure of PET, polyethylene, and special adhesive. The Jacob's Well Water standup pouch features spout and screw-on cap for bottle-like pouring and storage and offers a two-year shelf life. The unusual shape of the pouch and bright graphics draw attention.
Every side a billboard
Polymer Packaging (www.polymerpkg.com) helped Fromm Family Foods convert the multi-wall paper bag that contained its 33-pound Adult Gold premium dog food to a four-web quad-seal pouch. Since the bags are displayed flat on the retail shelf, side gussets with registered eight-color printing act as billboards for the product.
An innovative one-way valve evacuates internal gas and ensures the large pouches square-up and palletize effectively, thereby cutting down on transportation-related damage. Squared-up pouches also display more uniformly. Fromm projects double-digit sales increases due to the transition from multi-wall bags to the eye-catching, premium-image pouch.
What does the future hold for pouches?
Dr. Laurent Vincent, development scientist, Amcor Flexibles, believes that coffee, tea, and soft drinks may one day be packed in pouches that offer self-heating or cooling properties.
Frank Bauer at Cryovac sees major developments in pouches coming from extrusion and die technology, which could add greater number of barrier layers without greatly affecting thickness. "Research into nanocomposites," he says, "holds the promise of ultra-thin high-barrier flexible materials."
Leslie Gurland, general manager U.S. Operations, CLP Packaging, believes that pouches in North America are moving into "hard-to-hold" applications, such as detergents, household cleaners, and pool chemicals—something that is already underway internationally. She also sees the medical market's continued adoption of this packaging format. Water is another area where pouches may have a growing impact.
Polymer Packaging Business Development Manager Tammy Lehar believes that pouches will increasingly be used in retort applications. She also sees growing use of pouches for health and beauty products. Stick pouches are another area of future growth.
LPS's Cunneen believes foil will remain a dominant material for pouches, but will continue to be replaced when microwaving and clarity are important. He sees the industry moving toward materials that are both recyclable and less dependent on petrochemicals.
No one is predicting that pouches are going to do away with cans, bottles, boxes, and cartons. The various formats will all remain in the packaged goods manufacturer's tool kit of options. For shelf appeal, product differentiation, and consumer convenience, however, there is no packaging format quite like the incredible flexible pouch.
Companies in this article