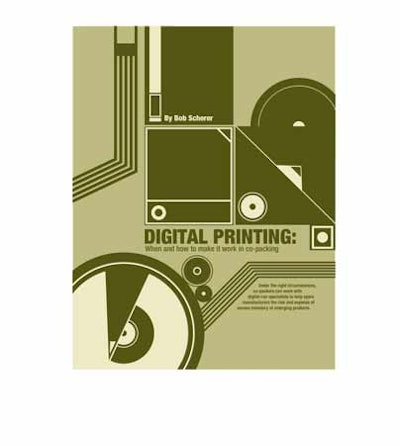 Cooperative efforts between contract packagers and digital printers can be a winning combination for consumer packaged goods (CPG) companies in their quest to get their new products to market both fast and first.
"Outsourcing or referring printing to short-run digital specialists allows us to say 'yes' to our customers who need a small quantity of packaging or labels in a short time," says Allen Petrie, president of Star Packaging, a contract packager in Whitewater, WI.
On collaborating with digital printers, Petrie explains, "Consumer goods manufacturers typically are looking for high-quality, attractive retail packaging for test marketing or samples for their sales force to have in hand to get the order." Another use is for new product presentations at packaging shows. In all these scenarios, only a very small quantity of packaged samples is needed—in some cases, as few as one sample.
The digital printing option
Before the introduction of digital printing, manufacturers were forced either to pay the expense of conventionally printing thousands of new or test-product packages or labels, or to spend hours hand-preparing mock-ups that somewhat resembled the actual package.
In contrast to other methods of producing very limited quantities of these packages, digital printing allows for a higher level of color accuracy. The packaging is printed on the same material as in regular production. Digital printing technology gives manufacturers the option of having full production-run-quality package or label sales samples, prototypes, and comps in the quantity they need, when they need them.
Unlike costly conventional packaging runs, short-run digital printing can be an insurance policy against having a warehouse full of obsolete products that exceed the contract packager's available storage space. In addition, the CPG company may not want to take on the unnecessary expense of a higher inventory level should test marketing flop.
"For our customers who are dealing with the retail giants in the industry, walking in with a product that looks and feels like it was pulled right off the shelf is the competitive advantage they need, and the one that digital printing provides," Petrie says.
Digital printing is achieved directly from computer to press, so jobs can be shipped within hours of arriving at the printer. Digital presses are used for short runs, typically from one to 80ꯠ packages. Depending on variables like quantity and number of colors, digital printing can cost up to half as much as conventional printing.
Digital printing is "plateless," which means a four-color package or label goes through the same process—and results in the same cost—as a two-color one. This process allows the CPG company to maintain the integrity of a complex, quality design while saving money.
When to go digital
A major misconception about digital printing occurs when manufacturers look at costs without considering usage. For a CPG company that pays 5 cents per label for 100ꯠ conventionally printed labels, but only uses half of them, the actual cost per label is 10 cents—and the company has a warehouse full of labels to manage and store.
At the same time, digital is not the answer for all applications. Whether or not to "go digital" depends on how many units are needed and how quickly. If a contract packager is working with CPG company that needs 10ꯠ labels and has four weeks to print them, conventional printing can be the right solution.
Having this bit of insight could give one contract packager the advantage over others when a CPG company sources co-packers' capabilities and their connections with partners in the supply chain. It can bring about faster yet more-cost effective results in testing a new product or bringing it to market.
"It's important for contract packagers to be aware of and knowledgeable about the advantages of working with short-run digital specialists," Petrie says. "They can share information with their customers on how to leverage digital printing and get their products to the shelf faster and with less cost and risk." In turn, digital printers can look to contract packagers for help with finishing work, including hand assembly, shrink wrapping, skin packaging, auto bagging, and hand collating.
Value-added niche markets
Digital printing can add value for CPG companies in another way as they work with contract packagers. They can give practical consideration to moving into smaller niche markets that were once impractical for them to enter because of the cost-prohibitive nature of conventional printing methods. CPG companies can now talk with smaller niche service providers and sell the idea of having their own signature line of products.
Using the beverage scenario presented in the second point in the sidebar below as an example, a CPG company can request that 20-oz soda bottle be labeled for 10 different specialty shops, and printed on the same roll at the digital printer. Because a few shops may need only 500 or 1ꯠ pieces each, to print that packaging conventionally would be uneconomical. What the digital printer does is effectively "batch" the orders and prints one large run systematically broken down into 1ꯠ of one version of the label, 1귔 of another version, and 500 of yet another custom soda bottle label. As a result, the CPG company is now in a position to service the market very efficiently while enjoying improved profit margins.
"Digital printing offers clients of contract packagers the ability to build products to meet the needs of customers, instead of building products and hoping customers will buy them," Petrie says. "Our customers need the power of the knowledge that they can present retailers with a new product in hand—one that looks and feels like a conventional one—get feedback and requests for minor packaging changes, and then show different versions of their product digitally, all with turnaround times that they are 100% in control of."
With digital printing, it is possible to get packaging in as little as a couple of hours, though more typically within one to four business days. Deciding which circumstances dictate the use of conventional or digital print comes down to determining how great the need is for fast packaging. [CP]
Instances where digital printing works
Here are two examples of how a CPG company can benefit when a contract packager collaborates with a digital printer:
1. A beverage company is preparing to test-market a new juice for toddlers by conducting a home-use test. The beverage marketer's goals are to determine which flavors and sizes appeal most to consumers, and which cap consumers find the most convenient and easy to use. The short-run specialist runs the labels for the various flavors and sizes—a total of 3ꯠ labels for each of two sizes—then ships the labels, along with the shrink-wraps, to the contract packager. The contract packager implements the finishing work—applying the labels, filling the product, capping the bottles with regular twist or sports bottle flip-up caps, and then bundling with the shrink wraps in packs of four. The product, with the appearance of being pulled right off the shelf, is ready for testing.
2. Another beverage company needs samples of a new low-sugar soft drink. The requested packages are 2-liter and 20-oz bottles. They will be distributed among a network of sales representatives and brokers whose objective is to secure shelf space at leading retail outlets. The digital printer is enlisted to print, laminate, and slit 15ꯠ film labels to the correct width on a large roll. Finally, the roll is sent to the contract packager, which puts the labels on the bottles and then sends the bottles to the sales network.
The author, Bob Scherer, is vice president and partner at CL&D Digital and a 25-year veteran in the printing and packaging industries. Contact him at 262/569-6732 orbscherer@clddigital.com.