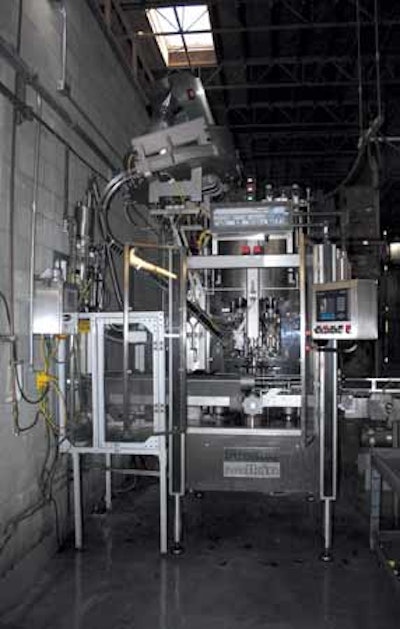 Director of packaging Michael Gribben at Kendall-Jackson Winery is a big believer in screw-cap closures for wine.
"The wine never goes bad," he says. "On the other hand, anywhere from three to ten percent of bottles closed with natural cork go bad, depending on how the bottles are stored and the length of time they're stored."
Kendall-Jackson, based in Fulton, CA, sources its screw-cap closures from both Alcan Capsules of California (www.alcanpackaging.com) and G-3 Enterprises (www.g-3enterprises.com). The closures consist of an aluminum alloy and a liner with as many as seven layers, including polyethylene and polyvinylidene chloride. When asked about the cost of the screw cap compared to the traditional cork plus capsule, Gribben said it's about a wash.
When Kendall-Jackson first began using screw-cap closures, it did so by relying on an outside contractor. Wine was shipped in tanks to the contractor for filling and capping. But within a year, it was time for a change.
"Based on what it cost us to have it done outside and the way we saw our future shaping up, we decided it was time to bring capping in-house," says Gribben. "We looked at a lot of capping machines, too. Quality, price, number of heads, delivery time, service, parts, changeover time—we carefully considered them all."
The research Gribben describes led to the installation about a year ago of a Fowler (www.fowlerproducts.com) eight-head CA/8360 rotary ROPP capper. The "ROPP," of course, stands for "roll-on pilfer-proof." The aluminum capsules are loaded into a hopper that feeds them first through orientation and then placement over a bottle neck. The system uses a pressure block inside each head to form the unthreaded capsule around the threads of the glass bottle. To remove the closure, the consumer simply twists it off. Now threaded, it can be returned to the bottle easily, as well.
Though the Fowler machine has a rated speed of 320 bottles/min, Kendall-Jackson runs it in the range of 180/min. Says Gribben, "It's the Cadillac of the industry."
Also installed at Kendall-Jackson just ahead of the Fowler unit was a liquid nitrogen dosing system from Cryotech Intl.(www.cryotechinternational.com). The dose of nitrogen drives out potentially harmful oxygen in the headspace.
Now used on four varietals in either 375- or 750-mL sizes, the screw-cap closures are gaining in popular. But Gribben admits that snob appeal will probably never permit them to be universally popular. All the same, Kendall-Jackson is looking at additional brands as candidates for the cork-to-capsule transition.
Companies in this article