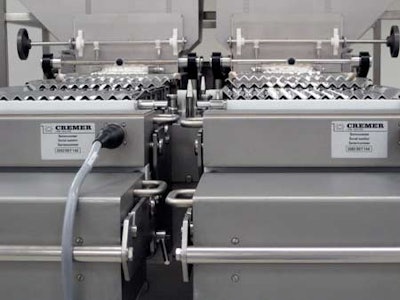 Released in 1968, the now classic science-fiction movie 2001: A Space Odyssey boldly looked toward the future of space exploration. Although its odyssey is an intellectual quest rather than the adventurous voyage depicted in the film, Canadian pharmaceutical manufacturer Apotex Inc. is using its vision to prepare its packaging operations for the future—based on customer needs, growth trends, and economic factors.
In the year 2001, Weston, Ontario, Canada-based Apotex "embarked on building the largest single expansion within the Apotex Group of companies," explains Dave Villeneuve, vice president, packaging operations. Villeneuve recalls, "About a year after I started in packaging operations in 1998 (he's worked at Apotex since 1986), we evaluated our existing plant capability in both bottling and blister-packing areas. We wanted to establish a five-year plan to upgrade equipment and to purchase new equipment to meet our anticipated demand out to the year 2010. The analysis of our existing capacity and how we could better utilize it was important, but setting a strategy for upgrades and new equipment that could carry us through to 2010 and beyond was even more important."
Villeneuve explains that part of Apotex's 2010 strategy involved the establishment of specifications and equipment standards that would be consistent across all of the company's solid-dose product producing plants. "Oftentimes, equipment decisions are based on price at the time of purchase versus adopting a strategy that lends itself to consistency of operation and maintenance across multiple lines and multiple locations," says Villeneuve.
Evaluate operational costs
"We all agreed we needed to select vendors based on their proven track record of reliability, ease of operation, flexibility, track record of innovative solutions, and the stability of their companies," he says. "While price is always a consideration, the ongoing operational costs aren't always considered, so you can end up with a line that's far too complex to operate with the skill sets [of the personnel] in your organization. For our primary suppliers of solid-dose packaging equipment, we selected companies whose organizations had proven to us that their equipment could withstand the test of time."
At the top of the list of Apotex's preferred suppliers is NJM/CLI (www.njmcli.com). "The second part of our strategy was to select a systems integrator that we could build a partnership with—a trusted organization that would not only work for us but work with us in designing, building, installing, and qualifying new lines to support our expanding U.S. business," explains Villeneuve. "NJM/CLI was selected as our systems integrator. In our opinion, NJM/CLI had proven its ability to work collaboratively with its customers to design effective packaging lines and deliver a quality product on time and on budget. We established what the relationship would be like right from the beginning. NJM/CLI would take on the project management role. If the project timeline was in jeopardy due to something that Apotex wasn't doing, NJM/CLI was encouraged to point those things out and hold us as accountable as we were holding them."
But with NJM/CLI serving as systems integrator/project manager, wouldn't they be partial in advising Apotex on purchasing decisions? "A little," Villeneuve admits, "but they realize that in some cases we have suppliers that we prefer to do business with versus equipment they supply, and they respect that. [Both companies] respect each others' opinions, and that is what constitutes a true partnership."
Project parameters
The $C250 million 2001 Apotex Group expansion was designed to deliver up to five billion dosages for Canadian, U.S., and global markets. "As part of that project, a new packaging area would be built that could deliver up to 2.5 billion dosages in Phase I, with expansion capability to deliver up to five billion dosages by adding additional lines," says Villeneuve.
He notes, "The biggest challenge for Apotex is the number of stock-keeping-units we produce, and the variability in shape and size of the approximately 260 different molecules." By molecules, Villeneuve refers to a specific chemical family. For example, Ibuprofen might be a molecule. A molecule has multiple strengths, such as 200 mg and 400 mg. Each strength could be packaged into multiple configurations. So the company has about 260 molecules, in 500 strengths, with 4ꯠ stock-keeping units. To meet those needs, Villeneuve says, packaging lines needed to be designed for:
• Simple, quick changeovers that can be accomplished with minimal tools, in 1.5 hrs or less, while achieving expected line speeds and maintaining those speeds over the entire run.
• Flexibility to handle more than 500 tablet and capsule varieties in fill counts ranging from 10's to 1000's.
• Flexibility to handle 13 standard bottle sizes and four potential cap sizes, including both standard and child-resistant varieties.
• Line speeds that could meet or exceed set standards based on extensive analysis by product, size and shape, and fill count.
• Reliability, so that by performing the proper scheduled maintenance, line breakdowns would be almost non-existent.
By 2003, Villeneuve says, Apotex was "ready to start outfitting the packaging expansion. With the involvement of NJM/CLI, we concluded that the needed capability could be achieved with the installation of three new lines, operating five days a week, in a three-shift environment.
"NJM/CLI established a design, fabrication, and Factory Acceptance Testing (FAT) schedule that targeted full commercial operation by June 2004. The project went incredibly well and the three lines were installed and operational on schedule," says Villeneuve. "The overall project came in on time and under budget."
Looking at Line 5
These three solid-dose lines were installed at Apotex's facility in Etobicoke, Ontario, Canada, which produces prescription and nonprescription medications for both Apotex and private-label brands. About 90% of the output from these lines is sold to the U.S. market. "We ship directly to pharmacies, wholesalers, and distributors," says Villeneuve. In all, the 625ꯠ sq' Etobicoke operation includes seven packaging lines that fill prescription and over-the-counter oral solids and suspensions.
Packaging World's visit to the Etobicoke plant focused on Line 5, which is used to fill bottles from 40cc to 950cc, in fill counts from 16 to more than 1ꯠ. The line is split into two sections. The first is a U-shaped primary packaging line in a room whose air is positively pressured to counter potential contaminants. Products proceed through a wall to the second section, a larger room for secondary packaging operations. Because the products are sealed in a primary package at this point, the environmental controls for this area are less stringent.
Products, bottles, caps, and other packaging materials are delivered to the line by Automated Guided Vehicles (AGVs) from an upper level in the plant. Apotex molds some of the bottles and caps it uses, relying on outside vendors for sizes it doesn't produce. Bottles are gravity fed into the hopper of an Omega (www.omegadesign.com) 3D-R bottle unscrambler. Bottles descend via a spiral chute single-file to the Omega's eight-head rotary system where grippers upright bottles and set them single-file onto a belted conveyor where they go past a desiccant inserter from Multisorb Technologies' (www.multisorb.com) Active-Pak Automation dispensing equipment group.
Bottles are then conveyed around the first bend of the U-shaped line into two lanes as they enter two side-by-side Cremer CF-1220 tablet/capsule fillers, which are distributed by NJM/CLI. Tablets are gently vibrated along the multiple channels of horizontally positioned vibratory trays. Both of the Cremer units on this line include 12 lanes.
One of the more interesting points about the filling process, Villeneuve notes, is that "for some small-count fills, using all 12 lanes to count actually slows you down because of how the machines precount, and the drop time of the tablets through the funnels is also slower." Each unit can fill 60 bottles/min, 120/min combined. During the filling process, bottles are indexed single-file in two lanes. Once the bottle is positioned beneath the enclosed fill head, the computerized Cremer system releases the appropriate number of tablets or capsules from the lanes so that those pills fall through the funnel into the bottle.
Filled bottles discharge from the filler single-file around the next turn on the line to a four-station NJM/CLI Unicap-150 in-line capper. Capped bottles continue through an Auto-Mate Technologies LLC (www.automatetech.com) induction sealer before exiting the primary packaging room through a wall.
Secondary packaging area
As bottles are conveyed to the secondary packaging area they remain temporarily on an accumulation table from Garvey (www.garvey.com) that can provide three-to-five minutes worth of bottles in case downstream operations are temporarily stalled. Three independently moving belts move the bottles back into single-file to an RTQ-150 cap retorquer from NJM/CLI. The machine retorques caps that may have loosened from the upstream induction-sealing process.
Next, bottles pass through a pressure-sensitive labeler from NJM/CLI. The leading edge of the label is applied onto the bottle just prior to passing a wraparound plate that completes the application. When it comes to labels, Villeneuve explains that more and more customers "want extended-text and pull-out labels to provide consumers with more information." The majority of Apotex's labels are sourced in rollstock form from either CCL Label (www.cclind.com) or Cameo Crafts (www.cameocrafts.com).
Labeled bottles round a curve on the conveyor and continue single-file until they reach a Pester Pac Automation (www.pester.com) SHW05 shrink bundler. The machine indexes the bottles and forms them into rows, with pack patterns varying by product. As soon as an appropriate grouping is accumulated, such as a 3x4 group, a mechanical arm pushes the bottles into a web of film that descends to the machine from a roller. Some film overhangs on the two sides, so that when the film exits the shrink tunnel, there's a large "bulls-eye" on the two sides.
The shrink-wrapped bundle is conveyed past a PRO5B shrink bundle print-and-apply label system from Sato America (www.satoamerica.com). The unit prints and applies the label to the top of the bundle for accounts that request it.
Finally, bundles discharge onto a roller conveyor where an operator picks them up and places them into a corrugated shipping case. The worker opens a case blank, folds in the bottom flaps, and places it onto a conveyor. When the case is filled with the appropriate number of bundles or products, the operator folds down top case flaps, pushes a button on the 3M-Matic™ case sealer from 3M (www.3m.com), and the case automatically proceeds through the taper. Taped cases are manually placed on pallets prior to stretch wrapping and distribution.
ABOUT APOTEX INC.
Weston, Ontario, Canada-based Apotex Inc. refers to itself as the largest Canadian-owned pharmaceutical company, employing more than 6ꯠ people in R&D, manufacturing, and distribution facilities worldwide. Apotex produces more than 260 generic pharmaceutical products in some 4ꯠ dosages and formats. Prescription, nonprescription, and private-label products are exported to at least 115 countries, with annual worldwide sales of the Apotex Group of companies exceeding $C1.3 Billion ($US1.1 Billion).
A successful journey
Villeneuve says case packing and palletization will likely be automated once equipment purchases can be economically justified. "We are always investigating new equipment to make the operation more efficient and to keep up with the requirements in the industry. We have the opportunity to add more lines as demand for our products increases, but the primary focus is to use existing assets to their full potential."
Asked this spring to evaluate the success of Apotex's visionary plan, Villeneuve says, "With the help of the NJM/CLI team, the output capability within our existing facilities was doubled, and our facilities were brought up to an almost new line condition. Today, the three solid-dose pharmaceutical packaging lines installed in Etobicoke are capable of delivering closer to 4.5 billion dosages, double the original targeted output. I am convinced that the success of the project had everything to do with the collaborative, respectful partnership that we established with NJM/CLI. Both parties came out of this project as winners by meeting their respective goals."
Villeneuve asserts, "The relationship is stronger than ever before and has lead to some additional efficiencies within our organization, where some Factory Acceptance Tests have been replaced with simple Site Acceptance Testing. The equipment standards, coupled with established product standards, have provided NJM/CLI with the criteria for performing the required tests to ensure a successful delivery of equipment to our facility. Those tests are performed, documented, and sent to us prior to shipping equipment. A trust has been established that gives us the confidence that if NJM/CLI says the equipment is ready for shipment to our site, that's good enough for us."
He explains, "The partnership with NJM/CLI also created an opportunity for us to work more collaboratively with other supplier companies to address many of the issues that have led to improved performance across all of our plants. It's truly been a win-win situation for everyone involved."
And a performance that might even impress 2001: A Space Odyssey director Stanley Kubrick.
Companies in this article
Videos from Garvey Corporation