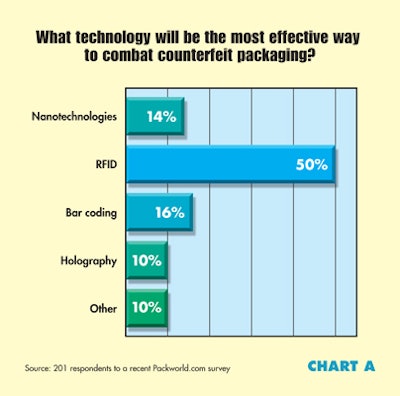 Biological and biopharmaceutical products will offer the most growth potential in the next two to three years. RFID will be the most effective technology to combat counterfeit packaging. Ease of opening and reclosing will be the most important factor in packaging for aging baby boomers.
Those predictions are among the findings of an exclusive healthcare packaging survey conducted recently on Packaging World's Web site, Packworld.com. Fifty-one percent of the 208 survey respondents were end users/buyers of packaging machinery, materials, or services. Nearly one in five were suppliers or distributors of packaging materials, followed by consultants, machinery vendors, and contract packagers. Only respondents from end users are quoted in this report.
Among these packagers, 44% listed solid-dose pharmaceuticals as the product its company manufactured, followed by liquid pharmaceuticals (41%), medical devices (35%), biopharmaceuticals (18%), lyophylized products (13%), and nutraceuticals (11%). Slightly more than one in four packagers' companies produced other products, primarily cosmetics. Respondents were able to select all products that their companies manufactured.
Three of the survey's 15 questions were related to the challenges to meet FDA regulations, package process validation, and concerns about the skills of engineers and other healthcare packaging professionals (see sidebar).
Asked to identify the most important among five healthcare packaging-related issues for their company in the next year or two, 37% of end users cited validation. Counterfeiting and good manufacturing practices (GMPs) each received 17% of the "vote," followed by FDA regulations at 12%, and outsourcing at 7%. Among the 10% who selected the "other" category, the most frequently mentioned issues were package innovation, and offshore regulations.
Validation challenges
One question asked end users to describe the major challenges companies face with regard to validating packaging processes, equipment, and materials. Here's a sampling of some of the responses:
• "The major challenges are implementing technology-driven packaging processes, equipment, and materials at an acceptable cost to meet the regulatory demands and quality upgrades," said a respondent with a firm that makes pharmaceuticals, as well as lyophylized products.
• "We are moving to a global database for all outsourced packaging vendors, [with] access via the Internet, running off our MRP system," said a medical device manufacturer respondent. "Validation [of] all external locations will provide challenges," he said. This respondent brought up another challenge: "Bringing on-line new equipment to print directly on pouches and tray lidding versus the current practice of appling labels."
• A respondent with a maker of medical devices and liquid pharmaceuticals said, "We are a small manufacturer. Usually we build our own test equipment in-house. That equipment is hard to validate."
• "Patient safety and drug efficacy are the two things that drive GMPs. Thus, the validation testing that confirms those concerns [needs to be] addressed," expressed a representative with a pharmaceutical company. "The big challenge is translating those concerns into effective protocols. [Often times] a lot of other unrelated testing tends to get put into the protocol, taking the focus off the GMP concerns."
• "Material variations from suppliers," was a worry brought up by a respondent with a company that produces pharmaceuticals and medical devices. He added that validation requires, "Significant resources to prepare documents and conduct testing." He also expressed concern with, "changing regulatory requirements and expectations, and lack of global harmonization."
• A respondent at another firm that produces medical devices, pharmaceuticals, and biopharmaceuticals admitted, "Keeping validation meaningful and technically correct in methodology and results is the largest challenge due to a poor history of packaging component and material knowledge in-house."
• A respondent with a medical device manufacturer lamented, "The resources needed to perform validation, and the amount of packaging [that would] be destroyed."
• RFID (radio-frequency identification) technology was also mentioned as a challenge to the validation process. "Implementation of RFID tags on materials to exclude mixups at the start of packaging is a major challenge. Validation of this process (it must be 100-percent effective) is required," said a solid-dose pharmaceutical company respondent.
Along with its implementation in validation efforts, RFID was considered by survey respondents to be the most effective way to combat the ongoing problem of counterfeit packaging (see Chart A), compared with other technologies.
FDA regulations
Validation is linked closely to U.S. Food and Drug Administration regulations and guidelines. Survey respondents also shared their views on packaging challenges presented by FDA regulations. End users frequently mentioned changes in regulations, costs, receiving appropriate information from suppliers, and labeling-related issues as challenging. Here are some responses from packagers regarding their concerns with FDA regulations:
• A respondent with a company that makes liquid and pharmaceuticals, biopharmaceuticals, and medical devices said, "Polymeric considerations in the construction and manufacture of polymer packaging types can cause large problems when changes are made by packaging suppliers. The cost of meeting regulations [exceeds] the financial benefits gained through [implementing] many of the demanded [validation] processes."
• "Influencing [FDA's] future direction to prevent another 'bar-code mandate' and allow for flexibility in the regulations with regard to serialization, RFID and bar-code use to protect the pharmaceutical supply chain," were concerns for an employee of a company that makes pharmaceuticals, nutraceuticals, and medical devices.
• "Labeling for foreign markets allows symbols and the FDA does not," noted another medical device respondent. "Therefore, label 'real-estate' is a challenge."
• "Being prepared for inspectors with different opinions and agendas," was brought up as a challenge for a respondent with a pharma maker that also manufactures lyophilized products.
• "We ship globally, so our product instructions for use (IFU) have to be printed in many languages," said a medical device company worker. "This makes the IFU so large that it is difficult to place inside our carton."
Satisfying the requirements of the FDA and similar organizations around the globe was listed as the most important factor in packaging pharmaceutical or nutraceutical products for foreign markets (see Chart B), both by packagers, and overall survey respondents. Overall, all respondents ranked reconciling label information for multiple markets slightly more important than did end users. One issue raised by an end-user respondent was, "Producing standard packaging designs and artwork that can be used by multiple markets to increase packing efficiencies."
Three of the charts accompanying this article look to the future. Chart C shows that biological and pharmaceutical products were expected to offer the most growth potential in the next two to three years by respondents. In that same timespan, packagers selected coding and marking machinery, closely followed by inspection equipment, as the most critical (see Chart D). In Chart E, respondents indicated that ease of opening and reclosing, as well as cost issues, were the most important factors in packaging for aging baby-boomers.