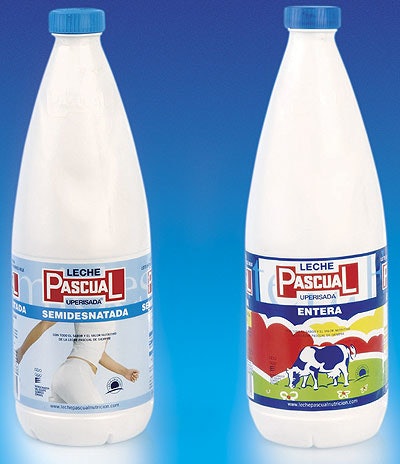 Grupo Leche Pascual of Madrid, Spain, is the first to put product in a bottle made of a new breed of PET called Lacpet. Developed by Tergal Fibres of France in partnership with Sidel, Lacpet is PET mixed with titanium dioxide. The titanium dioxide is incorporated in masterbatch pellets and these are added to PET pellets at the extruder of the injection molding machine that Leche Pascual uses to make performs. Bottles made of Lacpet are opaque white, so the bottle's contents are protected from damage that can be caused by UV light.
One of Europe's leading food and beverage producers, Leche Pascual has installed two Sidel Combi SF Ultra 16 FMf 36/36T machines to blow 150-mL and 1.5-L Lacpet bottles and aseptically fill them with UHT milk (in the town of Frixia) or drinkable yogurt (in Aranda del Duero). Heat-sealing of a foil liner to the mouth of the bottle is also executed by the Combi systems while bottles are in the aseptic environment. Downstream from the Combi system, an overcapper applies a plastic overcap to the container.
"Launching flavored drinkable yogurt and milk in PET bottles that have a 90-day unrefrigerated shelf life enables us to stay one step ahead in a market where cartons are dominant," says a Leche Pascual spokesperson.
The new bottle won't replace aseptic cartons that the firm offers. But it becomes one more package configuration to help capture market share.
"The PET line is considerably more versatile, with faster format changeovers, than a carton line limited to a single product and only one container size," says the Leche Pascual spokesman.
Other beverage marketers seeking a UV barrier in a plastic bottle have used layers of carbon black in a multilayer coextrusion-blown HDPE bottle. Lacpet's advantage, says Tergal, is that it obviates the need for multilayer technology, which is typically more complex than monolayer.
Leche Pascual ordered its two Sidel Combi machines in late 2004, and they were delivered in the first quarter of 2005, one in Frixia and the other in Aranda del Duero. Each system has 16 blowing stations, 36 flow meter filling valves, and 36 sealing heads. Rated speed of such a system is 22귔 bottles/hr.
The contract included a microbiological validation protocol. During three production runs of 18ꯠ bottles, 10% of the bottles were collected and tested for contamination.
"The test results were very satisfactory," says the Leche Pascual spokesperson. "Sales of UHT milk began the first week of July. Drinkable yogurt production is still undergoing the validation process, but we expect those bottles to be on the market [soon]."
See the story that goes with this sidebar: Aseptic and ESL packaging keeps evolving
Companies in this article