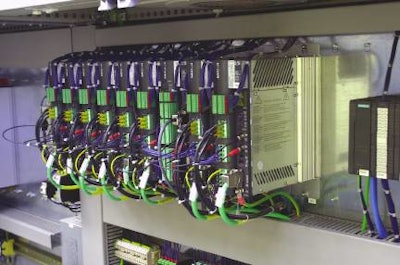 The 6000 F-6 robotic tray-loading system from Paal uses servo drive positioning accuracy to collate tubes and place them into plastic trays at speeds to 200 tubes/min.
The robot module, made by Fanuc, has its own controller. It controls six axes of servo motion.
Servo drives and motors synchronizing the infeed portion of the system are supplied by Elau. So is the PacDrive controller that governs both logic and motion on the high-speed infeed module.
Four axes of servo motion are executed by Elau's drive/motor combinations: the pick-and-place motion of the tray denester/loader, the infeed belt on which trays are fed to the tube-loading robot, and the "racetrack" unit that collates tubes.
"The tubes must be placed precisely under the vacuum pick heads on the robotic end effector," says Paal president Claus Paal. "It would be difficult to get this kind of precision and repeatability with a mechanical, as opposed to servo-based, system.
"What continues to please us about the Elau servos is their modularity," says Paal. "Our software programmers in particular like how easy it is to add another axis of motion should it be needed."
The example he provides is when, for instance, the machine design team decides that a pneumatically driven axis of motion isn't suitable after all, and so they opt for servo motor-driven actuation instead. Because Elau doesn't use racks or modules with fixed numbers of drives, an additional servo or two can be added with ease, says Paal.
Such additions are equally easy from a software standpoint, he says, because there's no need to write code from scratch. The software comes from a library of function blocks. By dropping in the required function block, the newly added servo axis is given its unique functionality.
Set-up is further simplified because the drive reads descriptive information from a chip in the motor and configures itself to run that motor properly. The drive also sets its own parameters. Considering that a drive might have up to 250 parameters, this saves considerable time and effort for the machinery OEM.
Companies in this article