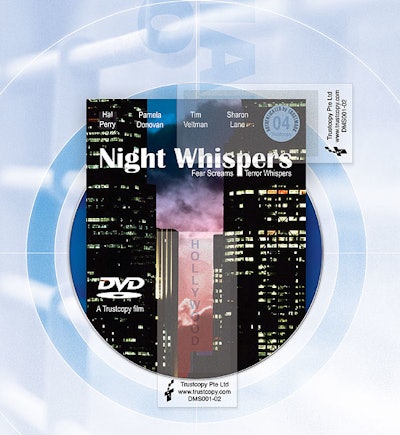 Literature from September's Smart Packaging conference, in Rosemont, IL, defines smart packaging as "going beyond conventional packaging applications to provide intelligent solutions..." The definition covers considerable territory, as did the conference, where more than 300 people listened to presentations from 30 industry experts, including Hewlett Packard and Procter & Gamble.
The event included more than a dozen exhibits. It was produced by the Institute of Packaging Professionals and Tarsus Group, while sponsors included Packaging World magazine.
Hewlett Packard's packaging manager John Hayward's energetic opening presentation detailed HP's experiences with smart packaging, especially radio-frequency identification (see sidebar p.55).
Paul Rieger, associate director of supply chain innovation, noted P&G's challenges in managing brand protection across 300 brands in 160 countries that total $51 billion in annual sales. When asked if RFID can help in packaged product authentication, Rieger felt it could if, for instance, retailers could provide kiosks with readers. Reiger also expressed the view that anything that adds costs to RFID deployment will be a deterrent. He opined that circuits printed using metallic inks directly on packaging materials could help drive costs down.
Countering counterfeiters
Anti-counterfeiting techniques were a major theme. The Global Congress on Counterfeiting held in Brussels in May 2004 stated that 10% of all pharmaceutical products are fake or counterfeit. It is estimated the global value of all products counterfeited is more than $550 billion annually.
Bill Duffy of the Imaging Supplies Coalition, which counts among its seven member companies Canon USA and Lexmark Intl., struck a warning about the impact and growth of counterfeiting that were of widespread interest. Duffy suggested that marketers develop a strategy of brand protection with multiple solutions. Companies that allocate notable amounts of resources to anti-theft measures budget only a minute amount—less than 1% of sales—to anti-counterfeiting brand protection, he noted.
"And these companies are grossly understaffed for anti-counterfeiting and so they will need to outsource that function," he added. "You should recognize counterfeiters as your competition."
Anecdotally, attendees heard of a jarring, role-reversing take on a "can't beat 'em, join 'em tack" of one company that convinced a counterfeiting operation to be a contract packager of its products.
'Spirited' security
Trustcopy USA managing director Craig Curran engaged the audience with actual samples of the company's covert optical digital "watermark" technology. Printed using conventional presses, the watermark is transparent and can only be seen with a visual aid, basically an optical card Trustcopy calls a "lens key." The key provides visual screening of the embedded watermark, Curran explains. Trustcopy claims its digital watermark is unique and cannot be copied at high-resolution (printed) versions.
While Curran understandably wouldn't note specifics, he said a customer in the premium spirits segment began using Trustcopy last year on 750-mL bottles that retail for $30. The Trustcopy watermark, which contains such things as batch and lot number information, remains invisible on the bottle label without the use of the lens key. As part of this "spirited" effort, each major link in the supply chain (manufacturer, wholesaler, distributor, retailer) was permitted only the key that could read the watermark for that level. The bottled spirits application launched in September 2003 with four levels of the optical watermark; by March 2004, one of those levels had been counterfeited. Once the particular feature was compromised, the spirits company changed the vendor for that link in the supply chain. As a result of the Trustcopy program, counterfeiting levels in the product's Asian markets have been reduced from around 10% to less than 3%, according to Curran.
Traceless™ from Creo is an inert, inorganic-based taggant that, added to packaging, provides a unique signature for authentication. It can be used for Pass/Fail authentication, or to uniquely identify individual items tagged with the product. An on-line Traceless reader is capable of reads to 100 per second while a pen-sized version provides Pass/Fail authentication. The licensing fee to use it equates to about 1¼10¢ per label, according to Creo.
Creo's Kevin Harrell, director, global business development, security, authentication & ID Systems, says beta testing of Traceless in packaging include two applications that look promising for commercial introduction in 2005. One involves cartoned fragrances and cosmetics from a major company; the taggant is mixed in with the offset-printed ink used on the cartons. It can also be used in labelstock applied to the cartons. The manufacturer is also testing Traceless directly in primary packages of molded glass or plastic. Rather than using other anti-counterfeiting methods for select products in select markets, the cosmetics company is considering using Traceless with all its products worldwide, Harrell says.
'Smart' paperboard
Marketing manager Stina Ehrensvärd from Cypak in Sweden warmed up the audience with a presentation of "paperboard computers." The technology, which involves printed circuitry, has been used by the Swedish Postal Service, among others. Even more exciting was the news that a U.S. company was using cypak technology. Post-conference follow up disclosed that to be MeadWestvaco Healthcare Packaging.
MWHP is licensing Cypak's technology for its new cerepak™ electronic compliance packaging. The first application is MWHP's AmeriStar award-winning dosepak™, a child-resistant, but senior-friendly folding carton containing a blister card. Cerepak samples are being evaluated by users for pharmaceutical clinical studies, according to MWHP vice president, business development, Thomas Grinnan.
He refers to the format as a "data capture device," rather than a package. It can record time and date when each tablet or pill is removed and permits real-time "Quality of Life" input by the patient. The package information is downloaded to a computer via an inexpensive reader. There will be more details on Cerepak in a future issue.
See sidebar to this article: RFID at HP: Update and advice
For information about suppliers mentioned in this story see: packworld.com/go/w133
Companies in this article