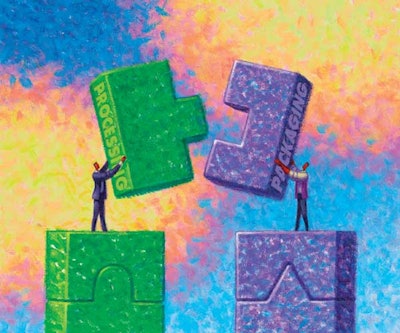 Somewhere in the world there may be a food, pharmaceutical, beverage, confectionery, or health and beauty aids manufacturer where product processing and finished-goods packaging are seamlessly integrated. But by and large, processing and packaging at most consumer packaged goods companies are anything but integrated. As one engineer at a major brewing company put it, it's almost as if a huge wall separates the two. Those on one side bring stuff to the wall and fling it over. Those on the other side put the stuff into containers.
But in a manufacturing environment where speed to market, mass customization, and make-to-order rather than make-to-inventory are the key drivers, manufacturers are beginning to see that treating processing and packaging as two separate entities gets in the way of overall manufacturing efficiency. Dave Chappell, technology leader at Cincinnati-based Procter & Gamble, puts it this way.
"We don't want two separate companies inside the same plant. We want to pass data horizontally from processing to packaging."
With automation engineers in short supply these days, adds Chappell, it's more important than ever that people be able to move smoothly from processing to packaging should it be required. "We'll be able to do more in less time with fewer people if we adopt a more standardized approach to common functions across both disciplines," says Chappell. "Programming tasks will become easier, as will corrective action that's required in addressing malfunctions. And on the pharmaceutical side, when it comes to validating systems, bringing processing and packaging together would make it easier because we could take a consistent approach to qualifying and testing. Our approach could be more modular, structured, and proceduralized. It would be more like doing it once instead of twice."
Creating the horizontal data flow that Chappell refers to would be greatly facilitated by a broader use of widely accepted standards. With such standards in place, say those interviewed for this story, both processing and packaging assets can be deployed with maximum efficiency in responding to customer requirements.
"A lack of standards across packaging and processing impedes innovation, asset utilization, and, ultimately, speed to market," says Unilever's Andy McDonald. "Customer responsiveness is crucial, and to achieve that you need to know that the right assets are making the right products. What we need are flexible machines that are recipe-driven. We want to be able to download an order and have all manufacturing assets, including both processing and packaging, told automatically what to do." If data can't flow freely between processing and packaging because communications standards haven't been harmonized, the recipe-driven future that McDonald dreams of will be difficult to reach.
Recipe-driven manufacturing
P&G's Chappell is on the same page as McDonald when it comes to recipe-driven manufacturing—right through to packaging.
"On the processing side of things, we send a process order from our ERP system down to the factory floor and have in it all the instructions on how to make the product," says Chappell. "We'd like to see that extended to the packaging lines as well."
Figure 1, which depicts a fictitious soup manufacturing operation, provides an illustration of the recipe-driven processing/packaging integration that McDonald and Chappell would like to see more of. A closed-loop solution whose primary goal is to ensure that the correct soup is being processed, the system also closely integrates soup making with soup packaging while minimizing human intervention and the ever-present possibility for human error.
Without the integrated system shown in Fig 1, an operator would typically key in a recipe. At the packaging end, another operator would enter data at an ink-jet printer so that lot and date code information could be imprinted on each can. In both cases, there is abundant opportunity for error.
That's not the case in the operation shown in Figure 1. The recipe, in this case for tomato soup, is read from a bar code. The PLC pulls up the proper ingredients from a master file so that people in the processing area know which ingredients to mix. Also contained in the bar code is data that is sent by the PLC to the ink-jet printer on the packaging line. An optical character verification system, also connected to the PLC, validates the readability of each imprint. In the process, the OCR system is constantly collecting real-time production data and feeding it into an MES or ERP system. From shop floor to top floor, the entire processing and packaging system is tightly integrated.
Even RFID (Radio Frequency Identification) could be tied in. When, for example, the 400th can of soup has been filled, that information—including lot number, production date, facility ID—can be written to an RFID tag placed on a case or pallet. Trace and trace capabilities for both raw ingredients and packaging components thus become greatly enhanced.
Blame it on mass customization
Mass customization—the drive to provide "customized products" each in massive numbers—is a key driver in causing today's manufacturers to seek an integrated processing/packaging controls solution. One flavor of Coke has become 10 flavors. Meanwhile, the venerable hourglass Coke bottle has been joined by aluminum cans and plastic containers in countless sizes. The manufacturing systems required to make and pack that wide variety of formulas, flavors, and sizes have had to change, says P&G's John Kuley, technical section head in control & information systems in fabric and home care engineering.
"In the old days," says Kuley, "there was a processing department that made product and stored it in inventory so you could draw down from inventory and pack it out. But when you go to dozens of flavors instead of 10, having million-lb storage tanks as buffers costs too much. So what you see is more just-in-time thinking, both in making product and packaging it. That way, as soon as you've made it, you're ready to pack it. That's where industry is headed."
But getting there, from a controls standpoint, is a bit complicated for one fundamental reason: analog control still dominates on the processing side while discrete control is what governs packaging. Reduced to the simplest terms, analog control depends on a continuous signal whose fluctuations tell, for example, a mixer to go faster or slower, or a fermenter to get hotter or cooler. Discrete control, on the other hand, relies instead on off and on (i.e. "discrete") signals: when a case is conveyed through a photo eye, a signal tells a labeler to turn on and then off. This fundamental difference between processing and packaging controls makes it tricky to unite them under a single controls package. As Kuley puts it, "The things that fit on a discrete network don't fit so well on a process network.
"What's needed," he continues, "are hybrid controllers that can handle discrete and process control. That way, processing systems can be operated by packaging operators. These days, that makes a lot of sense, because if you're making Coke in a dozen flavors, and you're making it to match the needs of the bottling line, the person running the bottling line is really the one making the product."
People to match the trend
If, from a controls integration standpoint, packaging is to blend more seamlessly with processing, then those who lead tomorrow's packaging departments will need to be selected with controls integration skills in mind. That appears to be happening at Unilever.
"In the business I'm in now," says Unilever's McDonald, "our new principal packaging engineer, who traditionally would have been a more mechanically focused person, is instead someone who is very strong from a controls perspective. So we've changed our focus a little bit because we've recognized that we need to have strong controls and electrical knowledge in packaging. That's where we think the innovation will be in the packaging machine area."
Others interviewed for this story are also seeing this emphasis on controls integration beginning to emerge in the packaging machinery arena. They believe that if a packaging machinery OEM can offer equipment that's easily integrated with processing systems, it will become yet another way to add value, to stand apart from the competition.
"End users want dock-to-dock integration, from the receiving dock to the shipping dock," says Dave Emerson of Yokogawa, an automation systems supplier to the process industry. "They'd like to see business requirements signaled from the ERP to the MES. That signal would say, 'We need the following products in such and such time frame.' The MES would then signal the processing systems in the plant to produce the required product. Today that signal typically doesn't reach the packaging side of the operation, but we think in the near future it will."
A prerequisite for true integration of processing and packaging, however, is Ethernet connectivity, says Emerson. This could become a hurdle if end users, in their ongoing efforts to keep costs down, are unwilling to pay extra to equip their cartoners and case packers and labelers with Ethernet connectivity.
"If they can't bring themselves to look beyond the upfront cost of the packaging line, if they don't recognize the advantages of reduced set-up time and being able to package as soon as an order comes through MES, they won't be able to justify the cost of Ethernet connectivity in the packaging machinery they buy," says Emerson.
OMAC and WBF
Of all the initiatives aimed at bringing processing and packaging closer together, few are as promising as the collaborative efforts, underway for nearly a year now, between the World Batch Forum and the OMAC Packaging Workgroup. These organizations see value in coordinating the development and implementation of the IEC/ISA S88 standard for batch control architecture with OMAC Packaging Workgroup's PackML state model.
Active in this project is Pfizer's Lou Pillai. With some 10 years invested in developing S88 standards for use in processing operations, he likes what he sees emerging from the OMAC Packaging Workgroup. Especially appealing, he says, is PackML, a collection of guidelines and specifications that promotes a common understanding, interfacing, and operation of packaging machines.
"The XML schema we've come up with in S-88 is for exchanging recipes or production information," says Pillai. "But modes and states we need to work on, and that's where OMAC Packaging Workgroup and PackML come in. We'd like to see PackML as a good starting point for XML for processing as well."
The key to XML, or eXtensible Markup Language, is the word "extensible," which means "flexible." A standardized language for machine-to-machine communication, XML is flexible enough to be a cross-platform, cross-vendor standard. If PackML becomes the XML for both processing and packaging, as Pillai hopes, it would permit data exchange from processing to packaging systems without requiring manufacturers or vendors to write custom software. It's precisely the kind of standardization that Pillai would like to see machinery makers embrace.
"It's time to begin leveraging public domain standards rather than having to deal with 'standards' that emerge on a per-OEM basis," says Pillai.
As major CPG companies continue to seek closer integration of their processing and packaging operations, expect the development of new technologies aimed at helping them reach their goal. November's Pack Expo, say knowledgeable insiders, could reveal some significant breakthroughs along these lines. For Unilever's McDonald, it's time.
"The principles are sound," says McDonald. "Why not apply them?"
Companies in this article