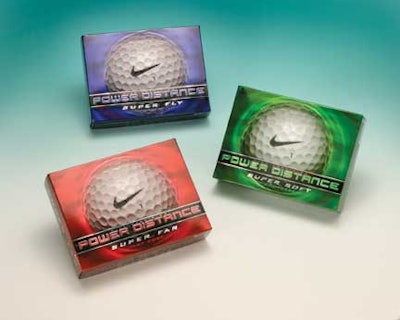 The added shelf life and consumer appeal of white bread in a metallized 1.15-mil low-density polyethylene bag made Dempster's white bread from Canada Bread, Etobicoke, Ontario, Canada, and Celplast, the metallizer, winner of the Peter Rigney Award in the annual packaging competition from the Assn. of Industrial Metallizers, Coaters and Laminators (see packworld.com/go/x120).
Packages for golf balls to candles to fragrances also won AIMCAL awards. The awards were presented in March at the organization's winter management meeting at Indian Wells, CA.
A debossed holographic box for Power Distance golf balls (1) from Nike, Beaverton, OR, received the Marketing Award for Nonfood Packaging for Unifoil Corp. What especially impressed the judges was that the project went from concept to completed packages in just six weeks!
The project began with Shorewood Packaging. "We had done some conceptual thinking about this package with Shorewood," says Steve McClard, senior graphic designer for Nike Golf. "We're always looking for something to differentiate our company's packaging from the competition. A radial hologram was something that hadn't been seen in our business before."
For this package, Holo-Source metallizes and embosses a 50-ga polyester film. In roll form, the film is laminated by Unifoil to an 18-pt, C1S SBS paper from International Paper. The roll is then sheeted by Unifoil so the hologram is registered and ready to print by Shorewood. "Putting an image down in register for printing on a hologram without hot stamping is unique," says Joe Funicelli, president of Unifoil.
Shorewood prints the sheet offset in five colors (including an SKU color), and the print is covered by a full aqueous coating. "We asked Shorewood to develop some samples so we could do scuff- and ship-testing to make sure the graphics would be durable through the distribution cycle," McClard adds. "The marketplace has been very receptive to the new package, and it has sold very well."
Two more
Unifoil also won marketing and technical awards in the Healthcare, Cosmetics, and Toiletries category. The Marketing Award was for Tommy Hilfiger fragrances (2), from Estée Lauder, New York. The Technical Award went to an improved package design for fragrances from Candie's, Valhalla, NY. Both packages feature registered holograms.
For the Hilfiger packages, a polyester film from Toray Plastics is metallized and embossed by Crown Roll Leaf. Unifoil then uses its Unilustre™ process to transfer the hologram onto an 80# C1S litho paperboard from MeadWestvaco.
"The film is designed to have the image transferred onto the paperboard," explains Funicelli, "then we dispose of the polyester film. Then we optically register the image on the paperboard and sheet it." The printing of the paper is handled by Estée Lauder, he says, and then the paperboard becomes an overwrap for a rigid box. Estée Lauder didn't return phone calls about the package.
Judges particularly liked the striking star images that change appearance as one's perspective shifts. Another noted the custom designs are a "brand-building image."
A less costly alternative
Although economics doesn't appear to be a major factor among the winners, it was a major part of new packaging for Candie's fragrances (3). The Unifoil optically registered hologram replaces a more costly heavy-gauge lenticular film sleeve that had to be scored, glued, and slipped around the folding carton.
In this execution, like that of the Hilfiger package, a 50-ga polyester from Toray Plastics is metallized and embossed by Crown Roll Leaf. At Unifoil, the web is acrylic matte-coated and tinted before it's laminated to the coated side of 20-pt C1S SBS from the Brewton, AL, mill of Smurfit-Stone Container and optically registered before sheeting. Eventually, the sheet is printed and converted into the box by Hub Folding Box.
"The people from Candie's were looking to take some costs and complexity out of its packaging," says Tony DiRico of Hub Folding Box. "One issue was inserting the folding carton into the sleeve of polypropionate film. The company wanted to make packaging operations simpler and speed up fulfillment."
By integrating the look of the sleeve into the box itself, "we not only eliminated one packaging component but also a packaging step for them," DiRico points out.
"We were able to duplicate a custom image that gave the package the same look as before," says Unifoil's Funicelli. "But this one is far easier and cheaper to manufacture. We coated the holographic image to just give it a swirl movement. It's a registered custom image that's in no way random.
"Even though the product isn't new, the new packaging has allowed [sales] to grow again," Funicelli adds. Efforts to reach Candie's were unsuccessful.
Carton for candles
Winning the Technical Award for Nonfood Packaging was Hazen Paper for cartons it converts for Er'Go Candles (4), Dallas. Hazen laminates a 92-ga polyester with a rainbow-patterned hologram onto 20-pt SBS board from MeadWestvaco. The film is also coated with a water-based ultracure acrylic coating, says Hazen's Jim Conte.
The new cartons replace plain white paperboard boxes and deliver a more eye-catching shelf presence, while the film also strengthens the carton, Conte points out. Day Manufacturing packages the candles for Er'Go.
Labels from Proma Technologies won both marketing and technical awards in the Retail Label category. The Marketing Award went to a holographic label of Proma's HoloPrism paper for the Santa Sweets-brand grape tomato package (5) for Ag-Mart Produce, Plant City, FL. The hologram was supplied to Spinnaker Coating that converted the five-color flexo-printed label that's protected by an ultraviolet varnish.
"This is the first time a holographic label has been used on a produce product," says Ruth Kemp, a marketing executive with Proma Technologies. This new market for holograms was cited by judges.
"As a produce company, we would never have dreamt that we would receive e-mails from consumers about our product," says Robert Meade, vice president of sales and operations for Ag-Mart. "By creating a holographic label and kid-friendly characters, we're accomplishing just that."
Packaging World reported on this package in a June 2003 article.
Commemorative labels
A set of four labels that commemorate the centennial of Toronto-based Molson's Export brand beer (6) won the Technical Award for Labels for Proma. The labels were applied to refillable bottles.
"The customer wanted to show the historical evolution of the product, with four distinct designs that echoed label graphics from 1903, 1955, 1962, and 2002," says Ruth Kemp of Proma. "All designs were developed to take advantage of the holographic effect provided by Holoprism pattern #752."
The holographic paper was supplied on 50# partial wet-strength paper that is printed by converter Inland Printing and then top-coated with a water-based coating. Inland supplied the labels in mixed bundles to improve the probability that all four designs could be found in each 12-pack. "The initial consumer reception was so positive that the promotion was extended several months," Kemp adds. Molson did not return phone calls about the labels.
Label application was said to require no major equipment modifications, and the adhesive was selected for easy removal during the bottle cleaning process prior to refilling. Proma also won for a series of covers for TV Guide that commemorated the release of the movie Lord of the Rings. Flexcon Co. won both Technical and Marketing Awards in the Other category for a nonslip appliqué from Flexible Innovations, Fort Worth, TX, designed to hold cellular phones and other devices from sliding in cars.
Finally, Flex Industries Ltd. (Film Division) of Noida, Uttar Pradesh, India, won a Technical Award in the Decorative/Display category for a line of metallized, holographic biaxially oriented PET/PE stand-up pouches with slider zippers for a variety of multi-serving products. Flex Industries serves as the substrate maker, designer, metallizer, and converter for the package. Transparent inks are used for printing and to preserve the holographic effect. After opening the slider, the consumer needs to break a tamper-evident film diaphragm to access the product.
Judges for this year's competition included Panos Kinigakis, CPP, Kraft Foods; Mark Spaulding, Converting; Yolanda Simonsis, Paper, Film & Foil Converter; Dean Lindsay, Dean Lindsay Design; Bob Swientek, Brand Packaging; and AIMCAL awards committee chairman Steve Sedlak of Wacker Ceramics.
Information on the suppliers involved in the winners can be obtained on the Web at: packworld.com/go/w120
Companies in this article