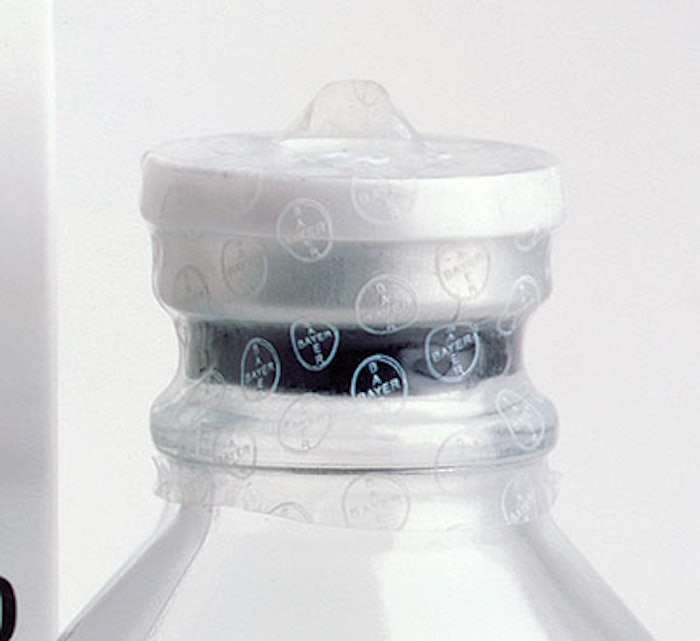 It's the 360-degree parallax image that sets us apart," said Joe Murawski, sales director for DuPont Authenti-cation Systems. Murawski's company was one of the vendors hawking anti-counterfeiting packaging and labeling technology at a mini-trade show the Food and Drug Administration sponsored October 15 in Bethesda, MD.
The trade show was held in conjunction with a workshop to get public input on a draft report issued two weeks earlier by the FDA Counterfeit Drug Task Force. A number of drug manufacturer executives attended the day-long session, and the vendors, like Joe Murawski, were trying to catch their eye as they walked the three short aisles of the small room in which the trade show was held.
Most of the vendors seemed to be offering similar types of covert and visible-to-the-consumer technologies. Many displayed some sort of organic, inorganic, or radio frequency "tag" that could be put between the layers of a plastic container or on a label. Others had color-shifting inks for labels, or shrink wraps for bottles, or tabs for boxes on which fancy holograms with hidden codes could be printed. Many of these approaches seemed to be rudimentary. Except maybe for DuPont's.
DuPont's parallax-image technology allows a drug manufacturer to print its logo—or anything else—on the induction seal that becomes visible when a consumer or pharmacist screws off the cap from a drug container. The image moves in three dimensions when tilted.
Steve Hess, director of packaging technologies at Merck, Inc., Rahway, NJ, who was at the trade show, called DuPont's technology "neat." He added, "I really like it." But he continued, "I would feel a lot better about it if I could somehow activate it on my packaging line."
Hess fears that some low-paid worker somewhere in the supply chain could steal enough three-dimensional logos to give Merck big problems.
Many holograms
Many of the other suppliers at the trade show were, like DuPont, showing souped-up holograms. The weakness of holograms as an authentication technique is that they can be copied easily. "There are 200-plus printers in China churning out holograms," said one vice president for a major plastic container vendor. "How long will it take them to copy any hologram?"
That company is putting liners with holograms in drug containers. "It is one of the interim solutions," the vice president, who declined to be identified, conceded, "something to keep the counterfeiters off balance." The company recently ran tests with radio-frequency tags inserted into plastic containers to see whether the tags would withstand the heat of the injection blow molding process. The tests were successful. The company is waiting for a potential customer to come in the door.
But there are a number of companies vying to sell RF tags to drug companies. DuPont, that unidentified plastic container vendor, and most of the suppliers at the trade show do not have customers yet for their 3-D image technology. Murawski stated that DuPont is negotiating with a major drug company and might have a deal to announce within a month or so. That was a variation of what most of the vendors were saying when asked: "Are any companies using your technology?" Sometimes they replied: "Our lips are sealed by a confidentiality agreement."
Cited by task force
All those technologies were cited, in general terms, by the FDA Counterfeiting Task Force in its report of October 2. But it is clear that container "tags," color-shifting inks, and 3-D images on holograms are potential, future solutions, with the accent on potential and future.
Merck's Hess wasn't terribly impressed by any of the other technologies he saw at the FDA trade show. Merck has no plans to introduce any innovative anti-counterfeiting packaging any time soon. Hess thinks drug counterfeiters could best be discouraged if the FDA threw a few of them in jail and extracted big fines. "I had a fellow from OCI (FDA's Office of Criminal Investigation) tell me that the penalty for counterfeiting drugs is the same for rolling back your odometer," he said with incredulity.
Nor are other companies rushing to embrace these ballyhooed high-tech packaging solutions. Bayer Biological Products, Research Triangle Park, NC, just announced on September 29, 2003, that it was introducing shrink banding as an "enhanced" tamper-evident packaging innovation for all its liquid products in vials produced at its Clayton, NC, production facility. The first product to feature the shrink-band imprinted with the Bayer logo is Gamunex Immune Globulin Intravenous (Human), Bayer BP's next-generation IGIV product recently approved in the United States and Canada.
Tricia McKernan, director of public policy and communications for Bayer Biological, admitted, and not defensively either, that shrink banding "was not" a final solution to counterfeiting, which Bayer has been victimized by. But she explained that Bayer wanted a mid-level solution that it could "implement fairly quickly." To accomplish that, Bayer went out and purchased shrink-banding machines for all its Clayton packaging lines, validated the equipment, and obtained FDA approval for the packaging change. The cost: $500ꯠ.
The FDA Task Force report says "many" prescription drug companies do not use even "low technology" tamper-evident packaging.
'Iffy' and expensive
The "iffy" nature of new anti-counterfeiting technologies underlines the difficulties the FDA faces in forcing companies to address this growing problem. Some companies, of course, like Bayer Biologicals, have moved voluntarily to try to thwart counterfeiters. But as Bayer's McKernan acknowledged, shrink wrapping of vials and seals on cartons won't stop counterfeiters.
Moving to a higher-order solution will be more expensive in terms of packaging costs, and there is no guarantee that next-generation solutions are any more foolproof than shrink wrapping.
It seems like the FDA's emerging anti-counterfeiting drive will focus on convincing—or maybe forcing—drug companies to adopt currently available technologies. When it discussed technology options, the Task Force first mentioned unit-dose packaging at the point of manufacture, which the report added "is now done in many nations."
McKernan stated that drug companies will have to come up with a range of packaging solutions, and those solutions will evolve over time. "A lot of pharma companies and suppliers are making this a priority," one drug packaging vendor emphasized. "We will figure it out."
Companies in this article