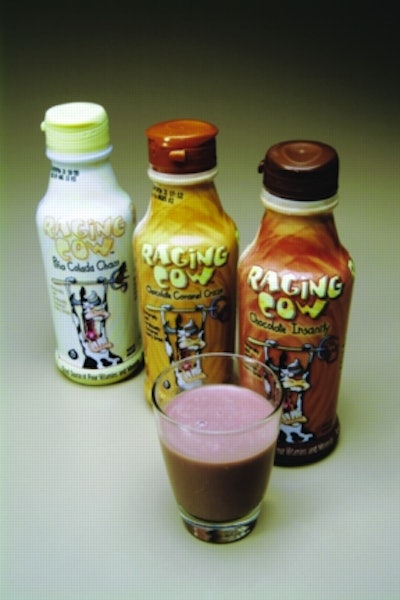 In the Sixteenth DuPont Awards competition, a decidedly generous group of judges handed out 19 awards and three Special Citations, up from just 10 awards in 2001 and 14 awards in 2002.
Food and pharmaceutical/medical packaging always make a strong showing in the DuPont Awards, and this year was no exception. Among the 19 winners were nine food and five pharma/medical packages. One of the gold award winners in the food category, a silicon oxide-coated retortable pouch for rice, took home the prestigious Diamond Award for being judged most innovative package of all. Go here for more on this package and others previously covered by Packaging World.
Another gold award winner in the food category, Dr Pepper/Seven Up's Raging Cow, represents a true milestone where packaging in America is concerned. The 14-oz multilayer blown barrier bottle is not the first plastic bottle ever in this country to be filled aseptically with a low-acid product. That distinction belongs to Abbott Laboratories' Ross Products Div. of Columbus, OH, where Similac infant formula has been filled in 1-qt plastic bottles on a Bosch system since 1998. But filling speeds at Ross Products are in the 100/min range. Raging Cow, on the other hand, is filled at twice that speed, and that's what makes it a first.
Filling the Raging Cow bottles for Dallas-based Dr Pepper/Seven Up is Jasper Products of Joplin, MO. Jasper used Dover Brooks Associates of Chester, NY, as process authority to have its 2541c application filed, reviewed, and accepted by the LACF (Low Acid Canned Foods) Div. of the U.S. Food and Drug Administration before product filled on its Tetra Pak LFA-20 system could go to market. The application was accepted last November, and Raging Cow started reaching store shelves in March of this year. A national rollout is now underway, and apparently the Tetra Pak line at Jasper is pretty much dedicated to meeting that push.
With a six-month shelf life at ambient temperatures, Raging Cow is a perfect fit for the Dr Pepper/ Seven Up distribution network.
"The bottlers distributing our [carbonated soft drink brands] use trucks that aren't refrigerated," says Kendall Yorn, director of packaging at Dr Pepper/Seven Up. "Raging Cow fits right in."
"That fundamental fact of distribution was a key driver in our search for a truly shelf-stable format rather than mere extended shelf life technology," adds Eric Gold, director of project engineering and innovation implementation. "With ESL technology, product must be refrigerated, so we would have needed a whole new supply chain."
Though shipped and stored at ambient temperatures, Raging Cow is always merchandised in a refrigerated format, primarily at convenience stores. Currently, no multipacks are in the picture. Consumers pay $1.49 for a 14-oz serving.
At Jasper's Joplin plant, multilayer extrusionblown bottles are supplied through the wall by a 12-station Graham Packaging wheel. The 24-g bottle has a six-layer construction consisting of high-density PE/tie/ethylene vinyl alcohol/tie/carbon black/HDPE. The carbon black provides protection against potentially damaging light, while the EVOH keeps oxygen out.
Bottles drop from the Graham wheel in pairs joined at the neck finish. These pairs are separated by a trimming machine and then stored in inventory until the Tetra Pak filler is ready for them.
A linear machine, the LFA-20 at Jasper Products holds bottles by the neck in a bottle-transport mechanism that carries bottles through hydrogen peroxide sterilization, filling, and induction sealing stations. Only a small chamber needs to be kept under aseptic conditions, so the LFA-20 measures just 8x10 m (26'x32').
Also catching the judge's attention was the 38-mm flip-top closure on the Raging Cow bottle. It was supplied by Tetra's Novembal Div. Applied over the induction-sealed foil membrane that the Tetra system applies, the injection-molded HDPE closure has a hinged top that can be flipped open with one hand. The closure needn't be removed, either, to peel off the induction-sealed membrane. The closure also has a tear-away TE band.
Cohesive sealing
Winning silver in the food category was Sure-Peel cohesive lidding from Alcoa Flexible Packaging. Test-marketing of the award-winning material, begun in September 2001, was for a Musselman's brand applesauce product, marketed by Knouse Foods of Peach Glen, PA. Positive results following the test have led Alcoa to substitute the new technology for the original adhesive Sure-Peel lidding spec.
In both its original (adhesive) and its improved (cohesive) versions, Sure-Peel technology is used for hot-fill or cold-fill aseptic applications that require high-barrier lidding that can be sealed to PP, PE, or PE copolymers. The idea is to enhance product accessibility by providing an easy-to-peel membrane yet also ensure that, before the container reaches the consumer, seal integrity throughout distribution prevents leakers and spillage.
In its original adhesive version, Sure Peel consisted of a primer/1.5-mil foil/adhesive/1-mil patented film. It was heat-sealed to a single-serve plastic cup. As consumers opened the container by pulling the lidding off, the patented film layer in contact with the cup would remain attached to the cup. The adhesive bond between the patented film layer and the foil would break, so the foil would peel away and provide access to the contents.
Alcoa's newest generation of Sure-Peel technology uses an extrusion rather than an adhesive process to mount the patented layer of film to the foil. This makes it easier to peel the foil from the patented layer, which once again remains on the cup. But despite the easy-peel characterisic, seal integrity is still maintained throughout distribution. In fact, because extrusion-mounting produces a finished lidding material that's thicker than the adhesive-mounted version, the added cushion effect during heat sealing seems to yield even tighter seal integrity than was achieved before.
In the case of the Musselman's container, Alcoa sends cohesive lidding rollstock to KraftSeal, a converter that prints the material flexographically and then cuts and stacks individual lids from the roll. These stacks are fed to an Autoprod system that fills the cups with applesauce and heat seals lids to cups.
Pete Adelmann at Knousse Foods says the new lidding material is "very clever. It's more forgiving in terms of sealing temperatures and sealing through product contamination. It's reduced leakers and it's easier to peel from the cup."
Foster pouches convenience
The brandname, "Fresh & Easy," says it all for Foster Farms' boneless, skinless chicken portions that are vacuum pouched and bagged for consumer convenience.
The refrigerated products in two varieties—breasts or thighs—were tested by the Livingston, CA, company in 10 stores in Sacramento, CA, in summer 2002. The products were then launched throughout California and into Oregon and Washington in Spring '03.
Each bag contains three individually wrapped pouches using film from Cryovac and pouched on a Multivac machine installed for this project.
Breasts are packed two per pouch for a total of six per bag; thighs are packed four per pouch to total 12 per bag. The random-weight breast bags generally weigh between 2½ and 3 lb and thighs from 2 to 2½ lb, according to Foster Farms assistant product manager Lori Pierrou. The preformed bags are supplied by Pliant with zipper reclosure. The clear pouch and bag packaging allow consumers to inspect the chicken from all sides.
"It was important to have packaging that looks and feels fresh versus frozen," says marketing product manager Gudjon Olaffson. "Consumers like to take fresh trayed chicken home, put it in a pouch and freeze it. We thought we'd do the packaging for them."
"Individually wrapped chicken in convenience-size portions is unique," adds Pierrou. "It's easier for consumers to store the bags or the individual pouches in either their refrigerator or freezer."
While the packaging appeals to a wide variety of people, Pierrou says it's especially appealing to smaller households of one or two people. The vacuum-sealed pouches prevent freezer burn, she adds.
At the Livingston plant, the hand trimmed and prewashed pieces are placed manually into the pockets of a Multivac Model R530 horizontal form/seal machine custom-modified for these products. The use of special forming molds reduces channeling or crinkling in the packs, which results in what Olaffson calls "a skin-pack look from a rollstock machine."
Forming and sealing films that run on the Multivac machine are supplied by Cryovac. Complete specs are unavailable, but Cryovac does say that the 4-mil coextruded "T-series" bottom forming film has a proprietary sealant. The 2.7-mil laminated sealing film also has a proprietary sealant. The compatible sealants permit sealing through natural juices. Together, the films provide a controlled oxygen transmission rate suitable for fresh poultry. Each pouch is ink-jet coded with killdate information, the parts identification if breasts or thighs, and an arrow that points to indicate where to open the pouch.
The sealed pouches are manually packed into the wicketed, vented preformed bags from Pliant. The bag film is a 3.25-mil linear low-density polyethylene/LDPE blend that's flexo-printed in eight colors. The bags are sealed using a BaggerBoss semi-automatic sealer from the SIG Doboy Inc.
Product shelf life is guaranteed 10 days for retailers. Foster affixes a "Use or Freeze By" date on a standard, weight-price sticker.
Consumer reaction has been "great," says Pierrou. "We receive a lot of feedback on our consumer line about how they love the product." The DuPont Awards judges took to it too, giving it silver in the food category.
Two more winners in food
Rounding out the winners in the food category are ArmorX™ ABP® bone-in shrink bags (opposite page) from Curwood and gravure-printed food-packaging film from Fuji Tokushu Shigyo.
The Curwood film, a silver award winner, is a two-layer lamination of two blown coextrusions. One coextrusion is a biaxially oriented polyethylene copolymer blend. The other coextrusion, which is also biaxially oriented, has the following general structure: PE copolymer blend layers/polyvinylidene chloride/PE copolymer blend layers. Used for shrink packing of bone-in meat cuts, ArmorX ABP is said to provide better protection from punctures, better shrink, and greater clarity than currently available alternatives.
According to Curwood, this film is made by offset continuous lamination. This process leaves a border on one side of the finished lamination where the material is thinner, which in turn makes it easy to heat seal this material, says Curwood.
The gravure-printed food packaging films from Fuji Tokushu Shigyo (left) won a gold award. They impressed DuPont judges with their innovative use of aqueous inks and solventless laminations. Both are environmentally friendly because they eliminate the need for solvent recovery/disposal and possible solvent retention odors. A polarized resin such as DuPont Nucrel® resin facilitates the bonding of the aqueous inks to the film's surface.
Pouch fills functional needs
Among the pharma/medical packages to win a DuPont Award was a cholangiogram catheter package from Taut Inc., Geneva, IL. It won a silver in the non-food category for Rollprint Packaging Products.
The pack consists of top and bottom webs that are heat-sealed together. The top web is an uncoated DuPont Tyvek 1073B that's flexo-printed in one color.
The clear bottom web is 48-ga polyester with a
2-mil coextrusion coating of Rollprint's Allegro® T peelable sealant.
Before the change, made in March 2002, Taut's pouch had a top web of coated Tyvek heat-sealed to a bottom web of 48-ga polyester/2-mil PE copolymer.
Rollprint's executive vice president Dhuanne Dodrill says the switch to uncoated Tyvek represents "significant" cost savings, though Taut vice president of sales, Raul Brizula, could not confirm that. But he could point to a number of improvements the new pouch structure brings.
The first is the improved processing window of heat-sealing, Brizula says, which is done on a continuous-motion machine.
"We're experiencing greater tolerance on the sealing machinery," he explains. "This package isn't as sensitive to producing a 'perfect' heat level. That's taken some of the burden off the operators, and it's given us an additional comfort level."
Another plus has been the functionality—and appearance—of the packaging, particularly in the seal area.
"We have very low tolerance for fiber tear," says Brizula. "We don't like to see particulate matter on the device or in the operating room. This package has such a nice clean uniform seal, and so it's more appealing to end users."
He says the seal peels cleanly and creates a visible white mark as confirmation of the package integrity that provides assurance to users.
Brizula also points to the new structure's less yellowing nature as "very significant. Uncoated Tyvek does not tend to yellow nearly as much as coated Tyvek, especially following sterilization. If the product is stored for 12 to 18 months, yellowing appears when coated Tyvek is involved. When operating room staff see yellowing, they think it may be expired or old product and they maybe have a concern. That has been minimized if not eliminated with the change."
The product is sold in the United States and overseas. Taut also switched to the same packaging for a capillary drain device at the same time.
"All changes are bad because they cause disruptions," says Brizula, "but this one has been relatively painless and nice. It was an easy decision."
Please click here to see the second half of the article.
Companies in this article