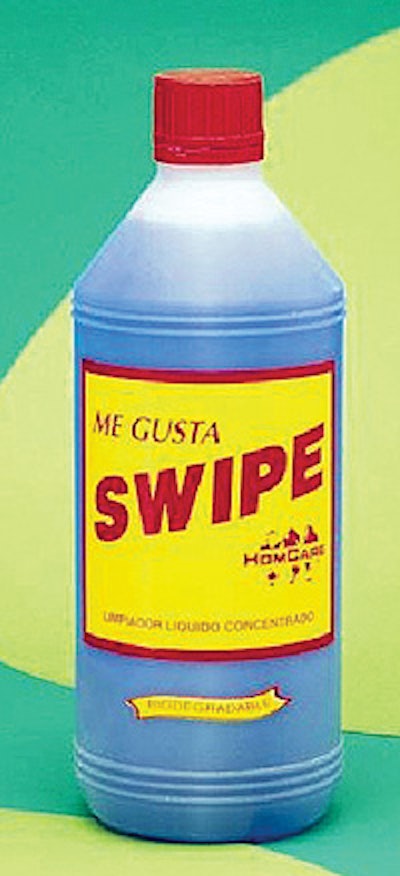 If return customers are happy customers, then Kolob Water Co. and Homcare de Mexico are happy customers. Both firms are sending people to Pack Expo Las Vegas in October largely because they found Pack Expo Las Vegas 2001 such a good place to buy equipment. Running October 13-15 at the Las Vegas Convention Center, Pack Expo Las Vegas is sponsored and produced by the Packaging Machinery Manufacturers Institute.
James Colyer, general manager of Homcare de Mexico in Guadalupe, Mexico, says that the last time he visited Pack Expo Las Vegas, it led to the purchase of two new induction-sealing systems that have virtually eliminated the possibility of leakage during distribution and protect effectively against product tampering.
Founded in 1969, Homcare de Mexico is the sole producer and marketer of Swipe cleaning products throughout Mexico and Central America. Homcare de Mexico packages the product in high-density polyethylene bottles.
During distribution throughout Mexico and Central America, the bottles are exposed to diverse terrain, ranging from sea-level altitudes to mountainous regions located 10ꯠ' above sea level. These variations cause pressure changes that affect the amount of air present in the headspace of each cleanser bottle, which can ultimately cause leaks.
Colyer headed to Pack Expo Las Vegas in 2001 to find a packaging solution that would allow delivery of the high-quality cleaning products in top condition. "The show is well-organized, and I was able to investigate an impressive range of systems all under one roof," says Colyer.
After researching a number of different options, Homcare de Mexico purchased a Super Seal™ induction cap sealing system as well as a hand-operated Compak™ Junior model, both from Enercon Industries.
Homcare de Mexico's transition to the new technology was seamless. "Enercon's induction-sealing technology is very user-friendly," says Colyer. "It fit well within our existing packaging operations and didn't slow down our packaging line."
The Super Seal induction sealer is used for high-volume applications, while the Compak™ Junior induction sealer, a tabletop model, is used for low-volume applications.
One feature of the Enercon technology that was especially important to Homcare de Mexico was the all-in-one sealing head. Homcare de Mexico offers a variety of different cleaning products, packaged in bottles of different shapes and sizes and requiring 24-, 28- or 34-mm caps. The All-in-One sealing head pivots, lengthening the induction field so it can seal caps up to 120 mm in diameter. This innovation eliminates the need for packaging engineers to change flat coils to tunnel coils to accommodate various cap sizes and shapes.
Technical support and customer service from Enercon were also important, and through a local partner in nearby Monterey, Mexico, Enercon is able to offer Homcare de Mexico customer support 24/7.
"It might sound odd to travel to Las Vegas to find a company that provides technical support right in my own backyard," explained Colyer. "But that demonstrates what a comprehensive international show Pack Expo Las Vegas is and the quality of exhibitors who participate."
Customized water bottles
Kolob Water Co. of Cedar City, UT, is a successful marketer of bottled spring water as a customizable promotional item to various companies in Utah and Nevada. Kolob's customers get to have their "own" label on the PET water bottles they give to customers during office visits or at trade shows.
Martin Edgel, company manager, headed to Pack Expo Las Vegas 2001 to view the latest technology and learn how to improve the plant's productivity. As a result of the show, Edgel purchased a 90-degree transfer turntable, a stainless-steel conveyor, and an automatic bottle washer—all from Accutek Packaging Equipment Co.
The bottle washer operates in a linear fashion. It has 10 rinse nozzles, an automatic bottle-indexing system, and a soft-grip bottle grabber. Photoeyes count the appropriate quantity of PET bottles into the work area. Additional containers are stopped automatically. A gripper arm then inverts the containers over a liquid-recovery basin as sanitizing liquid is sprayed into the bottles to remove any carton dust or particles. A no-clog spray and valve system allows the bottle washer to remain in operation when recycling rinse or sanitizing solution from the recovery basin.
After containers are rinsed and placed back onto the transport conveyor, they're released from the work area and a new set of containers is indexed in for rinsing. The bottle washer cleans effectively at production rate speeds of up to 45 containers per minute.
Prior to installing Accutek's bottle washer, Kolob washed all of its bottles by hand, a time-consuming and costly procedure. With the new system installed, Kolob increased productivity by 300%, producing up to 400 cases per day.
After such a successful experience at the last show, Edgel looks forward to returning to Pack Expo Las Vegas this October. "Nothing beats the experience of viewing technology running live on the floor and talking to knowledgeable people who provide excellent information," says Edgel. —PR
Companies in this article