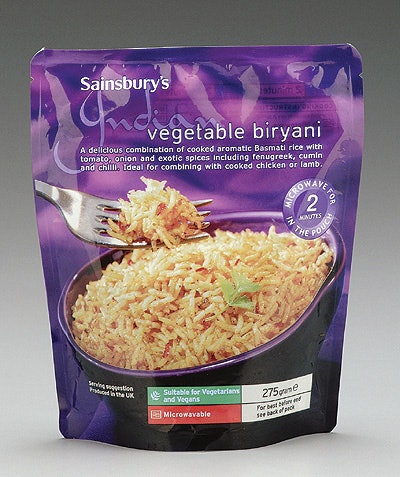 In the Packaging Excellence category of the Flexible Packaging Assn.'s 2003 Flexible Packaging Achievement Awards, the winners represent a variety of industries and the materials exhibit an impressive array of properties. (For additional coverage of the awards, see stories on pages 64 and 76.)
No less than three stand-up pouches are among the winners in the category. One of them, holding a 275-g serving of heat-and-eat cooked rice (1), comes from England's Sainsbury's supermarket chain. The award-winning material is provided by CLP Packaging Solutions (www.clp.co.il). Although portability was a driver behind the development of the pouch, it received its Packaging Excellence gold award for its ability to withstand retorting and serve as a reheatable container in the microwave. The stand-up pouch is filled with 275 g, and retorted by contract packager FE Intl. Foods (fax: 011/44.1792.312.919) for the London-based supermarket chain.
Available in five varieties, Sainsbury's Rice is packaged in a lamination of 48-gauge PETG/60-gauge biaxially-oriented nylon/2.4-mil cast polypropylene. CLP's Israeli plant at Kibbutz Negba gravure-prints in eight colors. Sainsbury's has marketed the pouch for more than two years.
The shelf-stable pouch is said to have a shelf life of up to 12 months. For the shopper at Sainsbury's, the pouch only needs to be opened and microwave-reheated to be ready to eat. The pouch sells for £1.15 (about $1.88).
"The market for microwave rice has grown to £22 million [US$36 million] without cannibalizing other rice packages," says David Lambert of FE Intl. Foods, the packer for Sainsbury's. "We expect this market to grow to £75 million in the United Kingdom by 2006, and to represent 40 percent of retail sales of rice. Based on our worldwide inquiries, we expect the same will happen throughout Europe and in the United States."
Drink pouch in Peru
Many flexible packages are replacements for rigid plastics, but in Lima, Peru, a new stand-up pouch, Frugos - Pulpa (2), is replacing a glass bottle. Corporacion Jose. R. Lindley (www.incakola.com.pe) , a contract packager, is now hot filling 200-mL pouches with four different juice concentrates for home preparation of 1 L of juice. The product is marketed by Corporacion Inca Kola, a unit of Coca Cola Interamerica, to supermarkets in the Peruvian capitol city.
The pouch from PeruPlast (www.peruplast.pe) is a three-ply lamination of reverse-printed polyester/aluminum foil/ 3.5 mils of a coextruded LDPE sealant. The polyester is printed gravure in eight attention-getting colors. The shelf-stable pouch has an easy-opening and pouring feature. It won a silver Packaging Excellence award in the FPA competition.
"The new concept was to offer the housewife a ready-to-make juice just by adding water," says Augusto Rey, technical manager at Corp. J. R. Lindley. "We did a market study to identify the housewife's preferences for a package. It had to have attractive graphics, be easy to handle and low in price. It had to be different from our current Frugos nectars that are sold in glass and brick-style containers." He adds that the pouch is unique in the marketplace and is considered a success. Twelve pouches are packed into a green paperboard display box.
The new package provides both a cost reduction to Inca Kola and better graphic presentation, according to Hans Traver, president of PeruPlast. Further, the new pouch provides a more consumer-friendly package that's easier and safer to handle. In addition, the pouch provides source reduction, and the packaging material, provided in roll form, requires far less space to store at the contract packager.
Packaging for the dogs
The new pouch for Gooberlicious Dog Treats (3) won the Packaging Excellence silver award for New England Extrusion (www.nex-films.com) and Pechiney Plastic Packaging (www.pechiney.com). The peanut butter-filled doggy treats come from Medina, OH-based Kelly Foods.
NEX sends its Inflex Sealant web M0086 to Pechiney. This blown monolayer material is then incorporated in a lamination consisting of PET/metallized PET/Inflex Sealant web. The PET is reverse printed by Pechiney in eight colors on a flexo press.
NEX says that its Inflex material exhibits greater stiffness at a thinner gauge than would have been possible with a standard LLDPE film. The thinner gauge allows Kelly Foods to use 15% less material. Fewer roll changes on the form/fill/seal machine that makes the package and lower scrap levels are added benefits.
The sealant layer also provides good barrier properties, toughness, and hot tack. The added stiffness it provides enables the pouch to stand up more effectively, as well. "A lot of people have commented on how good the package looks," says Gooberlicious marketing manager Brett Hyde. A zipper closure was added to enhance customer convenience.
Gooberlicious dog treats are available nationwide in pet food retail outlets. The 10-oz packages retail for around $4.24.
Spouted pouch for grout
A spouted pouch employed by Triangle Coatings for its 8-oz premixed Mosaic Grout (4) used for craft projects earned a Packaging Excellence silver award. The clear front portion of the four-side-sealed pouch shows off one of the three grout colors that are available. Pretinted or colored grout differentiates San Leandro, CA-based Triangle Coatings' product because most grouts for home craft projects are either white or black.
The premade pouches are supplied by Specialty Films & Associates (www.specialtyfilms.com). The unprinted 6-mil adhesive lamination includes 48-ga polyester and 5.5-mil linear low-density polyethylene. SF&A sources the films from different suppliers. The two-piece spout is inserted into the pouch with an ST-24 spout inserter from Totani, represented in North America by Amplas (www.amplas.com). The white spout components are reportedly made of high-density polyethylene. Triangle Coatings labels pouches, then fills them with the viscous grout through the spout. This is done on the same semi-automatic equipment Triangle Coatings uses to fill other products such as paint. The grout packs are sold exclusively at Michaels Stores, Inc., an arts and crafts retailer with more than 700 stores in North America. Michaels served as the impetus for Triangle Coatings' decision to use the pouch.
"In Michaels' stores, they use a combination of shelf space and pegboard displays to merchandise," explains Mason Woodbury, general manager for Triangle Coatings' Craft Division. "We were introducing this line of colored mosaic grout, and when we proposed the product to their buyer, she was enthused. However, she told us that they didn't have any shelf space available in their mosaic department. She said if we could find a way to hang our product on a peg, they would consider it."
The idea for a pouch came from a trade magazine advertisement for Specialty Films & Associates. "We called them up and had them overnight pouch samples to us. In seven days we had prototypes for Michaels," says Woodbury. The hang hole is punched into the "top" seal area of the pouch, above the spout.
The pack, which retails for about $5.95, is enough for a 3'- to 4'-square mosaic tile project, Woodbury estimates.
Consumers can see the color through the front of the pouch. And the spout greatly reduces degradation common to wide-mouth jars. Woodbury believes another benefit for the flexible packaging structure is that it's easier to dispense all the product from the pouch than it is to scoop out all the grout from a jar.
"We introduced this last May," says Woodbury. "The acceptance has been phenomenal. And our monthly sales are exceeding our expectations by almost 25 percent. We expect to have 12 different colors of grout in the pouch, and we will likely introduce other products in the pouch in the future."
Dietary supplement
Packaging for the LifePak dietary supplement (5) was so highly regarded by FPA judges that it earned both Packaging Excellence gold and Technical Innovation silver awards.
The four-side-sealed packs are sold at retail by Provo, UT-based Pharmanex, the nutrition supplement division of Nu Skin Intl. These supplements had been packed in a flexible pouch measuring 3"x2", the same size as the current pack. However, inadequate moisture barrier and poor seals caused some of the moisture-sensitive capsules and tablets to discolor and crumble, resulting in unsatisfactory failure rates. "The problems were focused in the high heat and moisture environments of Southeast Asia," notes Rick Angle, supply manager at Pharmanex.
Previous packaging included either oriented polypropylene with a sealant layer of polyvinylidene chloride, or a two-web structure using metallized polyester on one side and OPP/ethylene vinyl alcohol/linear low-density polyethylene on the other side.
To address the vexing difficulties posed by poor seals and insufficient moisture barrier, Pharmanex summoned Rollprint Packaging Products (www.rollprint.com), a vendor it had worked with on other packaging projects. Rollprint developed for Pharmanex a film package called NutraSeal, whose 1.25-mil structure includes 48-ga polyester/vacuum-deposited aluminum-oxide coating/0.75-mil metallocene. Its thickness is half that of the previous structure.
Rollprint says the LifePak application represents the first known commercial use of coextrusion-coated oxide-coated polyester film. The structure delivers moisture vapor barrier of 0.08 g/100"2/day or better. Meanwhile, the polyolefin blend provides a strong hermetic heat seal.
The structure also permits Pharmanex's contract packager to run its tablet filling and sealing equipment at high speeds. Nutra Seal is a low slip (or high coefficient of friction) material that enables capsules to slightly cling to the packaging film during loading so that they don't move around and cause problems during sealing.
Another key advantage for Pharmanex is that the structure's high clarity enhances the pack's appearance. While Pharmanex markets different varieties of LifePak in other markets, including the United States, Angle says the NutraSeal structure is presently used only in five Far Eastern countries. A different variety is marketed in Japan, Thailand, Singapore, Malaysia, and in the Philippines. Each pack holds between four and six tablets, with the recommended dosage being two packs per day. Pharmanex sells 15- and 30-day quantities, with 30 or 60 packs in an outer printed paperboard display carton.
"We've been very happy with the change," says Angle. "The new structure provides significantly better barrier. We also made a change so that two ends of the pack are serrated, which makes them easier for consumers to open.
"In the past," he recalls, "we had about 20 customer complaints per month due to poor seals and barrier issues, particularly in Thailand. Since the switch, we've had zero complaints. That's saved us a lot of time and money."
Del Monte fine-tunes lidstock
To improve the packaging of its retorted Fruit-to-Go products (6), Del Monte Foods, San Francisco, CA, started at the top. It introduced a new lidstock for its line of cupped products starting last fall. The new material from Curwood (www.curwood.com) is 48-ga polyester/adhesive/48-ga aluminum-oxide-coated polyester /adhesive/2.75-mil EZ® Peel PP sealant. The lidding is expected to be fully national on the products by mid-2003. The lidstock is the only thing that has changed on the products, which were introduced in 1999. The products include precut fruit in syrup and—introduced in fall 2002—precut fruit-and-gel products in plastic cups. The cups are multipacked in four-count paperboard sleeves.
The new film is much clearer than the previous film, which had a yellowish tint. Del Monte is considering a printed version (shown) that is currently in test, PW is told. Del Monte was unavailable for comment.
The improved lidstock earned a Packaging Excellence silver award and Technical Innovation silver award. Lid and clear plastic cup—and barrier layers—must withstand the rigors of retorting that renders the products shelf stable. The cup, from Printpack's (www.printpack.com) Rampart Packaging Division, remains a standard barrier structure of PP/EVOH/PP. The cups are packed and sealed by Del Monte operations in the United States and by some overseas contract packaging operations.
Companies in this article
Videos from Triangle Package Machinery Company