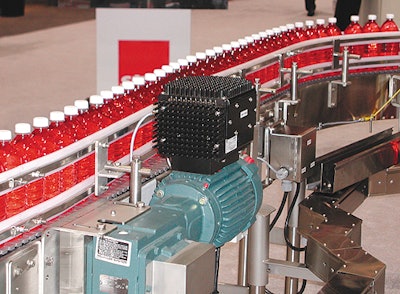 Moving a variable-frequency drive, or VFD, from its usual place inside a control cabinet and mounting it directly onto a machine makes a world of difference. For conveyors from Sidel, Packaging Systems Div. (Norcross, GA), it means "Plug-and-Play" simplicity. The savings that result in reduced wiring, time, and labor are dramatic, if not electrifying. Cost savings are on the order of 25% versus Sidel's conventional conveyors, and maintenance is also simplified, according to Franck Klotz, automation and controls director.
The Plug-and-Play conveyors are built with the new 160Z On-Machine VFDs from Rockwell Automation (Milwaukee, WI). Mounted directly on the conveyor on an onboard DeviceNet™ fieldbus network, the 160Z drive replaces off-machine VFDs and point-to-point wiring. This on-machine approach also frees space by eliminating the control panel mounted along a wall or on a mezzanine. All that's needed is a small, conveyor-mounted cabinet for the Allen-Bradley SLC5/05 programmable logic controller, which has a built-in Internet port.
The NEMA 4X washdown 160Z VFD is ideally suitable for food and beverage applications, including dairies. It is available as an option on all of Sidel's conveyors, including air, tabletop, roller, and magnetic conveyors.
In North America, Sidel assembles the conveyors prewired—actually, precabled—to the customer's specific layout at its facility in Montreal, Canada. Sidel disassembles the modular conveyor and ships it to the customer's site where the conveyor is reassembled and tested. The electrical connections are made in daisy chain fashion from module to module.
"All of the electrical cabling is already part of the conveyor module," Klotz points out. "All the electrical that's needed to run is to bring the plant main power to the conveyor."
Klotz says that can knock a week or two off the start-up time.
Reduces danger, problems
The number of drives on a conveyor system varies with each application. For example, an average soft drink bottling line will have up to 150 VFDs, Klotz says. The separate control cabinet and the associated wiring, cabling, and piping are eliminated. Klotz says it is also common to have 400 electronic devices including sensors that need to be wired in the field. "That portion is very expensive," he points out, when done via traditional point-to-point wiring methods. "Connected through a DeviceNet fieldbus, the onboard VFDs allow us to do all the electrical work at our plant, with our people, and do it easily and without the problems and constraints in the field.
"Most of the problems occur during installation," continues Klotz. "That's when local electricians, mechanics, and pipefitters do the assembly."
For conventional VFDs, electricians must install piping from the cabinet to the ceiling, to the conveyor, and to all the conveyor's VFDs. Then cables are pulled through the piping.
"It's time-consuming and very dangerous if there are mistakes," Klotz says. Although there can be very good electricians, there are always last minute things—even as the customer pushes for production to start, he adds.
"Plug-and-Play reduces the problems and risks with on-site people and parts," Klotz says.
Klotz believes maintenance on 160Z-equipped conveyors is simplified. If there's an outage, the drive can be easily replaced by plugging in the new unit—without the use of a screwdriver. This eliminates the laborious task of marking and reattaching a whole bundle of wires properly as is needed to replace a standard VFD.
Settings on 160Z drives are made using a portable keypad that connects to the drive. "With the VFD and motor together on the conveyor, the adjustments can be made right there and the consequences immediately seen if things improved," says Klotz. "The technician doesn't have to walk around the plant like in the past. Hours of downtime are reduced to minutes."
Nonproprietary
Klotz says that the use of Rockwell drives provides brand name components that most of its customers are already comfortable with. "This is not technology that is proprietary to Sidel, it is using DeviceNet, quick connections, and other Rockwell Automation components."
The Plug-and-Play conveyors were unveiled at Pack Expo 2002. "It is an option, but we refer to it as our preferred conveyoring solution," says Klotz. "It is a winning proposition for all. The reaction has been very, very good. I estimate that up to 60% of our conveyor sales in 2003 will be Plug-and-Play."
Companies in this article