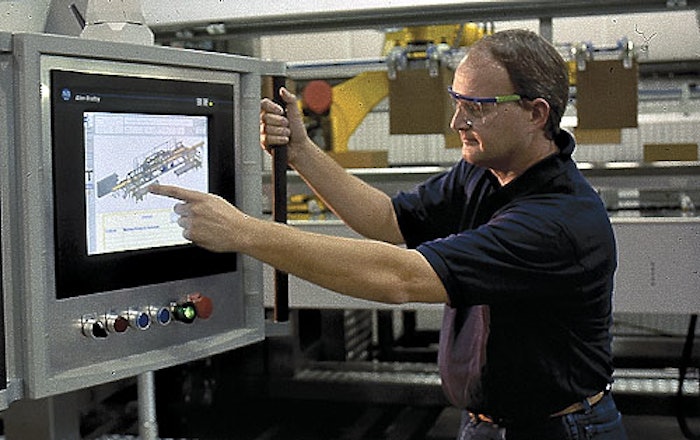 Kisters Kayat (Edgewater, FL) worked with Rockwell Automation (Milwaukee, WI) to design and build a 50-case/min packaging machine with robotic corrugated-partition insertion. The 320/70 iRT WrapAroundPacker uses Rockwell's Kinetix™ integrated motion control technology.
Kinetix features Allen-Bradley ControlLogix™, a single control platform that eases machine setup and programming, decreases operator training, and builds in modularity for future expansion. As part of the Kinetix system, the WrapAroundPacker is using Allen-Bradley 1394 servo drives connected via a SERCOS motion network.
"With Kinetix integrated motion control, ControlLogix controls all the machine functions, including the robotic partition former and inserter," says Gary Hunt, Kisters' vice president of engineering. "The servo and machine controls are integrated into one control, saving component development time and eliminating the need to communicate with a separate motion controller. Most importantly, the open controller gives us flexibility to build on our design if the end user needs future expansion."
Switching to high speed
To meet high-speed gluing requirements, Kisters installed an Advanced Micro Controls Inc. (AMCI), Terryville, CT, programmable limit switch (PLS). The PLS allows Kisters to control 10 different glue nozzles at the required operating speeds.
"We chose AMCI's PLS because it integrates straight on the ControlLogix chassis," says Roger Calabrese, Kisters' electrical engineering manager. The PLS provides up to 16 programmable high-speed limit switch outputs and 16 inputs that can be used via an external relay board. This one-slot module's backplane connection enables fast transfer of information between itself and the ControlLogix processor.
"The PLS enables us to do outputs at really high speeds," says Calabrese. "We are able to glue at the precision we need with the glue gun control provided by the PLS."
Companies in this article