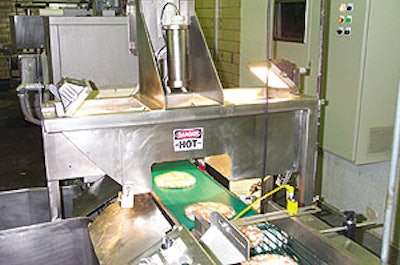 For a long time, packaged pizzas at private-label specialist Frozen Specialties Inc., of Archbold, OH, have been worth a first and second look. Done online in two stages, machine vision sensors have been used since the 1980s to detect pizzas damaged during wrapping and open carton flaps.
Now, FSI's shrink-wrapped and cartoned pizzas are getting a fresher, more powerful, and more accurate look. Its previous inspection setup has been replaced with modern capability through Insight™ 1000 machine vision sensors and software from Cognex (Natick, MA). Providing ongoing support is line integrator Single Source Automation (Defiance, OH), which configured, installed, and programmed the vision systems. Heading SSA's integration is Mike Kitchenmaster, who had been employed by FSI for three years as an electrician.
Operational by the latter part of 2001, the six new vision systems replace nine older cameras. FSI's vision improvements are more numerous than toppings on a supreme pizza:
• Quality standards are enforceable due to more accurate inspections.
• A larger image-capture view and more sophisticated software compensates for product drift on the conveyors.
• The system is easier to use and offers quicker changeovers and less tweaking and maintenance.
• All six cameras and systems are networked over the Ethernet, which adds backup redundancy and can simplify access.
• The new inspection system includes data collection capability and expandability.
• FSI receives local support since SSA is just 30 minutes from the plant.
Maintenance manager John Behm says that the old system was "obsolete. It was unreliable, including having false rejects or, even worse, missed rejects. Also, uncartoned pizzas could not be detected by the downstream system. Spare parts for the old system were expensive and very difficult to find, too. The new system provides fast, real-time data."
Inspected twice at 175 pizzas/min
The six cameras are installed on three lines where pizzas are shrink wrapped and cartoned. The three pizza-packaging lines are similar and generally interchangeable, although two parallel lines usually run the popular 7''-dia (6.5-oz) pizzas while the third line—which has more frequent changeovers—packages 7''-, 9''-, or 10''-dia pizzas. Changeovers are simply a matter of keying in the new product number.
Each Cognex machine vision sensor is centered about 1½' above the conveyor, which speeds the pizzas along at rates to 175 pizzas/min. That's the higher rate made to the third line in April. The two parallel lines now run at 140 pizzas/min, but Behm says faster casing would allow them to speed up those lines, too.
The upgrades were made in several stages, the first starting in September '01 for the front end inspection of shrink-wrapped pizza. That was followed weeks later by the downstream portion, done across all three lines, for checking the cartoned pizzas. Completed in November '01, the downstream upgrades were faster due to system familiarity.
The first inspection occurs just downstream of a heat tunnel, where the system checks for pizzas that may have been damaged during shrink wrapping. A photosensor triggers the image capture, which is then analyzed against preset minimum and maximum settings. Basically, the software image overlaps the image with a pizza-shaped ring. Pizza edges that fall inside or outside the ring are deemed unacceptable and the pizza is rejected off the conveyor and into a bin by a blast of air. The camera provides a 12''-wide view that allows for product drift on the conveyor. The day of Packaging World's visit, FSI's production included 7'' cheese and pepperoni pizzas for Food Lion, Salisbury, NC.
"The old system wasn't able to find the pizzas if they shifted on the conveyor after being wrapped," Behm points out. "The Cognex software handles that." That's also true of carton inspection downstream.
In order to keep costs down, FSI uses lighting and supports already in place where possible. As before, two sets of halogen lights mounted at a 45° angle provide consistent lighting. SSA programmed the lights to shut down if a product is not detected after two minutes; this saves energy and bulb life, Kitchenmaster points out.
Flaps scrutinized
After cartoning, the carton flaps are inspected. The system regularly detects flap protrusions down to 1/8'' on both of the sealed ends, Behm reports. Besides the quality concerns, opened flaps can cause jams on the conveyor or at the case packer, Behm points out.
Sealed fluorescent lights on opposite sides and below the conveyor provide the necessary backlighting for the camera to see the carton edges. Lighting was improved here, too; before, shop lights were positioned below the conveyor. Now, NEMA 4 housings protect the bulbs.
A photocell signals the presence of the carton, which triggers an image capture and analysis. The new system provides a view of a 14'' square area that, along with the Cognex software, allows for drifting and rotation of the carton on the conveyor.
The software measures the square carton in three spots. If any length is out of the acceptable range, a blast of air rejects the carton from the conveyor and into a bin. This inspection had required two cameras where one now suffices, so three fewer cameras are needed than before.
Ethernet protection
The camera is hard-wired to a nearby NEMA 4 panel, which also houses the controls, printer, keyboard, color monitor, and Ethernet hub. The panel enables the use of a standard PC and 15'' monitor, costing less than $1ꯠ, versus a $6ꯠ industrial monitor. The monitor is viewable through a covered window. The six panels are networked via an Ethernet connection, which provides built-in redundancy should any PC fail.
The Ethernet hub in each panel allows control and adjustment of any of the six systems from any of the six panels. Behm acknowledges that they don't use the Ethernet capability much yet, but plan to in the future. In fact, by summer's end, an Internet-connected plant PC will have log-in access to any camera or system.
Data-filled future
FSI currently collects data on the number of good and rejected products, and has found that the amount of rejects is around 3%.
Behm says they also hope to add on more data collection capability in the coming fiscal year, which starts this month.
"We expect to get into more SPC [Statistical Process Control]," notes Behm. "It would allow us to track actual pizza sizes to better monitor the process and make continuous improvements." Although processing related, that also has a direct effect on the packaging end of things. That added capability also allows for uptime and downtime reporting. Obviously, FSI is seeing to it that automated inspection that has already panned out will be topped with further improvements.
Companies in this article